Progressive Transportation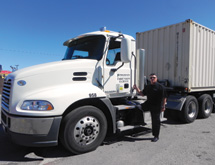 With more than 10 years of experience in the transport business, Progressive Transportation Service (PTS) Inc. has become a freight shipments leader in the western United States. The company's over-the-road, intermodal and drayage, heavy haul, flatbed and other specialized carrier services are all focused on delivering exceptional results for customers.
"We emphasize building relationships, as we're not a company that believes in big growth but rather in healthy growth," says Dave Naples, principal. "We want to maintain business, so we work with customers to develop successful plans. We are flexible and not afraid to go outside the box."
PTS operates from service locations that are centrally positioned near all major intermodal facilities in California. It has a presence in Los Angeles, Oakland and Stockton, and it counts several Fortune 500 companies among its customers. Last year, PTS relocated its corporate and Los Angeles operations facility to Long Beach within the heavy-weight corridor. The site has nine dock doors and a secure 18,000-square-foot enclosed warehouse.
"We recently went through a small merger, which is why we took over the operation in the Long Beach port," Naples says. "That increased our ability to handle overweight cargo of up to 95,000 pounds, as we acquired specialized equipment there such as four-axle tractors that can handle overweight containers. There is a transloading facility within the port area, which is really the final piece of the puzzle for us. We're just four miles from the port, and the new facility is providing us with a new revenue segment."
Tech Savvy
Technology is one of the resources PTS uses to drive growth and provide efficient customer service. The company uses Trinium's transportation management system to offer online tracking of cargo, track shipments and drivers using GPS and manage all aspects of a client's order, from initial submission to final invoice, in real time.
In addition, the system allows the company to receive orders electronically or input order and client information centrally and have it immediately available to customer service, dispatch, accounting and management. The Trinium transportation management system also allows PTS to provide customers with notifications of upcoming per diem, last free days, inventories, delivery completions and other customizable reports that meet all customer needs.
"Technology has been a huge part of our operations starting from year one," Naples says. "We have worked closely with Trinium, growing together and helping to grow the technology platform."
Technology also plays a role in PTS's effort to be as green as possible. The company registered at each port on the West Coast as a green trucking company, and its trucks are environmentally clean, port fee exempt and compliant with EPA and California Air Resources Board standards. In fact, in the last few years PTS has added an additional 25 clean and exempt trucks, bringing its total to 86 clean and exempt trucks to serve its clients' drayage needs.
People Power
Another critical aspect of PTS's success is its commitment to safety. The company's manager of safety ensures that PTS meets or exceeds all federal and state safety requirements. Its safety programs include pre-employment and random drug testing, a pull notice program, pre-employment road tests and truck inspections and California BIT inspections. These efforts have helped PTS earn safety ratings from the Federal Motor Carrier Safety Administration that are above the national average.
What is impressive is that PTS has been able to do this while balancing a stable of company-owned trucks and independent contractors. "We didn't have any company trucks up until five years ago, but after a work stoppage we invested in some company trucks to make sure we could maintain our commitment to our customers," Naples says. "Having a combination of independent and company trucks has only helped us."
Recently, the company came up with an innovative method of ensuring solid working relationships with independent contractors. It devised a hybrid financing plan that placed 71 drivers in new trucks. PTS and the drivers helped finance the trucks, which provides a path to truck ownership to the independent contractors. "Creativity is key as we try to come up with programs to help the drivers because loyalty goes a long way," Naples says.
In the short term, PTS knows there are many issues it will have to face. But the company is confident that it has the right strategies in place to help it manage its fleet and to help it continue to use technology to provide exceptional service and simplify its back office operations.
Additionally, PTS will continue to focus on being the best service provider it can possibly be while staying true to its commitments to sustainability and environmental responsibility.
"I can't say enough about the personality of the company," Naples says. "Our management is close with the drivers and all the people who do the work. Those relationships extend from the clerk to the owners, and everyone will do whatever it takes to make sure cargo is delivered. We are big on commitment, but we take a casual approach to a complex business."