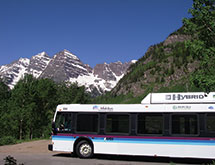 Rural resort areas — places such as Utah's Park City and Wyoming's Jackson Hole — face a tricky transportation issue. There is a limited amount of real estate in prime areas, and it's usually very expensive. An influx of tourists during peak times of the year causes traffic and tight parking. An army of service employees — who work at hotels, restaurants, shops and ski resorts — don't have the option of living close to their work and need to commute some distance, worsening car congestion.
The Roaring Fork Transportation Authority (RFTA), based in Aspen, Colo., has tackled the problem by creating the first rural bus rapid transit system in the United States — which could serve as a model for other resort communities in the future. Called VelociRFTA, the system debuted this past September.
"I'm not aware of any other rural areas currently doing this," RFTA CEO Dan Blankenship says. "We found the only way to keep the traffic situation sane in a growing area like ours was to ramp up our bus transit.
"We're helping to keep Aspen's traffic volumes at the same level or lower than they were 20 years ago, and that's unheard of," he says. "It's still congested during peak seasons but it's manageable."
Urban Equivalent
RFTA has been in operation since 1983 and formally became a regional transit authority in 2001. There was a local bus system in place prior to VelociRFTA, but the organization made major improvements, making it comparable to public transit in even the densest cities with extensive systems.
During peak commute times, buses arrive every 10 minutes. The bus stations in eight locations were made bigger and more attractive. They have parking lots, covered bike storage, raised platforms for level boarding and free Wi-Fi. Real-time passenger information signs display when the next bus is coming. To speed boarding, passengers get a minimum 26 percent discount over cash if they use the ticket vending machines at the stations.
"Overall travel times with VelociRFTA have also decreased significantly because the new routes stay primarily on Highway 82, whereas before they wound through towns," Blankenship says.
RFTA provides commuter bus service from Aspen to Glenwood Springs – which is the Roaring Fork Valley – Glenwood to Rifle in the I-70 corridor, intra-city service in Aspen and Glenwood Springs, skier shuttle service to the four Aspen Skiing Company ski areas, the Maroon Bells Guided Bus Tour and a variety of other seasonal services. It operates a fleet of about 100 vehicles and carries about 4.5 million passengers annually.
Renewable Fuels
All of the fleet's diesel-powered vehicles, including its hybrid buses, use biodiesel fuel, and its gasoline-powered vehicles use ethanol. The VelociRFTA program has 22 new buses that run on compressed natural gas.
"Unfortunately, the fuel economy of hybrid buses isn't that much better, because we do longer-haul service, so it doesn't have the same benefit you would find in an urban application, where there is a lot of stopping and starting," Blankenship says. "Natural gas is a priority for us because it's more affordable, and it's an abundant domestic fuel." RFTA plans to transition another 20 vehicles to natural gas in the future as they cycle in new vehicles to the fleet.