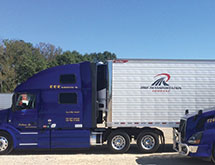 Based out of Calhoun, Ga., RRR Transportation is a growing over-the-road trucking company. As a long-haul trucking company, RRR Transportation's goal is to provide world-class service by understanding customer needs and maintaining the highest standards of safety, environmental consciousness and continuous improvement.
"This is a family business that we started in 1989," President Bobby Reeves says. "We move a lot of commodities out of Georgia. We have almost 60 trucks and we use a lot of technology to help oversee our operations."
Typically, RRR Transportation hauls goods manufactured in Georgia, such as lumber, wood flooring, carpet, furniture and construction materials. These goods are transported to California, Colorado and Washington. The trucks often return home with refrigerated produce from the West Coast. In addition, RRR Transportation can handle a variety of other temperature-controlled and dry van shipments in long-haul routes between the Southeast and the Northwest.
As part of the United States Environmental Protection Agency's Smartway partnership, RRR Transportation offers the most fuel-efficient over-the-road trucking services. All of its trucks are late-model Volvo 780s that have been well-maintained and equipped with APU inverters and automatic transmissions. "Our trucks go through about a three-year cycle, as it doesn't take long to put 700,000 miles on trucks," Reeves says. "We also are investing in new trailers this year because the newer ones are more fuel efficient."
As a Smartway carrier, the company is committed to providing drivers with the most fuel-efficient technology available, and it is constantly seeking out new ways to haul smarter instead of harder. The company's hard work and commitment in this area allowed it to be named one of Heavy Duty Trucking Magazine's Top 50 Green Fleets for two years in a row in 2013 and 2014. These investments in efficiency allow the company to pass fuel savings on to clients and provide higher pay to drivers.
Another commitment that RRR Transportation makes to its customers is to make over-the-road transportation as painless as possible. The company uses McLeod transportation software, which enables its customers to track their freight and over-the-road shipments online. This technology makes it completely clear where loads are and when loads will arrive at their destination. Customers can be confident that they know absolutely everything about the status of their shipments thanks to the company's investments in transportation software and GPS tracking.
"Technology is critical for keeping up with industry standards," Reeves says. "For example, on the food side, there are new standards coming in around safety that require a lot more reporting on temperature data and making sure trailers aren't compromised."
Keeping Up With Technology
RRR Transportation is also committed to serving its drivers as well as possible and to ensuring optimal safety levels. The company's drivers work in teams, reducing strain and fatigue and making sure that deliveries are made faster and safer. The company also has an excellent CSA safety rating.
"Our maintenance director is also heavily involved in the American Trucking Associations' Technology & Maintenance Council and is very good at keeping up with technology developments," Reeves says.
Beyond that, all of its trucks are company owned and maintained. That means its drivers do not have to worry about repair expenses and customers do not have to worry about breakdowns. RRR Transportation's over-the-road trucks are inspected by in-house mechanics before they leave the loading dock for any shipment.
The company also goes to great lengths to hire the best drivers possible, a challenge in an industry that is experiencing a driver shortage. As part of its effort to overcome that challenge, the company has developed attractive benefit packages for drivers including a sign-on bonus for all team drivers, full insurance (health, dental and vision) and 401(k) matching.
"We've increased our pay scale and try to be driver friendly," says. "For example, the Volvo 780s have the biggest sleeper on the market and are nice trucks for the team. Everything goes through our shop at least once a week to ensure it is well maintained."
Reeves believes there is room for RRR Transportation to grow. He thinks the company can work on getting more refrigerated freight business coming out of its area. The company's yard also has additional acreage available.
"Retention and recruitment of drivers will continue to be a big challenge," Reeves says. "We are also trying to gain efficiencies on everything so we can be as low cost operationally as possible. "There is a good market for trucking needs now, and we think we can grow over next few years if we can get in the drivers and new business we need."