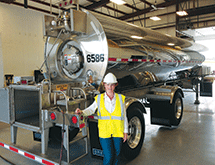 Some trucking companies put drivers on schedules that keep them away from their families, but not Schilli Corporation. "A good portion of our business is short-haul business," President and CEO Robert B. Schilli says. "Nearly in every case, our drivers are home every night."
This has attracted drivers to the St. Louis-based company, which provides transportation services to the chemical and industrial markets. Schilli, who has decades of experience in the transportation industry, started the company in 1962 when it was a chemical hauling business.
At the time, the firm hauled only for a single plant outside of St. Louis. Today, Schilli Corp. employs a staff of 450 and has a portfolio of bulk trucking operating companies.
Schilli credits the company's success to the hard work of his employees, which has earned it a loyal base of customers and vendors. "We strive to do business with people that want to be true partners with us," he says.
A Greener Way
Schilli is proud of the patented piston technology marketed by its Piston Tank Corporation. He says it is ideal for transporting viscous materials such as grease, silicon caulking, peanut butter, ink, concentrated surfactants, chocolate and other viscous products. The technology, he explains, wipes the tank clean during discharge, leaving virtually no residue.
"There's example after example where other kinds of trailers have been used to haul viscous materials [and] there's always residue left in the trailer," he says. "The cleaning of these tanks is very labor intensive and costly. [That includes] certain products that might have a hazardous nature to them."
Many shippers appreciate the piston tank trailers because they reduce the need for waste disposal and the risk of spillage. "It is just a greener way to move viscous materials," he says.
Part of the Family
Finding qualified drivers is a large challenge, but Schilli Corp.'s "driver-friendly" environment helps draw them in, Vice President of Sales and Marketing Sebastian Seifarth says. "We make sure it's a very safe environment," he asserts. "We don't take any shortcuts whatsoever."
Drivers, he adds, are treated like part of the family. "[It's] not like another big corporation where [they are] a number," he says. This philosophy comes from Schilli's many years of experience.
Schilli Corp. shares those concerns because high blood pressure and diabetes are common health problems among truck drivers, Seifarth says. "We're trying to help them facilitate a healthy lifestyle as much as we can," he states.
Although its operations are spread out, the company hosts meetings to discuss wellness with its drivers, including strategies such as packing lunches instead of buying fast food on the road.
Looking at the Future
The company is testing natural gas fueled trucks. "We'll see if this will be future," Schilli says. "The final word has not been spoken on this, but we're definitely testing."
As the distant future concerns, Schilli is following some trends that could impact his business. One concerns the development of driverless vehicles. However, "I have a hard time seeing this" in the bulk trucking space, he says. "We still need that driver to load and unload and be our day-to-day contact with our customers."