SOAR Transportation Group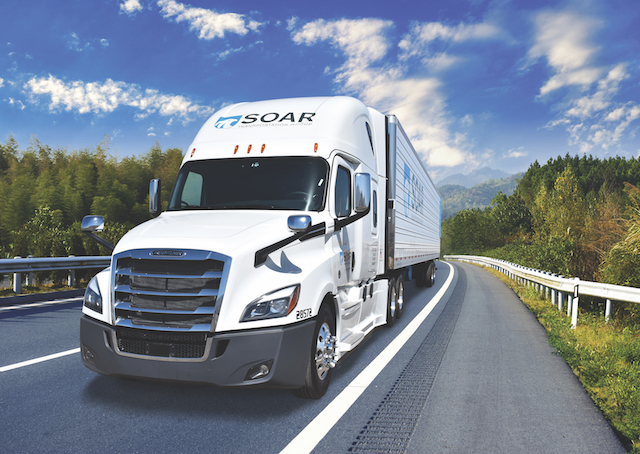 SOAR Transportation Group finds great success after rebooting its executive staff and culture.
By Jim Harris, Senior Editor at Knighthouse Media
SOAR Transportation Group wants to be more than just a typical trucking company. "We want to be a full transportation and freight management provider," says Cole Isaacson, vice president of operations for the Salt Lake City-based company.
Founded in 2002 as Kelle's Transportation Service, SOAR renamed itself in early 2018 to reflect its new focus. Isaacson and the rest of the company's executive staff were brought onboard in 2017 by majority owner Marc Kramer. Kramer first became involved with the company in 2014 when AVC Partners, an investment firm he is a partner in, bought a majority of the company from founder Kelle Simon. Kramer invested to personally take over majority control from AVC last year.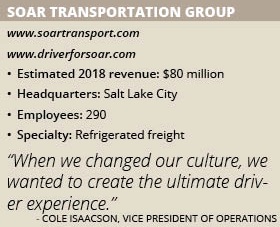 "This year, we decided to re-brand to focus on our future and to have a name that reflected the new team and direction. The company had a great backbone, but we identified a number of opportunities to get it operating where it should be," Isaacson says. "We reached out to our employees to create a new mission statement and company goals and pick a new company name."
The company specializes in temperature-sensitive freight services. SOAR transports goods from manufacturers to its customers' distribution centers. The majority of its cargo is food-related, and most of its customers are food and beverage manufacturers.
A Culture of Safety
The company's new name brought with it a new culture. "Everyone on our management team has come from a big carrier and understands how things are run from that standpoint," Isaacson says. "We wanted to find and develop a leadership team that wanted to be a part of something different from what they were before.
"We created a culture where people can come here and work for us regardless of whether they've been in a leadership position before," he adds.
For example, the company's director of safety Ken Burbidge had worked his entire career in the transportation industry, but not in a supervisory capacity. "We brought him in because he was the best at what he did and gave him the tools and opportunity to create an environment within his own department that he always wanted," Isaacson says.
Safety is central to the company's new culture. Every morning, leadership team discuss safety-related issues, and the company pays drivers an extra six cents a mile for safe driving behaviors. "We want to be a top-tier safety carrier that has the lowest incident rates out there," he adds. "It's important that we benchmark with other companies to see where we are from a safety standpoint." Since last year, the company has reduced its claims expense by more than $2 million.
'An Incredible Journey'
SOAR's six-cent safety bonus is just one way the company rewards and attracts drivers. Other SOAR bonuses include a fuel, productivity bonus and an on-time service bonus. "When we changed our culture, we wanted to create the ultimate driver experience," Isaacson says. "We want people who have worked for other companies to experience the differences in what we are trying to do and to make SOAR their home."
Following its rebranding, SOAR created a driver advisory board, which includes between five to seven drivers chosen each quarter. The drivers meet with management in the company's headquarters to discuss ongoing issues or ways the company can improve. "Everyone in our company understands that if we didn't have our drivers, none of us would have a job," he adds.
SOAR also established a driver services department, which calls drivers at regular intervals to see if they have any concerns. "Since we implemented [the department] in the fall of 2017, we haven't had a driver come in and quit that we didn't know about beforehand," Isaacson says. "Before, we could come in on a Monday and have five trucks empty; people just walked away because they thought no one cared."
The company's driver-centered initiatives have enabled it to reduce turnover by 60 percent year-over-year since 2017. "I am proud of our safety record, our retention and our culture," Isaacson adds. "It's been an incredible journey."