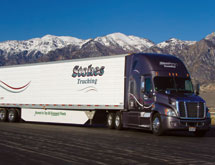 Sometimes you pick your spot in business, and sometimes it picks you. Val Stokes has experienced a bit of both — and knows it doesn't matter which, as long as you end up in a niche that needs filling. Stokes, founder of Stokes Trucking, got into trucking because that's what he was around: Born at the crossroads of the West in northern Utah, growing up working on farms and changing tires at the local truck stop as a teenager. He worked as a driver eventually and bought his first truck at 23. Stokes Trucking is based in Collinston, Utah – a town of "10 or so houses," he says.
The fleet now numbers 40 trucks and 65 trailers and goes both local and long haul. The company grossed $10.5 million last year, and Stokes anticipates revenue of $11 million to $12 million this year. Stokes says he plans to keep growing slowly and steadily and serving other niche players like himself.
Competing on Service
Stokes started out in 1979 serving cheese producers – an industry with some concentration in his area – hauling loads between California and Utah. Because of dairy's perishable nature, cheese producers require a high level of service. Stokes can't compete with the big carriers on price, but he can on service. And so, early on, he discovered the kind of markets he would target.
The company serves many of those same customers more than 30 years later, but it has since added food service companies, grocery chains, flour millers, bowling ball manufacturers and a mine truck tire recycler. The latter fits in perfectly with the company's culture of sustainability – of which Stokes says he's most proud. "We were green before it came into fashion, or we were ever recognized for it," he says. Last year, Stokes Trucking was named among the nation's top-50 green fleets by Heavy Duty Trucking magazine. His tractor fleet is made up of 100 percent EPA SmartWay-certified vehicles.
It pays to be green – it saves big time on fuel costs. "We try to run the most fuel-efficient trucks, engines, tires and transmissions possible," Stokes says. Stokes Trucking's green efforts include using aerodynamic devices such as trailer skirts and boattails, governing road speed at 68 miles per hour and paying drivers to voluntarily have their trucks governed at 62 miles per hour and specing tire auto-inflation systems. All Stokes trucks are less than 3 years old. The company runs 100 percent Freightliner tractors.
When your business is based on going above and beyond with service, rather than undercutting on price, the caliber of your team is key. Stokes hires only veteran drivers with stellar safety and service records – and incentivizes them with a variety of bonuses to maintain those standards. Drivers tend to stay with the company long term, and they do nearly 100 percent of new driver recruiting.
"We've not had to advertise for an open driving position for years," Stokes explains. "If we have an opening for a driver, our current drivers always know one who wants to come to work."
"From providing great customer service to being green, the thing that makes all this work so well is our people," Stokes says. "All of us – be they drivers, dispatchers or managers – share the very same values of honesty, hard work and sustainability. We treat each other like family and that extends to our customers and suppliers."