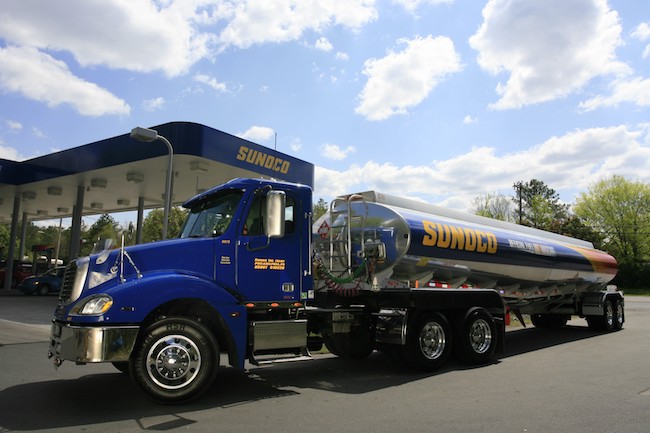 Sunoco Transportation worked with truck and trailer OEMs to reduce vehicle weight and increase payload.
By Tim O'Connor
Bob Manchester, senior director of transportation operations at Sunoco, says the three pillars of his organization – safety, customer service excellence and efficiency – are intricately linked. If one gets weak or breaks, it affects everything.
Job one is safety and executing a flawless operation. As he says, "safety is our license to operate." Manchester has instituted weekly safety calls, a driver ride-along program for managers and supervisors and mandatory monthly face-to-face safety meetings, to name a few programs.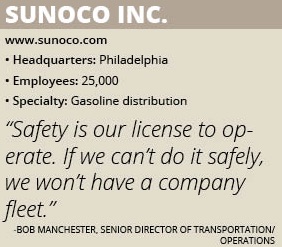 The technology within the tractors and trailers is there to help ensure safety on the road. Sunoco uses PeopleNet OBCs, back-up cameras and roll stability on its equipment.
Sunoco remains committed to investing in its fleet from a safety perspective. New materials and technologies are always being evaluated with a goal to further improve safety. Manchester says the primary feature now under review is the forward and reverse facing in-cab cameras that will help in both protecting their drivers and improving incident investigations.
On the efficiency side, state regulations limit the number of gallons a gasoline tank truck can haul based on the vehicle's total weight. To haul more gallons, trucks must first become lighter, so Sunoco decided several years ago to put its vehicles on a diet. "We strive to have the lightest-weight, safest equipment we can put on the road to maximize our gallons per delivery," Manchester says .
Gallons per trip (GPT) is a key performance metric for Sunoco. "The more gallons we can put on a truck, the less deliveries we have to make," Manchester says. Since Manchester arrived at the company in 2008, Sunoco has worked with truck and trailer OEMs to cut weight. By using more aluminum components, switching to wide based single tires, reducing the length of the top rail on the trailers, and moving to 6X2 tractors vs. 6X4s, Sunoco trimmed significant weight off its units.
Sunoco saves about $750,000 annually for every additional 100 gallons of fuel it can load onto its trucks. Across the entire fleet, Sunoco has added 300 gallons to each trip, which equates to 9,500 fewer loads it has to deliver annually.
Light-weight vehicles fit into Sunoco's larger strategy for an efficient distribution network. "The better we can do on reducing weight, the less trucks and drivers we need to move the same amount of product," Manchester says. That's especially important in a transportation market that continues to struggle with a shortage of qualified drivers.
Sunoco works to attract drivers to the company by providing them with a higher quality of life. Shifts are 10 hours long, meaning drivers get to go home at the end of each day. Cabs are also outfitted with the latest technology to improve driver comfort and reduce driver fatigue. "What we try to do is have the best equipment, and we pay at the higher end to attract the best drivers," Manchester says.
But even as it seeks more drivers to fill out its schedules, Sunoco is not willing to trust just anyone with one of its trucks. Only about 10 percent of job applicants meet qualifications. Many don't meet Sunoco's strict safety standards. "Safety is our license to operate," Manchester says. "If we can't do it safely we won't be in business, so we're very picky about who we hire."
Nationwide Network
Manchester has had his commercial driver's license since he was 18 years old. He spent 23 years working for Mobil, and then ExxonMobil, and has spent the past eight years at Sunoco. During that time he's seen tremendous change at the company. In 2012, Texas-based Energy Transfer Partners purchased Sunoco, a move that primed the company for growth. Since then, Sunoco has expanded its operations into Texas and Hawaii, and has recently added two transmix terminaling facilities in the South, including a reclamation and transmix hauling operation in Birmingham, Ala.
Today, Sunoco primarily operates as a marketing company that distributes motor fuel to approximately 6,900 retailers in 30 states. "Our main priority is to provide fuel to our direct-serve retail locations throughout our footprint," Manchester says.
Getting gas to all those stations requires a substantial fleet. The company operates 130 trucks under the Sunoco brand, 80 trucks in Texas under the GoPetro brand, and 25 trucks in Hawaii under the Aloha brand. Another 20 vehicles are dedicated to Sunoco's reclamation, transmix and wholesale operations in Birmingham. In all, the company has about 550 drivers.
The logistics team is responsible for dispatching the loads to the service stations in the most efficient manner and insuring they don't run out of product. The company uses its own fleet and hired carriers to provide products to its customers.
The Sunoco fleet handles about 60 percent of the company's delivered volume, and its carriers handle the rest. "We do that because in certain markets the carrier is more efficient," Manchester explains. "We need our carrier partners help because we can't do it all, and volume fluctuates depending on the time of year."
Sunoco serves three types of customers: company owned, company operated stations; company owned, dealer operated stations, where Sunoco leases the property to the operator; and dealer owned, dealer operated stations, where the dealer owns the land itself. "Sunoco Transportation strives to supply its customers with flawless execution at the lowest possible cost," Manchester says.
Creating Efficiency
Technological advancements can help any industry become more efficient, and transportation is no different. Sunoco trucks are equipped with PeopleNet on-board computers that keep hours of service for each driver, and they also help create detailed monthly reports on hard braking and other safety and service related KPIs. The company measures on-time delivery, gallons per trip and gallons per hour to optimize routes and loads.
Sunoco's fleet helps the Company save money and better serve its customers, but Manchester knows there are no guarantees. The fleet must constantly improve to justify its existence. "If we're not doing it better than the carrier, the company fleet goes away," Manchester says.