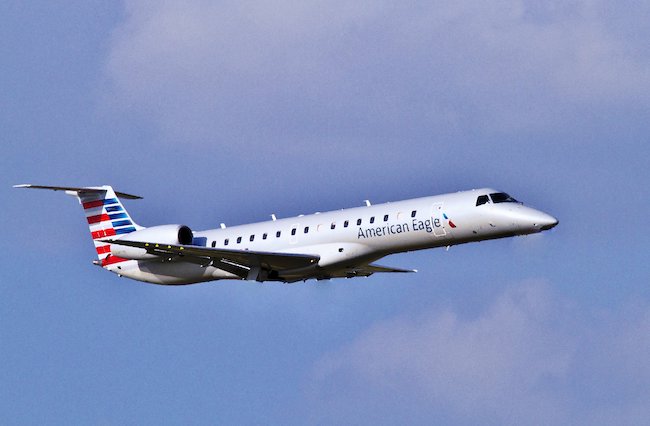 Piedmont Airlines combats the pilot shortage by offering aggressive incentives while investing in training and jet aircraft.
By Tim O'Connor
There was a time when being a passenger airline pilot was one of the most desired jobs in America, but that is no longer true. Competition for new pilots is driving operators such as Piedmont Airlines to become more aggressive in recruiting and incentivizing the next generation of aviators. "Our growth is limited by the number of pilots we can hire and train," Piedmont CEO and President Lyle Hogg explains.
Hogg says the shortage began after the Sept. 11, 2001, terrorist attacks on New York City and Washington D.C. The airline industry went into a deep dive and lost $22 billion in revenue between 2000 and 2001 as passenger traffic declined 5.9 percent, according to a report from the International Air Transport Association.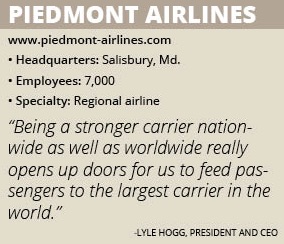 Uncertainty around the future of the industry and waves of concessions in airline union contracts turned many young would-be pilots away from aviation careers. The pipeline of ex-military pilots also began drying up as more service members chose to stay in the armed forces. The lack of new talent coming into the industry ultimately led to today's pilot shortage, Hogg says.
Meanwhile, aircraft maker Boeing projects that the industry will require 617,000 more commercial airline pilots by 2035. "Back when I started as a pilot of US Air (in 1984), pilot jobs were difficult to come by," he adds. "It was a real success to get noticed and hired by a major carrier – or a regional carrier for that matter. Now we are thirsting for pilots."
Piedmont is taking a number of measures to counteract that industry trend and recruit more pilots. The company offers a $15,000 signing bonus for new pilot hires, and tacks on an additional $5,000 for pilots who have previous airline experience. The signing bonus is in addition to an increase in salary for first-year pilots.
On the talent development side, Piedmont is encouraging more students to take advantage of an in-house cadet program that provides tuition reimbursement for young flight instructors at aviation universities.
The suite of incentives has boosted Piedmont's hiring numbers to between 25 and 28 new pilots a month. Hogg is aiming higher, however, and says 30 to 40 new pilots each month would be ideal. The entire company employed about 500 pilots at of the end of 2016.
The American Way
Piedmont Airlines' roots go back to 1962, when Henson Aviation began scheduled passenger service in Hagerstown, Md. Following a dispute with local politicians, the company moved its base to Salisbury, Md., and it became a feeder airline for Allegheny Airlines. Henson expanded service throughout the 1970s, and began building a name among larger operators.
In 1983, the original Piedmont Aviation purchased Henson, expanding the carrier's network from Canada south to Florida. Six years later, US Air – which later became US Airways – acquired Piedmont. In 1994 the parent company renamed Henson to Piedmont Airlines to prevent competitors from taking the name and feeding off the Piedmont brand.
Mergers are a natural occurrence in the airline industry. Piedmont stayed within the US Airways brand for nearly 20 years until US Airways merged with American Airlines in 2013 to create the world's largest airline. The company joined Ohio's PSA Airlines and Texas' Envoy Air as one of three wholly owned subsidiaries within American Airlines.
Piedmont now services American Airlines hubs in Philadelphia and Charlotte, N.C., and operates 400 daily departures to more than 50 cities primarily on the East Coast. More than 3 million people fly with Piedmont each year, and its ground crews serve more than 5 million passengers. "American's position as a strong domestic and international carrier creates many opportunities for Piedmont," Hogg says.
The cities Piedmont serves typically have small airports. In many locations, such as Salisbury and Hilton Head, S.C., Piedmont is the only airline to serve the community. The average flight distance is 140 miles and most trips clock in at less than one hour. Hogg says that gives the airline a special significance to local residents, who would otherwise have to drive long distances for air service.
Being a part of the American Airlines network also helps Piedmont in its recruiting push. On top of the incentives and bonuses Piedmont provides, its pilots can flow directly to an American Airlines position once they reach seniority, without having to go through the parent company's application process. "After spending five years here at Piedmont you're well-equipped to move on to our parent company if you choose to go," Hogg says.
The investment Piedmont is making in its employees through training and incentives is a reflection of American Airlines commitment to upgrades. American Airlines recently debuted a new baggage retrieval area at the Philadelphia Airport's express terminal, which acts as one of Piedmont's primary hubs.
At the Charlotte Douglass Airport, the company's other hub, American Airlines is embarking on an expansion of its terminal that will place jetways at every gate so that passengers don't have to board on the tarmac, and increase the number of walkways and escalators.
Fleet Future
Today's airline passengers have shown a preference for jet aircraft over turboprop engines. Jets are considered to be faster, quieter and more modern. So when it came time for regional operator Piedmont Airlines to replace its aging but dependable Bombardier Dash 8 turboprops, it's no surprise American selected the Brazil-made Embraer-145 jets.
The jets began entering service for Piedmont American Eagle Routes in February 2016. The planes have updated interiors that adhere to the new standards set by American Airlines. The company has added 13 jets so far and its remaining 34 turboprop planes will be phased out and replaced by the end of 2018.
The switchover in aircraft means a totally new training regimen for Piedmont's pilots, flight attendants and maintenance technicians. Embraer is on site working with Piedmont employees to learn the new systems. The airline itself invested in several upgrades at its training facility in Charlotte, N.C., including new flight simulators, a new cabin trainer and desktop devices in classrooms to teach pilots and flight attendants how to react in any situation.
"We're going to be training pilots for many years to come and we want to be the best at it," Piedmont CEO and President Lyle Hogg says of the investment. "Not only is it improving the training the employees receive but it also shows we're investing in the future of Piedmont Airlines."