Tenold Transportation LTD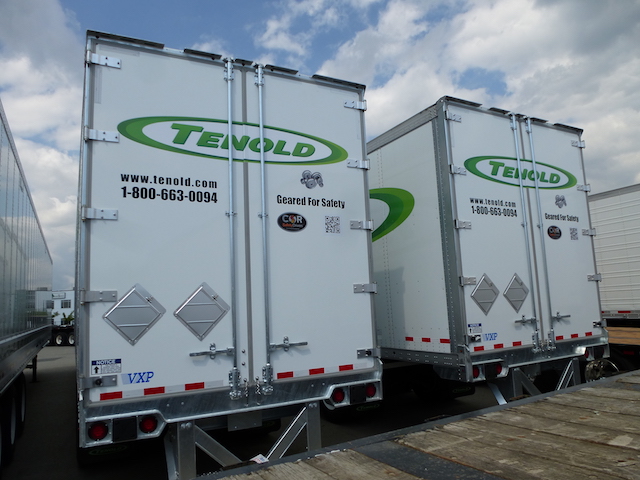 Tenold Transportation LTD celebrates its 50th anniversary with plans for growth in North America.
By Kat Zeman, Senior Editor at Knighthouse Media
A leading provider of transportation services throughout North America, Tenold Transportation LTD is celebrating its 50th anniversary this year. Based in Surrey, British Columbia, the company has come a long way since its humble beginnings. "The company started with one truck to service the cable and utility industry," says Ben Thomson, senior vice president and general manager.
Founded in 1968 by Gar Campbell, the privately-owned company operated under the name of A&W Trucking Ltd. Campbell established the company to support the growing needs of the wire and cable industry in the Greater Vancouver area.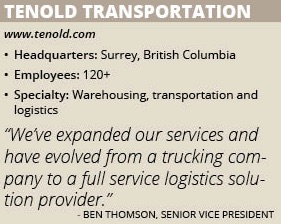 In the 1970s, A&W expanded its fleet of trucks and drivers becoming a regional carrier in British Columbia and Alberta. Later, Campbell saw an opportunity to expand into Saskatchewan and acquired Tenold Transportation and adopted the new name.
Expanding Services
The new company further expanded the company's coverage throughout Canada and the United States. In 2005, the business was sold to the Mullen Group based in Okotoks, Alberta. Today, Tenold represents one out of 33 independently managed business units under the Mullen Group, a publicly traded company that services the oil/gas and trucking/logistics industries.
"We've expanded our services and have evolved from a trucking company to a full-service logistics solution provider," Thomson says. "We are proud to have maintained some of our first customers 50 years later."
Tenold Transportation is a for-hire carrier that services businesses throughout North America using flat decks, step decks and dry vans to transport a variety of freight. It still works closely with numerous utility companies and cable manufacturers.
Its services include truckload and less-than-truckload along with intermodal services warehousing. Aside from its headquarters in Surrey, the company has four other locations in Canada: Edmonton, Alberta; Weyburn, Saskatchewan; Winnipeg, Manitoba; Johnstown, Ontario.
It utilizes owner/operator fleets, both long haul and regional fleets, focused on first mile/last mile and local moves within terminal regions.
Tenold Transportation offers a variety of equipment to its customers including flat/step decks, b-trains, dry vans and crane trucks. While its core customers have diversified over the years, the company continues to support all industries with much more than trucking services.
It has added services such as cable cutting, reel repairs/reuse, warehousing, pick/pack services, short/long term yard storage, freight consolidation/deconsolidation, drayage services, rail services, inventory management, logistics and third-party on-site staff management.
"We're going to continue to expand our services to all of our customers through strategic investment in systems, process and people." Thomson says.
Making Investments
Tenold Transportation utilizes the network of the Mullen Group as well as other industry partners to offer a variety of services to its customers as a one-stop full service provider. Through investment in staff and technology, the company seeks to deliver best-in-class service in a very challenging and competitive market.
"Our company services a very volatile industry," Thomson says. "So, service is the key aspect of our business, supported by a strong commitment to safe, ethical and environmentally responsible operations."
Citing safety and compliance as the primary focus of all Mullen Business Units, Tenold Transportation is an active participant in AB/BC COR, Smartway, C-TPAT, FAST as well as an extensive internal safety program within the Mullen Group known as the Grand Prize Safety Award.
The company strives not only to be a leader in the market with respect to safety, but challenges its collective performance to exceed industry standards.
Tenold Transportation is committed to minimizing negative impact on the environmental through the use of leading technologies, educated choices and innovative thinking. It seeks to create a culture of environmental stewardship by planting seeds of knowledge and caring within its organization.
The company employs roughly 120 people with a growing owner operator base currently at 80 units. Tenold Transportation thanks its employees, customers and industry partners for all their support and dedication over the past 50 years. "It's all about the people," Thomson adds. "That's our motto and our commitment."