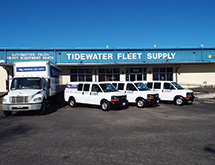 Tidewater Fleet Supply got its start 62 years ago as a battery warehouse. "The core customer was the independent garage," President Allan Parrott says. Auto dealerships were also a primary client of the company.
Much has changed in six decades. Today, Tidewater Fleet Supply is a full-line automotive, truck and heavy equipment parts distributor. "In the 1990s, we shifted gears," Parrott says. "The core customer changed to fleets. We have evolved into a full-line supplier."
Cities and Towns
The Norfolk, Va.-based company has a range of customers but does significant business with several cities and towns in Virginia and North Carolina. It provides parts and services for their extensive fleets that include cars and emergency vehicles, as well as public works equipment and other machinery.
"We deal a lot with the cities," Parrott says. In fact, its proximity to several cities in the southeast corner of the state – including Portsmouth, Suffolk and Chesapeake – makes it easy for the company to quickly deliver parts from its five warehouses. "We're a regional company," Parrott says. "Most of our business is in Virginia and North Carolina."
Meeting the needs of municipalities requires Tidewater Fleet Supply to stock a variety of parts. "We don't specialize in one product category," Parrott says. Indeed, the company can provide practically any auto part from spark plugs to engines and transmissions from the 140 product lines it carries, he says. Tidewater Fleet Supply serves approximately 2,500 clients, which includes several school bus garages.
Working with government clients presents some unique challenges, Parrott notes. "They've got very diverse fleets and a need for many items," he says. But municipalities often face budget constraints, meaning they have less money to spend on new equipment and seek replacement parts instead.
Tidewater Fleet Supply also counts the state and federal government among its clients, Parrott says. Newport News Shipbuilding, which builds U.S. Navy aircraft carriers and submarines, is one of Tidewater Fleet Supply's largest customers as well.
Speedy Delivery
Having the appropriate part on hand is only part of Tidewater Fleet Supply's equation for success. Rapid delivery is another essential component. "Our 40 delivery trucks allow us to deliver to most of our customers on an hourly basis," Parrott says. That's especially important when a public works department or construction company needs a part in order to continue a job.
"We provide a good service for our customers," Parrott says. "We get parts to them quickly." He adds that most clients prefer just-in-time delivery. "Customers don't want the inventory investment, and they rely on us to get the parts to them quickly."
Tidewater Fleet Supply also strives to save its clients money by purchasing parts directly from the manufacturer rather than working with distributors. "It's a more cost-efficient approach," Parrott notes.
The Internet presents a challenge to the company because "it's easier [for customers] to price shop," Parrott says. But Tidewater Fleet Supply does more than provide parts, he points out. "We're selling a service," he says. "We won't always be the cheapest."
Tidewater Fleet Supply makes the ordering process convenient for customers by offering customers access to Nexpart, an online catalog and ordering tool that eliminates the time spent ordering parts on the phone. Through Nexpart, customers can view information, pricing and availability of more than $4 million worth of inventory, Parrott says. The online catalog and ordering system is accessible via the company's website.
Knowledgeable Customers
Tidewater Fleet Supply maintains an ongoing relationship with its customers and frequently offers training programs to better acquaint them with the latest parts and supplies. "They like it," Parrott says. "Most people think they need more training. A more knowledgeable customer is a customer that performs better."
"We're a regional business," Parrott adds. Tidewater Fleet Supply serves customers in southeastern Virginia, the Richmond area and northeastern North Carolina from five warehouses in Chesapeake, Hampton, Norfolk, Virginia Beach and Richmond.
Tidewater Fleet Supply is certified as a small business under both federal and state standards. The company also specializes in managing the parts procurement process for municipalities and large corporations.
Tidewater Fleet Supply also specializes in other services including flywheel grinding; custom-made air conditioning and power steering hoses; hydraulic hoses and battery cables; and starter, battery and alternator testing.