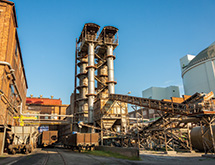 United Sugars Corp. (USC) might be giving new meaning to the blues standard "Sweet Home Chicago." The company is building the largest freestanding sugar storage and transfer facility in the country in Montgomery, Ill., 45 miles west of the Windy City.
"It's a state-of-the-art facility," says Darla Willoughby, transportation manager of administration and carrier development. "It's about meeting challenges. This gives us options."
USC is a leading marketer of sugar in the United States. The Bloomington, Minn.-based marketing firm is owned by three leading sugar producers: American Crystal Sugar Co., Minn-Dak Farmers Cooperative and the United States Sugar Co. USC markets sugar to major food and beverage manufacturers and food retailers nationwide on behalf of the producers.
The goal of the new storage and transfer facility is to bring sugar closer to the Chicago market. "It brings the supply chain closer to the customer," Director of Marketing Steve Hanson says.
The Chicago market is the largest sugar consumer in the country, largely because of the substantial number of bakeries and food manufacturers located in the city.
USC decided that locating a storage and transfer facility near Chicago would offer a competitive advantage to the three sugar producers it represents, Willoughby says.
The location is ideal because trains arriving in Montgomery will avoid congestion in rail yards closer to the city. "What makes it unique is its size," Hanson says. Built and financed by American Crystal Sugar Co., the $40 million facility will be operated by USC, which will manage the sales and distribution to customers in the area.
"Customer requirements change frequently and this facility will allow us to quickly and easily respond to their needs and avoid interruptions in supply," says Dirk Swart, executive vice president, industrial sales and marketing. The new location will also allow for expansion.
Sugar Dome
The 20-acre facility will feature a 26,000-square-foot bulk storage dome, a 17,000-square-foot transfer facility and 5,500 feet of track. The dome will stand 134 feet high and 183 feet wide. It will hold more than 60,000 metric tons of sugar and enable the transfer of nearly twice that amount to many of the largest sugar users in the country, Hanson says.
There is also room for a second dome. The facility is expected to begin operations by the end of 2016. "This is a big thing for us," he says.
Sufficient sugar storage is key to USC's success. "We operate in a "push" environment," says Willoughby, a 30-year veteran of the sugar industry. "We have to process the crop in a nine-month period, but we need it for a 12-month period." The company also must gauge the sugar demand before fulfilling orders. "We don't sell all of our product until we know what we're getting," she explains.
USC faces other challenges as well. "It's a logistical business," Willoughby says. "For us, the challenge is making sure the product is moved away from the plant." That requires USC to constantly track shipments and make sure orders are completed on time despite obstacles that might impede delivery.
Co-Op Business
The strength of a co-op helps meets those challenges. "The three companies come together and form USC," Willoughby says. "We are a marketing company. We are a little bit unique." USC was founded in 1994 and supplies about one-fourth of the total U.S. demand.
"Any time you can leverage logistics is a benefit to the customer," Willoughby says. Two ways in which USC accomplishes that task are by protecting customer volume and deliveries, she says.
"If there's a hurricane in Florida, we can move shipments out of plants in the north," she explains. "If there's a snowstorm in the north, we can look to our supply in the south."
USC operates three plants in both North Dakota and Minnesota as well as one in Montana and Florida. It has 20 distribution centers throughout the country and one on Mexico. The company provides a variety of sugars to its industrial customers including fine granulated, baker's special, fruit, coarse, cordial, powdered, brown and liquid sucrose. USC's products also are available to retail consumers.