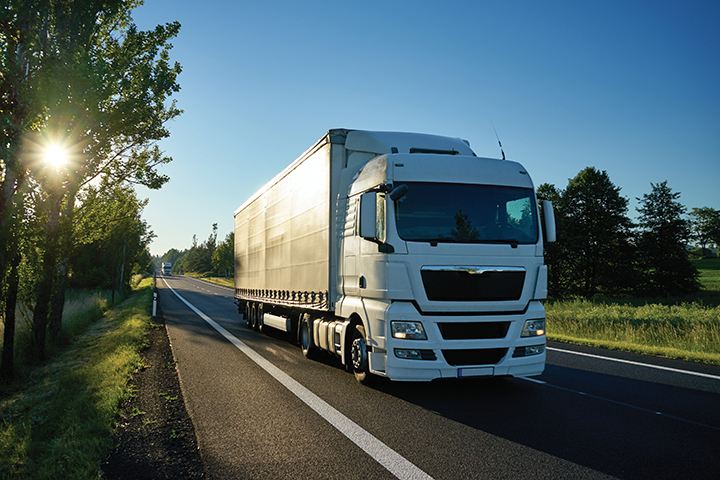 You can enjoy benefits from improvements in semi-trailer technology.
By Michael Goor
While improvements in semi-trailer technology may pale in comparison to many of the disruptive technological advancements making headlines today, they are, in fact, equally as important. Consider the notion that, with the exception of a newborn baby, virtually everything we use in our everyday lives is delivered by truck. Therefore, the ability to improve operating efficiency, reduce expenses and maximize payloads is absolutely critical.
The significant driver shortage and the overwhelming need to ensure that trailer equipment is safe and compliant emphasizes the importance of procuring equipment that will perform well, at a low cost, for a long time. Advancements in telematics, lightweight components, composite materials and improved designs afford an operator who possesses the proper equipment the ability to be more versatile with shippers and demonstrate a legitimate competitive advantage.
Let's take a deeper dive into some improvements and their respective benefits. Telematics have come a long way since their entry into the market place back in the late 1980s. Originally, these tracking devices used a geostationary satellite system, which could provide operators with not much more than start/stop events and latitude/longitude. Additionally, the technology was much more expensive, with significant gaps in coverage, and the hardware left much to be desired with the battery technology simply not being up to par for the transportation industry, where often trailers would sit untethered for extended periods of time. The common practice of parking untethered would cause the internal battery to depower which, in turn, would cause the operator to lose visibility of the asset.
Today, telematics companies are engaged in a fierce battle for market share and as a result, they have collectively raised the bar considerably. The trailer tracking systems of today operate on a cellular network with extensive coverage and fewer outages at a much more economical price tag. The web portals for these companies are quite robust, allowing customers to access data in real time and offering analytics for information collected on a number of data points including idle time, cargo sensing, door events, temperature events, mileage readings and more.
The ability to carry greater payloads has moved center stage on the priority list for trailers, as shippers focus on increasing the amount of product per shipment. The ability to gain an extra pallet position per trailer load can literally translate into millions of dollars of savings in transportation costs.
The biggest bang for the weight-reduction buck comes from the use of "super single" tires. In this configuration, there are four wide-based tires instead of the standard eight. The weight savings for this tire configuration, in combination with lightweight aluminum wheels, can exceed 700 pounds per trailer.
Another significant semi-trailer advancement is the construction of the rear doors. Antiquated ply-metal doors or wood-paneled overhead doors have been replaced throughout the industry with lighter weight composite doors. Composite doors are not only lighter, but also much more durable and resistant to weather, as they are constructed of a high-density polyethylene core with steel outer skins. Doors made of wood or having a wood core begin to deteriorate immediately once the bare wood has been exposed to the elements and quickly need to be replaced.
Door holdbacks are small in size and cost, and yet they can represent huge savings in the reduction of rear door damage. While the actual purpose of a door holdback is to secure the door when it's in the open position for loading at the dock, many folks move trailers around in their yards with the doors open and the basic door holdback is simply not designed to keep the door intact while the trailer is in motion. There are several types of door holdbacks and while none of them are actually designed for the purpose of holding the doors in place while the trailer is being driven around, there are some that will substantially reduce the incidence of door damage as a result of holding the door tighter and with more tension.
With the need to provide maximum carrying capacity for shippers, trailer floor systems have taken a quantum leap in meeting the rigors of increased payload weight with the advent of the composite floor. The name is a bit of a misnomer as these floors are in fact hardwood; however, they have a thin layer of laminate on the bottom which causes the weight bearing capacity to increase considerably, with an ancillary benefit of keeping the external part of the trailer floor from the damaging effects of weather and ice-melting chemicals on roads.
Composite panel trailers, or "plate" trailers as they are often called, have become the trailer type of choice for the largest fleets in America. This type of trailer construction provides an operator with a larger interior width than a standard sheet and post trailer, and presents the folks that are loading the trailer with a completely smooth sidewall surface. This results in reduced product and trailer damage from snagging. Externally, these trailers are more damage resistant too, as the composite panels are not as rigid as the sheet and post design and will yield to impacts, as well as being generally stouter than thin aluminum sheeting.
Light emitting diodes (LEDs) used for trailer lighting versus incandescent bulbs are a huge advancement with respect to trailer downtime and maintenance. The low-profile nature of these components is, in some cases, completely recessed into the trailer, making it virtually impossible to knock them off. Further, these lights are sealed units which are essentially "plug and play" and carry a lifetime warranty.
Captive beam systems afford shippers the opportunity to double-deck their freight, provided that they do not exceed the total allowable weight for the payload and tractor/trailer combination. This is achieved by installing tracking on the sidewalls that accepts load bearing beams which can be used as the support members to build a second floor using plywood sheets. The tracks can be configured based on product weight to ensure maximum carrying capacity is achieved.
Couple trailer improvements with a properly aligned financing and lifecycle strategy, along with ancillary services such as 24/7 emergency road assistance, onsite maintenance services and web-based data analytics, and an average fleet can reasonably expect to reduce their true cost of ownership by up to 20 percent. Additional benefits of operating properly built and maintained trailers include reduced downtime, improved customer and driver satisfaction and the potential to mitigate insurance cost increases due to poor risk profiles.
Providing tailored equipment and service offerings saves clients millions of dollars through cost avoidance and improved operating efficiencies. While "out of the box" solutions can occasionally be the right answer for some, choosing a partner with considerable industry knowledge and experience, who will continuously seek out ways to add significant value will ensure your business reaps the greatest benefits from proper trailer specifications.
Michael Goor is president/CEO of CLC (Contract Leasing Corp.). CLC is a family and employee owned and operated semi-trailer leasing, sales and fleet management company. For more than 26 years, CLC has been earning business by being singularly focused on developing the right solutions for clients' respective needs and challenges. Contact Michael Goor at CLC at (732) 463-7066.