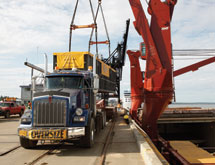 For TOTE Logistics, developing its talent base and maintaining a healthy level of growth are top priorities. "We've been growing about 10 to 15 percent per year for many years," TOTE Logistics President James Armstrong asserts. "Our challenge is to continue that trend and expand our operations to meet the growing needs of our customers. In addition to expanding our driver pool and adding assets, we are making significant investments in technology. We're launching numerous systems this year that will put ourselves ahead of the competition with respect to IT systems that improve the customer experience. This be a marked change for 2014."
TOTE Logistics provides a full suite of supply chain, project management and transportation services. The transportation services are delivered by its two subsidiaries, Carlile Transportation Systems and Spectrum Transportation. Some of these services include LTL, TL, bulk, heavy haul, port drayage, and ocean and air services. "We are part of the larger TOTE family of companies," Armstrong explains. "All TOTE companies are aligned under the same shared values of safety, resourcefulness and reliability that built the TOTE reputation."
TOTE Companies
TOTE Logistics is one of the three TOTE lines of business. TOTE Logistics' multimodal services handle everything from less than container load to over-dimensional, heavy-lift cargo domestically and in the Jones Act and international trades. TOTE Maritime companies, Totem Ocean Trailer Express and Sea Star Line, provide scheduled roll-on/roll-off and container services to and from Alaska and Puerto Rico. TOTE Services offers vessel charter, crewing and marine terminal management for private, commercial and government vessels.
In 2012, TOTE announced it would be the first in the U.S. to convert two of its vessels in the Alaska trade to run on liquefied natural gas (LNG). Later that year, TOTE Shipholdings announced it was building the world's first LNG container ships to serve the Puerto Rican trade. The ships will exceed the sulfur reduction goals of the North American Environmental Control Areas (ECA) by 95 percent, besides achieving significant reductions in all other categories of emissions including carbon dioxide.
TOTE represents the shipping and logistics arm of Saltchuk Resources, a family owned transportation and petroleum distribution company located in Seattle.
Northwest and Southeast
TOTE Logistics provides full-service domestic multimodal transportation including both road and rail services. Its flexible model is designed around its customers' needs, which may utilize TOTE company assets as well as non-asset solutions. This flexibility enables TOTE Logistics to service its customers whether it is on the railroad or on the ice road. TOTE Logistics moves products of all kinds and has an extensive heavy-haul capacity.
TOTE Logistics is a non-vessel operating common carrier, international air freight forwarder, international air carrier and customer house brokerage that provides time-definite domestic and international air freight services ranging from small package shipments to large vessel charters.
In addition, TOTE Logistics provides warehouse, inventory management, freight consolidation and distribution solutions through regional operation centers in Tacoma, Wash., Anchorage, Alaska, and Jacksonville, Fla., and an additional 15 operation locations across the network in the United States and Canada.
Armstrong estimates that 40 percent of TOTE Logistics companies' business is for the oil industry and 45 to 50 percent of TOTE Logistics' shipments are to Alaska. For example, TOTE Logistics' companies manage the supply chain and logistics for large-scale projects, shipping construction materials to build bridges and other infrastructure for continued oil exploration.
Besides the continental United States and Alaska, TOTE Logistics also ships to Canada, Hawaii and Puerto Rico. "We're continuing to grow in oil and gas, retail, seafood, as well as construction and military," Armstrong says. "Those are some of our current growth areas. We want to continue to focus and expand within these industries."
Carlile Transportation Systems is already one of the largest transportation companies in Alaska and has approximately 350 tractors and 1,800 trailers. "Although the majority of our revenue is less than trailer load and trailer load, some of the trailer equipment we use is very specialized for heavy haul," Armstrong notes.
"We have a very strong reputation within the heavy-haul business based on our expertise, equipment and relentless focus on safety," he adds.
Spectrum Transportation, which operates mainly on the East Coast, has approximately 180 tractors. A large share of Spectrum's business is moved via truck and rail for the Puerto Rican and the Caribbean markets.
"We're not trying to be everything to everyone," Armstrong emphasizes. "We're very focused on the markets that we serve and extremely focused on providing resources, expertise and technology to our customers in those markets. We have assets covering land, sea and air, and that's very attractive to customers – they appreciate our expertise and ability to manage the supply chain from start to finish."