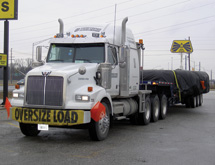 Among the top North American specialized carriers, Trans-United has established a reputation for meeting and exceeding its customers' hauling needs. The company's services range from flatbed and specialized to superload freight, and it is capable of transporting goods – from less-than-truckload to heavy haul – in all 48 contiguous states and most parts of Canada and Mexico.
Trans-United has approximately 80 trucks in its fleet at this time, although it plans to grow its sales by 15 percent and fleet size to 95 trucks by the end of the year. The company's services have been focused on the use of specialized, stepdeck, doubledrop and multi-stretch equipment. However, Trans-United plans to increase its flatbed focus so it can build a stronger volume base.
Internally, the company goes to great lengths to employ only skilled operators as its drivers. This helps Trans-United provide safe and reliable service. "As far as differentiation goes, it is the quality of our drivers and employees, and the commitment they have to serve," President Jeffrey Fleming says.
Customers Come First
Trans-United operates based on a principle that it calls "Truckismo." This holds that the company must be dedicated to overcoming challenges, avoiding complacency and consistently demonstrating qualities such as hard work, honesty, integrity and trust. "The people here understand this business and what it takes to get a difficult job done," Fleming says. "They understand the nature of the commodities we transport, and they know how to secure and protect them."
Fleming says Trans-United qualifies drivers before they can enter the company, which he says is different from many carriers. The company looks for drivers who want a long-term employment relationship, and already have a number of years under their belts.
"Drivers come into orientation and spend three days where they must verify their experience," Fleming says. "They must be able to do things like preplan a trip on an over-dimensional load, verify their equipment and cargo securement knowledge. When we bring drivers in, they must earn the right to be in this company and take on big challenges because we won't do anything that puts the customer in jeopardy."
Not all of Trans-United's services are provided by the company's own fleet. The company is always seeking high-quality agents and carriers to work with so it can increase the size of its sales and carrier operations, Fleming says.
"Our carrier base is extremely important to us," he says. "That is the logistics side of the business. We've prequalified carriers and continually monitor their records on safety and quality. The key is partnering with quality carriers that can provide a similar quality to what we can provide. Ultimately, it is about serving the customer and getting the job done right."
Keeping up with Change
The challenges facing Trans-United include regulation, as Fleming says it is ever more difficult to comply with all of the regulations as items are moved from point A to point B. Government entities view rules and compliance from safety and revenue-generation angles, and the burden on carriers is heavier than ever.
"We are an irregular route carrier, and there is no easy formula or computer program that can constantly monitor regulations because the environment is always changing," Fleming says. "We have to comply with all rules and policies while we stay in front of our costs, such as permits and escorts."
Another challenge is fuel cost. As the cost of fuel has gone up, Trans-United has had to adjust its pricing and insert fuel surcharges into its prices. "To control the cost side of it, we look at fueling strategies and negotiating discounts with truck stops," Fleming says.
Trans-United will continue to make investments in its own fleet of trucks and trailers so they are capable of hauling the size and weight of the various commodities its customers need to move. The company will also look to expand its third-party carrier relationships.
The main priority for Trans-United is to maintain a customer-first focus. Fleming says the company has built a very loyal customer base, which has helped Trans-United with repeat business, long-term relationships and customer referrals. Trans-United intends to do whatever it can to stay in front of current customers while continuing to generate leads on new business.
"There is always pressure on this industry. To be safer, have higher levels of compliance, and there is always pressure on drivers to perform," Fleming says. "This isn't an easy business, especially because we are very diverse and have a large scope and range of operation. But we have a long history, and a group of people that are passionate about the industry. This is extremely important to our continued success."