United Express System Inc.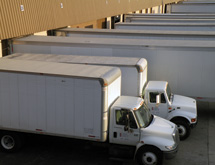 Brad Westrom was a firefighter in Aurora, Ill., who was looking for a side business to fill the downtime he had when he wasn't at the fire station. After determining that a delivery service focusing on Aurora and other western suburbs of Chicago would be a good part-time opportunity, he started United Express System Inc. Little did he know, however, that his humble idea would take root and grow the way it has since 1983.
"It grew from our kitchen table into something bigger because we developed a need and created some niche-filling ideas for companies in the suburbs," Westrom says. Today, United Express System is Westrom's full-time job, and one of the leading transportation firms in the area. What originally was simply a messenger and delivery service has grown into a company that offers full transportation and logistics services to customers in the western Chicago suburbs. Westrom says adding services such as less-than-truckload services and logistics to United Express System became a natural outgrowth of serving its customers.
With a 150-vehicle fleet that includes cargo vans, sprinters and tractor trailers, United Express System has found a successful niche for itself outside Chicago and now central Illinois and southern Wisconsin, as well. Westrom says that as long as the company continues to focus on its commitment to its customers, United Express System should continue to be a strong presence in the Midwest for years to come.
Key Advantages
One of the earliest keys to success for United Express System was the area it served, Westrom says. When he started the company, messenger services weren't prevalent in the Aurora and Naperville, Ill., area. However, a corporate corridor along I-88 in those communities was beginning to blossom into a major economic force. Even though Chicago had a multitude of transportation firms serving it, few of them took advantage of the growth in Aurora and Naperville, Westrom says.
"Still to this day, I believe that same thing is true," he says. "It has allowed us to get a pretty decent foothold."
United Express System is no small-town operator, either. Aurora and Naperville rank among the largest cities in Illinois, and the number of corporate headquarters and facilities between the two cities would make them prime territory were they not so close to Chicago. "You put these two cities together, and it's almost the size of Oklahoma City or Cleveland," Westrom says.
Even though United Express System has thrived by taking advantage of the opportunities in Chicago's western suburbs, it requires more than seeing an opportunity to be successful. Westrom credits the work ethic of the company's work force for its success. "I believe that United Express has succeeded solely and only due to the quality and loyalty of the people who work here," he says.
Early on, the company was focused on finding people who had a strong work ethic and were proactive thinkers who could easily solve problems for customers. Westrom says customer service is the natural side effect of having a strong workforce, and that's demonstrated in the company's 97.9 percent on-time performance rating. "If you don't put on a good face for the client, you're not going to get very far," he says.
The Road Ahead
Even though United Express System had found true success in its niche, that does not come without challenges. Westrom says the biggest obstacle is excessive red tape. "Oversight by government agencies and regulatory bodies unfortunately take half my time that could be better spent on growing the company and creating jobs," he says. "I think that's one of the biggest hurdles to overcome."
Competition also puts pressure on the company, as carriers reach out into new markets to find clients to replace business that vanished in the recession. "In the supply chain, price is king right now, and the competitiveness makes it very difficult to make enough profit to continue to grow the company," Westrom says.
Nevertheless, Westrom says United Express System is poised to grow in the near future. "I see for us growth of our brand and growth of the number of opportunities that we align ourselves with," he says. "We can only do that if we keep the quality of service at a certain level, and we do that with our people."