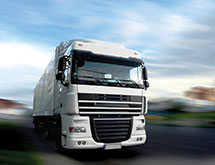 The polar vortex sweeps out of the Arctic over Canada and North America only in winter, but inside Tribe Transportation's trailers, it's always arctic. The company's fleet of approximately 290 trailers keeps deep-frozen products such as ice cream and pharmaceuticals at temperatures of minus 20 F or colder, while other grocery products such as seafood are maintained below 32 F.
Besides finished products, Tribe Transportation also ships ingredients and intermediate products to locations for additional processing. Many of the deliveries are just-in-time of perishable items for major food companies. "We have delivery times and requirements that we've got to make," Executive Vice President Matt Handte emphasizes. "We feel like food is recession-proof, and the demand for food continues to increase."
All the company's trailers are 53 feet in length. The older ones are converted for use on railroad cars. "As we retire a road trailer, our goal is to outfit it with a lift pad and a larger tank and put it on the train," Handte says. "You've got to put lift pads on the trailer and some protective shielding that allows them to lift that trailer on and off the train."
The company's tractors are replaced when they have traveled approximately 360,000 to 425,000 miles. A tractor may rack up that number of miles in as few as two-and-a-half years if driven by a two-man team or up to four years if it is driven by one driver on single shifts.
"We've got a short cycle," Handte declares. "After we retire a tractor from our fleet, we sell it on the used market." Tribe Transportation has its own maintenance shops, but it also takes advantage of Thermo King's refrigerated trailer maintenance and repair anytime and anywhere in its 200-location service network.
Real-time Communication
The company's tractors have satellite tracking and equipment that allows communication with drivers in real-time. "On temperature-sensitive products, we keep an eye on it and report that to our customer," Handte says. "If we're on a pharmaceutical-type load or if we're on something that requires some sensitivity in monitoring, we can do that real-time. Most of our equipment is new and extremely reliable."
Tribe Transportation takes into account the southern and southwestern climates through which its trucks travel. "We spec our equipment with that anticipation of hotter climates," Handte says. "We have a unit that is big enough to create the necessary temperature we need, and our trailers are well-insulated." Besides the South and Southwest, Tribe Transportation also serves the rest of the United States and Canada.
The tractors have auxiliary power units so idling is not needed when the truck is stopped to provide heat or electricity. They also have collision avoidance systems. "That certainly alerts and warns our drivers of a potential collision," Handte says. "So if a driver doesn't make an adjustment by either changing lanes or slowing down, it will control the truck and it will slow down."
More Tractors
Tribe Transportation is a woman-owned, minority business enterprise. Many of its customers are major food companies. "If a customer has some kind of diversity spend that would go toward minorities, we certainly would qualify for those," Handte says.
For the future, Tribe Transportation is investigating the use of natural gas as fuel. "At some point in the future, natural gas will be a big part of what we do, and probably will fuel the future when it comes to class A trucks," Handte says. The company also is planning a new campus of buildings in Gainesville, Ga., that would include an expanded maintenance shop and driver amenities such as game rooms and exercise facilities.
Expansion of the current facilities that include the company's only warehouse will be needed to handle the increased business the company plans. By the third quarter of this year, the company expects its trailers to number 430, and by the first quarter of 2017, its fleet of tractors should number 500.
Handte credits Tribe Transportation's customers and employees for its success. "We've been fortunate enough to align ourselves with the best customer partners that are out there," he says. "Through organic growth, we've grown significantly. The ability to recruit a driver into a family owned atmosphere, put them in some of the best equipment on the road, pay them what they need and give them the miles they need – it's a formula that attracts other drivers. I'm an old football coach, and we continue to look for the best 'players.' Our goal is to field the best team with the best players and certainly win as a result."