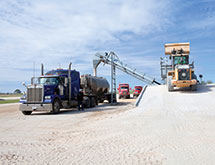 Frac sand transloading leader Wildcat Minerals LLC is expanding with two new sites in west Texas and Ohio. Wildcat is the largest domestic, independent provider of materials-handling and supply chain visibility solutions for oil field consumables.
The company operates 20 dry bulk and proppant storage facilities and fluids transloading terminals in 10 states. During its eight-year history, Wildcat has pioneered the development of high-capacity and high-volume distribution terminals and real-time inventory management technology that allow customers to manage inventory from the processing plant to the wellhead in real-time. Wildcat is headquartered in Golden, Colo.
Last year, the company opened the new sites in Odessa, Texas, and Hannibal, Ohio, bringing it to 20 locations. The company is also considering another new project in Colorado.
"Odessa is a major base in the Permian [Basin] in West Texas," CEO Steve Herron says. "We felt that a high-capacity, high-volume facility was needed to assist our customers to lower their cost so we developed a state-of-the-art facility to do just that."
The site will have state-of-the-art drive-through silos and will have the capacity to load trucks in less than five minutes. "We are pleased at the opportunities that have arisen from the Odessa Terminal," President and COO Pete Melcher says. "This facility provides a best-in-class location for customers to increase their velocity to the wellhead."
The Hannibal site likewise was created based on customer feedback and requests. "The location offers barge and rail service," Herron explains. "Our customers feel there is an opportunity to assist them improve their intra basin logistics."
The Ohio expansion enables the company to store more than 10,000 tons of proppants, and receive barges and unit trains. "Wildcat's expansion into the Utica [Shale] further increases our national footprint and allows us to assist our customers in lowering their costs to bring their products to the wellhead," Herron explains.
"We are pleased at the opportunities that have arisen from the Hannibal Terminal," he adds. "This facility, with barge, manifest and unit train capabilities, provides a unique value proposition for our customers."
In the past eight years, Wildcat has honed its processes to improve its customers' experience. "We offer best-in-class facilities for safety and efficiency," Herron states. "They are run to high standards." The new facilities "have been a great addition for our customers," he adds.
Safe and Sound
Wildcat emphasizes safety as its top priority. "Our safety record is first and foremost," Herron says. "That is absolutely paramount."
The company operates a real-time inventory management system to reduce costs. "We focus on helping our customers lower their costs to the wellhead," Herron says. "That is precisely the reason why companies use third-party logistics and we have a track record of safety, efficiency and lowering costs."
Industry Trends
Wildcat sees the oil business consolidating. "Market conditions are difficult due to a rapid fall in oil prices and strong market headwinds," Herron says. Although there are signs of a price rally, Herron says customers need Wildcat Minerals now more than ever.
The frac sand transloading sector has seen several new companies enter the space in recent years, but Herron predicts the number of companies in this niche will be fewer in the years to come. "We see it consolidating into a handful of national and regional players," Herron predicts.
As a transloading operation, the bulk of Wildcat's work relates to frac sand logistics. In fact, much of the Wildcat Minerals staff consists of frac sand vets. "My team comes out of frac sand production so we know the operational and quality needs," Herron says.