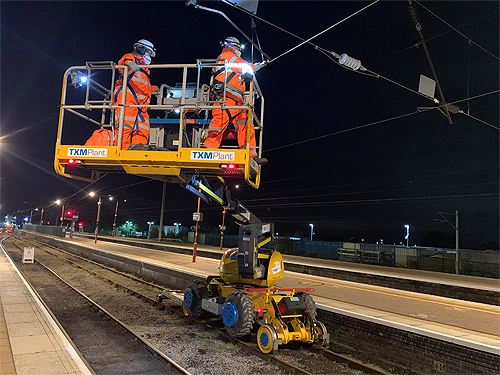 Keeping things moving
Recognized for compliance, safety, and reliability within the rail industry, TXM Plant possesses one of the most extensive Road Rail Vehicle (RRV) plant fleets found anywhere in the UK
With more than 25 years of experience of working within the rail sector – and over 445 dedicated and professional men and women involved within the business – TXM Plant is today recognized as one of the UK's leading suppliers of Road Rail Vehicles (RRVs). Boasting over 260 RRVs and more than 900 complementary attachments to support a variety of projects, the company specializes in delivering operated RRV hire, plant operations scheme (POS) services and ALO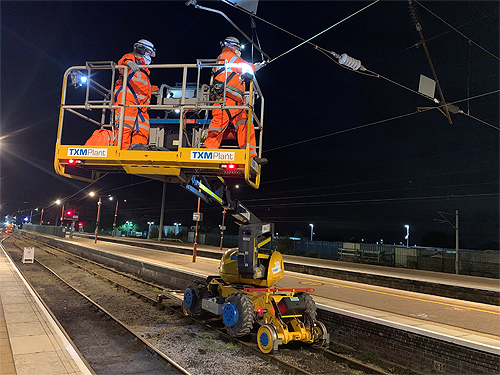 planning services across the country.
"In what is a somewhat limited market – where the barriers to entry are high and operations tend to be very capital intensive – TXM Plant has grown to become among the largest players in the field of operated RRVs and the provision of ancillary value added services to the rail industry," begins the company's Sales Director, Mike Heafield. "With nine strategically located regional depots, we have created a national footprint that offers TXM Plant excellent geographical coverage built around the busiest parts of the rail network."
For TXM Plant, there are a number of routes to market, with the company having worked not only with leading infrastructure managers such as Network Rail, but also collaboratively with some of the UK's major rail contractors, such as Balfour Beatty, Keltbray, Atkins and Amey. "Our principle customer is Network Rail," Mike continues. "The support we provide through the provision and hire of our wheeled and tracked RRVs, heavy-lift Monster Cranes, and other equipment, covers two key areas, these being the maintenance of the track network, and small enhancements or minor project works. The latter extends to the renewal and refurbishment of elements like the track and sleepers, and also supports overhead line electrification works, the structural inspection and maintenance of bridges, tunnels and other assets, as well as off-track activities such as drainage and vegetation management.
"Through our machines and the staff that we provide to operate and manage them safely, we offer a dedicated service that is focused on the successful delivery of our customers' objectives. We work as part of our customers' team, planning and managing the activities of our machines in line with their expectations, with safety and compliance always at the heart of what we do."
2020 has been a particularly important year for TXM Plant. In February, the company named its Chief Finance Officer Brian Reynolds as its new Chief Executive Officer (Brian is currently undertaking both roles). This move came six months on from Mike's own arrival from Speedy Hire, and eight months following Richard Watts coming on-board as TXM Plant's Chief Operating Officer, having previously worked as part of the HS2 project. Together, this new management team has been spearheading a cultural shift centered around placing the customer at the core of what TXM Plant delivers.
"One of our big priorities over the last 12 months has been driving a consistent way of working throughout the business, from the top down, in order to ensure that TXM Plant becomes widely recognized as being a truly customer-led, collaborative organization," Mike confirms. "This has been made possible by ensuring that what we have in place is a consultative management team that is not only prepared to listen to and seek the input of its employees when it comes to making key decisions – such as the investment in new plant and equipment – but is also not afraid to adapt and try new things in order to best meet its customers' demands."
The results of the company's efforts are already beginning to bear fruit, an example being its collection of the Route to Gold, Gold award from Network Rail in October 2020. This scheme promotes collaborative working behaviors, reducing costs associated with re-works, and embedding a culture of continuous improvement across the rail industry. The award recognizes the hard work and dedication of TXM Plant's engineering and maintenance teams to ensure that safe and reliable plant is always available to meet the needs of the industry.
Other initiatives that continue to be pursued by the company include its 6S approach to its depots. 6S refers to an innovative methodology for transforming working environments, organizing workspaces in a way that is safe and efficient. By stripping out waste and creating structure, safety risks are greatly reduced and productivity invariably increases. With one of its depots initially being selected to pilot this approach, the company involved its staff from the outset in determining what to keep and what should be removed. What followed was a period of several weeks in which time the depot was cleaned and reorganized to give everything an assigned place. Once the process of refurbishment and reinstallation was complete, a series of regular audits were arranged and controls established to sustain the new approach.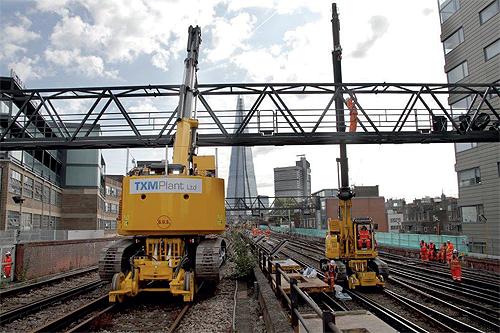 Following the success of the first pilot, the methodology has since been rolled out across the rest of TXM Plant's locations, and will culminate in the company's planned opening of an entirely new depot in Birmingham in the coming months. Modernized and extended to handle the servicing and maintenance of the company's expanding range of RRVs, the depot now covers an area of 20,000-square feet, including offices, training facilities, a test-track and a plant maintenance workshop.
Commenting recently on the new depot, Brian stated: "As TXM continues its 34journey of growth, this new depot is the next step in our commitment to long-term investment in rail infrastructure. Ideally located, with easy access to all major transport routes, and with state-of-the-art facilities, we are excited to support up-coming projects, working closely with clients both old and new."
Also on the company's investment agenda are its RRVs themselves, as Brian goes on to detail. "RRVs are certified in cycles of seven years, after which point they are each required to undergo a major strip down and repair program ahead of being certified for a new cycle. The age profile of our machines is varied; therefore, we have committed to investing £25 million over a three-year spell in both our existing and brand new RRVs. This will include wheeled and tracked RRVs, as well as general purpose machines, heavy lifters and elevated working platforms."
With 2020 now drawing to a close, Brian and the rest of the TXM Plant team will be turning their attention towards what 2021 holds for the business, and what its priorities going forward will be as it looks to build on a successful period over the last year. "Our focus areas will include building relationships with a much wider customer base, which we intend to do by engaging with companies directly in order to ascertain how our plant and services can help them to achieve their outcomes," Brian adds. "Rather than simply handing over a list of plant and prices, what we want to do is gain a clear understanding of how we can work collaboratively within our customers' supply chains.
"At the same time, we will continue to do everything we possibly can to drive towards even greater levels of reliability, while making sure that we retain the talents of the best engineers. In doing so, we see no reason whatsoever why TXM Plant cannot cement its position as the leading provider of specialist RRVs and ancillary services to our customers."
TXM Plant
www.txmplant.co.uk
Services: The leading supplier of Road/Rail vehicles in the UK