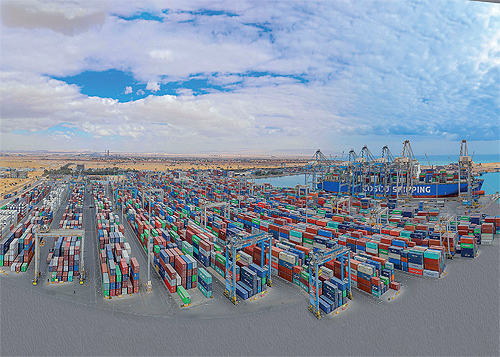 A gateway to the world
A key part of DP World's international network, DP World Sokhna is strategically located on the coast of the Egyptian Red Sea to facilitate the import, export and transport of goods to Cairo, the hinterland and beyond
Situated just below the southern entrance to the Suez Canal and at the heart of the vitally important East-West trade route, Sokhna Port is positioned to handle cargo that is transiting through one of the world's busiest commercial waterways. Little more than 120 kilometres from Cairo, the port is easily reached by a modern, six-lane highway, while well-established road and rail links make it perfectly placed to reach the city's 18 million consumers.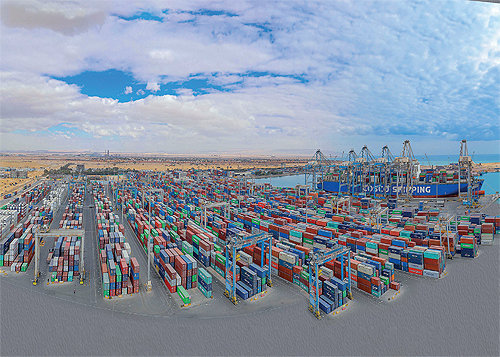 Operations at the port actually commenced in 2002, but it was in 2008 that Sokhna Port joined the DP World family, with it taking over the operation, development and management of the port. DP World is the leading provider of worldwide end-to-end supply chain solutions, enabling the flow of trade around the globe. It does so by delivering its services through an interconnected network of 128 business units in 60 countries, across six continents.
In 2010, DP World signed an agreement with the Egyptian Government to commence work on a second basin – Basin 2 – within the port area, with the aim of doubling its capacity. A year later, there were expansion and development plans to increase Basin 1's capacity to one million TEU's per year, while in 2017, DP World announced plans to invest $552 million into Basin 2 for its own expansion. As we look at Sokhna Port today – in December 2020 – it comprises of three basins, with a total holding capacity of 1.75 million TEU, and has the unique capability to handle all manner of solid and liquid shipments. A fully-fledged operation, consisting of container, bulk and general cargo functions, along with RO-RO, passenger and liquid operations, the port also utilizes the latest in IT and other means of communication to direct shipments in the most efficient way possible.
"Our dedicated, diverse and professional team of more than 1000 employees at DP World Sokhna have proven their collective commitment in delivering unrivalled value to our customers and partners, thus helping the port become one of the largest and most efficient on the Red Sea, and a main gateway for trade in Egypt," states Chief Executive Officer, Ajayy Kumar Singh. "Our focus on meeting the needs of our customers has been a driving force behind our success, and we are constantly striving to improve our levels of service. It is our team's combined experience and commitment to quality which means we are able to always deliver value to our customers."
The port's quay consists of two diaphragm walls connected by underground tie-rods and covered with a 35-meter-wide concrete apron. The waterside wall extends to a depth of 29 meters, and the land-side wall to 19 meters. On the quay, a crane rail track has been constructed with a gauge of 100 feet (30.4 meters). The crane rails on the quay are supported by the diaphragm walls and are designed for loads up to 55 tons per meter length. The concrete apron deck, meanwhile, is designed for loads of ten tons per square meter. The width of the access channel is 350 meters, which is sufficient for double-lane navigation, while the harbor basin has a depth of 17 meters, sufficient for container vessels exceeding 16,000 TEU and bulk carries of up to 175,000 DWT.
"DP World Sokhna, is the only deep sea port on the Egyptian Red Sea coast," Ajayy continues. "This makes it ideally located for handling growing trade with the Far East, Red Sea, Middle East and Africa. With no Suez Canal fee charged on cargo moving to/from east of Suez, Sokhna is the closest and most cost-efficient port to Cairo. DP World Sokhna is also a free zone, for which no tax is applicable."
Looking at the port's more recent history, 2019 in particular was an important year. It was during this time, for instance, that the aforementioned $552 million investment in Basin 2 really came into focus. "This project includes a 1.3-kilometre-long quay and a 350,000-square meter container yard," Ajayy details. "The project will complement the existing Basin 1 with 945,000 TEUs of capacity, and Basin 3, which is a liquid bulk station spanning 400-square meters. Once Basin 2 is commissioned, DP World Sokhna will become the only port in Egypt capable of handling the largest container ships in the world. Our expansion into Basin 2 will enable us to facilitate even greater volumes, which supports our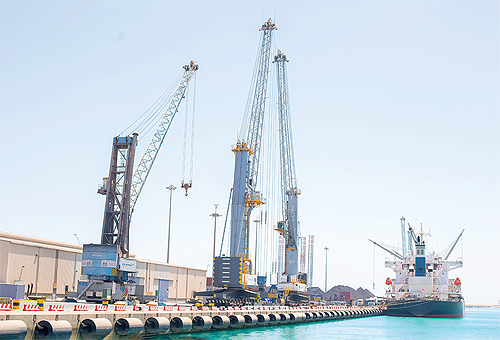 commitment to boost Egypt's economic growth further, and cement DP World Sokhna's position as a major gateway for the country's trade."
In December 2019, DP World Sokhna also entered into a trilateral partnership with the China State Construction Engineering Corporation (CSCEC), and the China Ocean Shipping Company Ltd (COSCO), to serve as the hub for all construction material imports needed to build the central business and financial district of Egypt's New Administrative Capital. CSCEC will benefit from Sokhna Port's proximity to the new capital and its advanced road and rail links. Moreover, DP World Sokhna is the closest container port to Cairo and is located within the 90-square kilometer North West Suez Economic Zone.
This year (2020), DP World Sokhna has implemented several innovative changes to its infrastructure. These have included the installation of Smart Gates and a new terminal operating system to enhance operational efficiency. Other highlights have included the launch of a new direct shipping route connecting the Jebel Ali Port in Dubai with Sokhna and the Jeddah Islamic Port in Saudi Arabia. This trade lane has grown to become quite successful and is especially well-positioned to leverage regional trade between these three countries. A new service by CMA-CGM, which has also recently been launched, now connects Sokhna to East Africa, and is a potential market and game-changer.
Developments in and around the port have been taking place whilst in the midst of the Covid-19 pandemic. Despite this, the port has maintained its operations to keep trade flowing, while taking all the necessary measures and steps to ensure the health and safety of staff and customers. "We activated our Business Continuity Plan and immediately ensured that we were following all of the processes and procedures that are in line with the recommendations and instructions of the Egyptian Ministry of Health and the World Health Organization," Ajayy explains. "These include the regular testing of staff, temperature checks, sharing information and creating awareness of preventive measures and hygiene, and implementing social distancing. The terminal and all equipment is regularly cleaned and sanitized, and all staff provided with masks, sanitizers and gloves as mandatory personal protective equipment (PPE). We also encouraged our white-collar staff to work from home, including staff with underlying conditions, those above the age of 55, and women with children below 12 years of age. We also went ahead and outsourced additional operators to handle any eventuality. By doing all of the above, we have been successful in managing our business without any interruption."
As part of DP World Sokhna's response to Covid-19, it has also been engaging with, and supporting, the wider community, while also providing essential facilities and equipment. Beneficiaries of its support have included the Al Sabah Hospital, local ambulance services, the Al Salam Library, the Usama Bin Zaid school in Suez, and the Khaled Ibn Al-Waleed School for Disabled Children.
As it looks towards 2021, DP World Sokhna's plans involving continuing to place a strong focus on providing its customers with the right solutions to meet their respective needs, while also delivering increased operational efficiency and further embracing the use of digital technology. It is also turning its attention to growing in-land, and in the next three-to-five years, it intends to achieve its aim of being internationally recognized as a complete supply chain solution company.
Making a final comment, Ajayy feels it is important to make one further comment on the success of DP World Sokhna. "We would not have been able to accomplish what we have done without the support and cooperation of our employees, customers, partners, suppliers, and the Egyptian Government. For that, we extend our heartfelt thanks to them all!"
DP World Sokhna
www.dpworldsokhna.com
Services: One of Egypt's leading ports, strategically located on East-West trade route