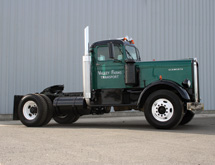 Many aspects of the transportation industry have changed greatly since Valley Farm Transport founder Bob Nickum set up shop with a single truck in 1963. The Dixon, Calif.-based company has evolved greatly to address these changes, which include technology, government regulations and the increasing cost of doing business in its home state.
Although Valley Farm Transport today has grown far beyond its origins, there is one common thread that has run throughout the company's 50-year history. "We're very proud we've been able to keep our quality operation for 50 years," says David Nickum, the company's president and the son of the founder. "We try to offer the same service today with more than 150 trucks as we did with five, and I think we do a good job with that."
The bulk transport company operates a fleet of 150 trucks and 730 sets of trailers that serve a region within 100 miles of its headquarters. Valley Farm Transport specializes in carrying agricultural goods including rice, grains, wheat, tomatoes, almonds and walnuts. Its clients include many notable food industry names including Nestle Waters, Heinz, Campbell Soup Co., Farmer's Rice Cooperative, Blue Diamond and Archer Daniels Midland.
"We focus on excellent service and we like to go after best-in-class clients," Nickum says. "We won't always be the cheapest, but I believe we provide our customers the best value."
Valley Farm Transport has served many of its customers for a large portion of its history, including Campbell Soup – which it has served for 31 years – and Heinz, which it has worked with for 28 years. Nickum attributes this longevity in part to the company's sensitivity to working with perishable items. "We not only need to get goods out of the field in a timely manner, but get them to the plant in enough time," he says. "We're very sensitive to the needs of growers and processors."
Top Priorities
Valley Farm Transport's recent focus points include keeping a close eye on expenses. "We are focused on managing costs to stay competitive, not just for our own sake but for that of our partners," Nickum says. "We're regularly looking at technology, sustainability practices and creating synergies with our partners to lower costs. We look everywhere we can to save costs while offering value."
Cost management is essential for the company as it operates in one of the country's most expensive states. California in 2013 also began enforcing a statewide carbon reduction initiative that has required Valley Farm Transport and other companies to invest heavily in new equipment.
The company began modernizing its fleet to meet the new requirements shortly after the initiative's passage in 2006. The majority of Valley Farm Transport's trucks today exceed government requirements, according to the company.
Although the carbon requirement has posed a challenge to the company, the law has also presented opportunities as a result of industry consolidation. Several companies have left the industry as a result of the law, presenting Valley Farm Transport with potential new acquisitions and customers, Nickum notes.
Other current priorities for the company include maintenance planning and safety training.
"We are prepared for today and prepared for the future, and can look at ourselves and truly say we run a quality operation," Nickum says.