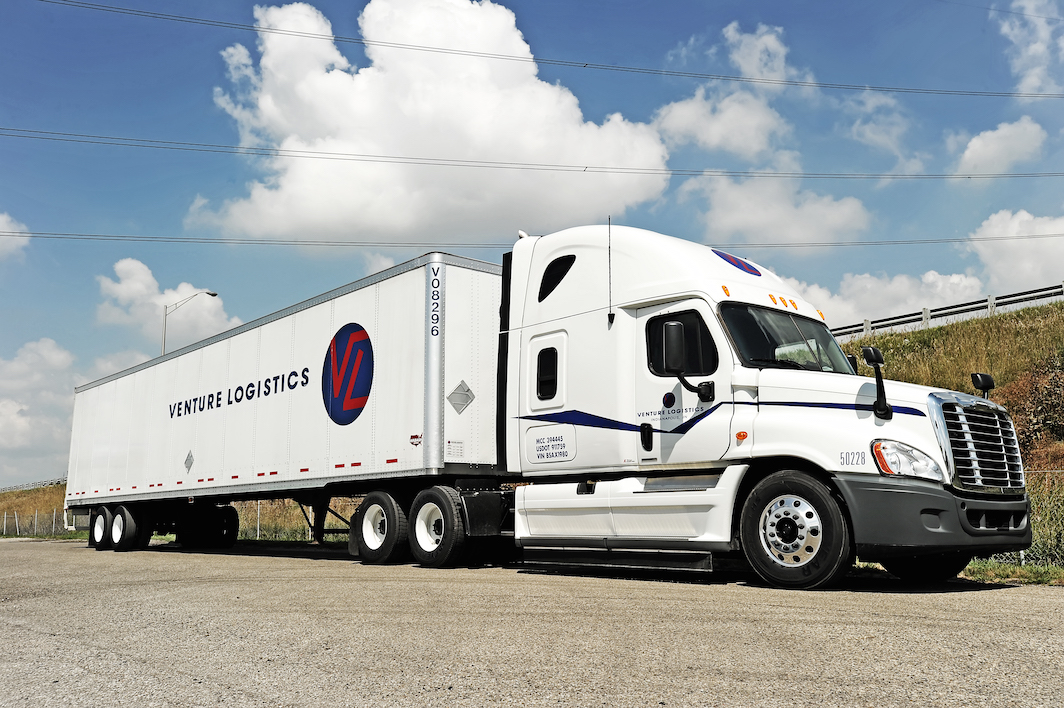 Venture Logistics provides a full suite of services to customers across the United States, Canada and Mexico.
By Stephanie Crets
Venture Logistics prides itself on the ability to offer its customers absolutely everything – not just transportation of its goods. The company can optimize a customer's entire network and provide supply chain solutions, warehousing and distribution, rail services and final delivery with its own asset base of trucks, trailers and drivers. "Very few companies can do that," President Greg Eddy says.
With 1,000 trucks and 3,000 trailers to use to serve its customer base, Venture Logistics services the United States, Mexico and Canada with driver terminals in major cities such as Indianapolis, Chicago, St. Louis and Atlanta. It serves the paper goods, automotive, food products and general commodity products industries.
The company thinks of the trucks and trailers in its fleet as its assets. "It's very important in the asset world to provide great assets to customers," Eddy notes. Venture Logistics reinvests much of its profits back into its assets because trucks and trailers need constant updating to maintain safety for its drivers and consistency for its customers.
"Our customers are very important," Eddy says. "That relationship is based on doing what we say we'll do and living up to the expectation. That starts the relationship and you maintain it with good face-to-face transparency."
New Growth
Founded in 1993 with only eight trucks in its repertoire, the company has sustained major growth in its 22 years and recently completed a major merger. Originally named Transcorr, the company merged with Venture last May and became Venture Logistics. With two separate customer bases to consider, the merger allowed Venture Logistics to facilitate even more growth.
"We were able to meet more of their demands with more dedicated divisions to service customers that wanted a dedicated contract carrier – the paper and auto companies mainly – and merge the talent pools of people and leadership," Eddy says.
After the merger, Venture Logistics also decided to invest in its rail and distribution business. This summer, the company is opening Venture Rail Warehouse and Distribution Center, a state-of-the-art facility to maximize efficiency. "There will be nothing like it in the city or surrounding area of Indianapolis," Eddy explains. "We'll be able to unload 18 IQ rail cars at a time and load directly to 58 dock doors for trucks to distribute throughout the Midwest. That addition to our business has been a primary focus, and we truly feel that will be a game changer for our distribution footprint as well as the city of Indianapolis and rail to truck service."
In addition, Venture Logistics has invested millions of dollars in upgrading its technology. For example, its Truckload Management Software Systems allow the company to provide real-time tracking information to customers, and its mobile communication utilizes tracking capabilities and geofencing to automate pickup and delivery information, preventing service failures. Inventory also is managed through warehousing management, data-driven systems.
"We thrive on optimization in our own asset base," Eddy says. "We've got a lot of great leaders that push technology and we constantly train our people on the advances on the tech. We not only like to give customers solutions and fulfill the supply chain need, but we like to give them the data to make them better and help them know more about their business through their inventory and their supply chain – things they may not know or have realized without the data."
Safety and Integrity
Safety and integrity are the top priorities for Venture Logistics' drivers and it ensures these values are maintained by making constant maintenance and technological updates, training drivers with new safety information and techniques, ensuring drivers take the safest and most direct routes to destinations and keeping a line of communication open at all times. "We're working hard and diligently to overcome driver shortages with great pay packages and benefit packages," Eddy explains. "We truly care about our driver base. We've been able to cut down turnover and overcome that challenge, as it's an everyday to passion."
But it's not all business; Venture Logistics also emphasizes a fun work environment. "It's possible to work everyday and not have fun, but we like to have fun," Eddy says. "We like to have a family atmosphere. We truly care about our folks. They're not people that work for us, but with us. I'm most proud of our two companies coming together, enjoying what they're doing, carrying on two fantastic cultures and having a successful, safe, profitable business."
www.venturelogistics.com
Revenue: $250 million
Headquarters: Indianapolis
Employees: 500+