Verizon Communications Inc.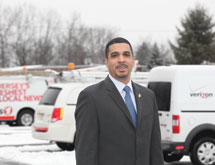 Like most power and communications companies serving the northeastern United States, Verizon had much to do following the devastation left behind by Hurricane Sandy. The company, one of the nation's largest communications providers, worked not only to keep its networks running during and after the storm, but also to repair extensively damaged communications infrastructure in severely affected parts of New Jersey and New York.
More than 1,400 additional technicians were brought in from Florida to Massachusetts to help local teams fix the damage and restore service in the areas hardest hit by the storm.
Verizon's ability to mobilize quickly after the hurricane reflects the organizational efforts of its fleet operations department. The company's regional management team used asset management software to determine which crews were available to help repair the damage, as well as the type of equipment they had on hand.
"We have plans in place in the event of a disaster to cut through what would otherwise be organizational red tape," says Kenneth Jack, Verizon fleet operations vice president. "We had the ability to look across our regions, assessing the most-damaged areas and determining what resources we needed to get the job done."
'A World-Class Fleet'
Headquartered in New York, Verizon Communications, Inc. is a global leader in delivering broadband and other wireless and wireline communications services to consumer, business, government and wholesale customers. Verizon Wireless operates America's most reliable wireless network, with nearly 96 million retail customers nationwide. Verizon also provides converged communications, information and entertainment services over America's most advanced fiber-optic network, and delivers integrated business solutions to customers in more than 150 countries, including all of the Fortune 500.
A fleet of 45,000 vehicles supports the company's three business units. Fleet vehicles include trucks, service vans and special equipment used to maintain cell towers, utility poles, fiber-optic and copper cables, and other communications infrastructure. Verizon owns most of the vehicles used by its consumer and mass-business unit, and leases vehicles used for its wireless and enterprise business units. While some day-to-day logistics operations are handled internally, the company also contracts with third-party logistics (3PL) providers to handle tasks like warehousing and online order fulfillment, Jack says.
Jack joined the company in 2011 after previously serving as general manager of transportation operations for Consolidated Edison Co. of New York as well as Orange and Rockland Utilities. He has also held a number of positions in the public utility sector.
His goal upon joining Verizon was to help develop a strategy to replace and manage its vehicle fleet, while controlling capital costs. "During these tough economic times, we're obviously looking for opportunities to reduce costs while providing the same, if not better levels of service," he says. "We look at what is really value-added work to keep internal, as well as those functions on which we'd be more effective partnering with a third party."
Verizon in February 2012 implemented a new asset management tool that allows it to gather detailed information about its fleet as well as market trends. The tool allows the company to identify individual assets that may require replacement.
The fleet is also taking full advantage of Verizon's recent acquisition of Hughes Telematics Inc. (HTI), a provider of OEM and retail telematics solutions.
"We're incredibly excited about these products, and can't wait to show the impact these solutions can have on fleets large or small," Jack says. "The OEM solution underpins solutions like Mercedes-Benz' new 'mbrace2' system, bringing not just GPS and diagnostics but the entire Internet, into a vehicle. We're rolling out HTI's NetworkFleet fleet management solution with the world class Verizon Wireless network to integrate GPS, vehicle diagnostics, dispatch and other capabilities valuable to fleet operators.
"We believe this will change the way we dispatch to better manage assets, safety and fuel while helping to operate more sustainably, reduce waste and, most importantly, lower our cost."
Another growing area of interest for the company is the use of alternative fuel vehicles such as hybrids, electric or natural gas-powered vehicles. Verizon has roughly 2,000 such vehicles already in its fleet, and continues to look for new ways to reduce carbon-intensity associated with not only the fleet, but all of its activities, Jack adds.
Jack says he is proud of Verizon's management's ability to quickly respond to changes in the fast-paced communications world and manage its fleet accordingly. "People here are always on the lookout for new solutions; there are no preconceived notions that we have to do things a certain way," he adds. "The willingness of management to do something different and the support we get from the top make this a world-class fleet."