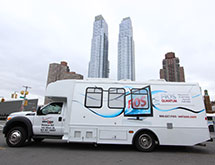 Verizon's recent acquisition of a telematics provider and an ongoing electric vehicle pilot program will enable the communications giant to improve its fleet efficiency in more ways than one.
The Basking Ridge, N.J.-based company last year began an internal implementation of its Networkfleet fleet management tracking system formerly owned by HUGHES Telematics, which Verizon acquired in 2012. "We weren't new to telematics, and Networkfleet was in hundreds of thousands of vehicles – but trying to make this the ubiquitous product across our fleet, and integrate it with existing management tools was an undertaking," says Ken Jack, vice president of fleet operations.
The Verizon Networkfleet system was installed in the majority of the company's fleet of 30,000+ vehicles including trucks, service vans and special equipment used for logistics, installation and repair services, maintenance of cable and fiber-optic networks as well as other infrastructure. In addition to its nationwide wireless network, Verizon also operates a wire-line network which provides residential and business versions of traditional voice and data services, as well as fiber-optic television, data and voice products.
Verizon owns most of the vehicles used for its residential service, and leases vehicles used for the wireless and business service lines. The company also contracts with third-party logistics (3PL) providers to handle parts of the warehousing, transportation and fulfillment activities, Jack says.
The Verizon Networkfleet telematics system is more integrated with the company's existing asset management system and other technology than previous telematics tools. "These devices allow more of a free flow of information. In many cases, that information is placed into systems our people already know," Jack says. The system provides for real-time location, trending and remote vehicle diagnostics. "This allows us a level of resolution we didn't have previously. It's helping us provide better tailored vehicle maintenance services, not to mention some really neat ways to visualize and manage the health of our vehicles."
The company is using the Verizon Networkfleet platform to manage its fleet and determine the best and most efficient ways to route vehicles. "That will help us dispatch and respond to our customers better. Secondarily, our focus is to constantly refine how much equipment we have allocated and to find ways to move our equipment around as internal demands change – we're trying to become more nimble," he adds.
In addition to using the system in its own fleet, Verizon Telematics is also offering Networkfleet as part of its product line. "Verizon Telematics provides technology for everything from integrated OEM in-dash systems like Mercedes MBrace, to usage-based insurance and fleet management for commercial, small to enterprise fleets," Jack says. "Vehicle telematics is rapidly growing in importance to operators and drivers. We already had a lot of the technology that supported it. This was a logical extension of our business, and a space where we'll be very active."
'A Sweet Spot'
The telematics system will also allow Verizon to get a better idea of how fuel is consumed. Fuel efficiency is a major strategic goal for the company, as it has implemented a number of alternative fuel solutions in recent years including compressed natural gas (CNG), hybrid and full-electric vehicles. Verizon has roughly 2,000 such vehicles already in its fleet, and hopes to expand that number in the future, Jack says.
Verizon further advanced this goal earlier this year, when it ordered eight extended-range electric cargo vans developed and manufactured by VIA Motors. The vans, which can travel a longer distance without recharging than most other vehicles of their kind, will be tested in California, New Jersey, New York and Washington, D.C.
VIA designed the vans in conjunction with Verizon. The vehicles have up to 40 miles of all-electric range using advanced lithium ion batteries, and can drive additional miles by using an onboard electric generator, or "range extender." The vans are expected to achieve 100 miles per gallon with nearly zero emissions.
"This was a technology we were really interested in because it hits a niche," Jack says. "We don't really drive enough miles to use typical hybrid vans, but drive too many miles for standard electric vehicles, so we hope these vans hit the sweet spot."
In addition to the new electric vans, Verizon is addressing fuel efficiency by testing a novel bus system in its most dense, urban markets, such as New York City.
The company rolled out 26 customized buses, each of which can seat 12 technicians as well as carry tools, equipment and supplies. The vans' drivers will pick up and drop off technicians at various stops including office buildings and residential towers. "It saves time, money, fuel and fines. We're more efficient with our capital, our inventory and technicians' valuable time – it's an all-around win when done correctly," Jack notes.