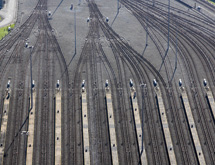 As a consultant in a field that gets quite technical, Via Rail Logistics LLC sure does place a heavy emphasis on developing relationships. Founded in 2005, Via Rail Logistics is a consulting firm focused solely on railroad infrastructure.
It has worked with clients in industries such as mining operations, transload terminals, intermodal facilities, industrial centers, manufacturing and passenger lines to develop turnkey solutions in railway design and construction. Due diligence, feasibility studies, infrastructure development, design documents and construction services are all standard services provided by Via Rail Logistics, whether it's for a single-car user or unit-train shipper. But before the tracks are laid, the company sets a firm foundation with each client.
"By engaging in active listening and questioning sessions with our clients, we assist in identifying immediate needs, explore future growth and help formulate a complete development plan that will achieve a safe and efficient railroad infrastructure system," says Ben Guido, owner and partner at the firm. "Throughout this process, Via Rail Logistics staff provide services and solutions that exceed project expectations, establish guidelines for future planning and offer the personal care as the foundation for a long and trusted relationship with our clients."
Via Rail Logistics doesn't just oversee the designing and building of rail projects. Instead, the company sets out to be an owner's representative and liaison between private sector and operating railroads, helping its clients navigate a confusing but necessary process vital to their businesses. With more than 40 years in the railroad business, Guido has witnessed first hand the key part railroad infrastructure plays in the economy. Because rail is the cheapest form of transportation connecting all areas of the country, commodity markets are hugely dependent on it.
Commodity Circuit
"The railroad industry is forever changing, expanding and contracting," Guido explains. "Sometimes change is due to economic conditions and at other times due to a change in a specific commodity group. I believe what we are experiencing today in the industry is the latter. Current news releases, articles and journals will tell us that the U.S. oil and gas industry is the hot market, and drilling in North Dakota, Ohio and Texas take top billing for railroad infrastructure expansion opportunities."
The same goes for the Midwest's frac sand business, which mines a resource needed to extract oil and gas from tight shale formations. Transloading facilities for frac sand shipping out of the Midwest combined with oil and gas shipments coming out of oil and gas states has given Via Rail Logistics a steady stream of business. Just like grain commodities and ethanol before it, Guido says oil, gas and frac sand are seeing their own booms. Product demand is driving these industries from 40- to 60-car shuttles to 90- to 110-car unit-train shipments.
Via Rail Logistics is working on the installation of transloading facilities in various states, including the expansion of sand mines in Minnesota, Wisconsin and Illinois. It's also assisting in the development of three new frac sand mines in Wisconsin. The three projects are being headed by Operations Manager Francis Heafy, whom Guido met while working at a previous company.
Heafy acknowledges that the ultimate success of each project is determined by the personal relationships developed with clients. Just like Guido, he is able to pull from a seasoned career – 33 years in the business – to apply his knowledge in his current role.
"We can provide personal care to sensitive railroad projects," he explains. "Acting as an owner's representative from project development through implementation allows us to exercise our knowledge and practice. We are the premier owner's representative in an industry that is difficult to navigate."