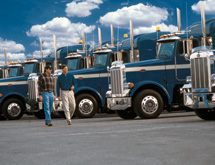 To maintain successful operations, on any given day fleet managers must juggle a wide range of priorities from fuel costs, to driver safety, to regulatory compliance. Managing all of these moving pieces in silos quickly becomes overwhelming and costly. The trick to successful fleet management and efficiency is to implement one system that integrates, secures and controls all important assets at the same time, and the most effective fleet management comes from proactive and remote monitoring and control across the entire fleet.
With ever-rising prices, fuel is a particularly complicated and substantial cost that fleet managers must carefully monitor. Specifically, a long-haul combination truck idles an average of 1,800 hours per year (or 150 hours per month) – an annual fuel cost of approximately $8,600. It costs an extra one-tenth of a gallon for every mile per hour a truck drives over 55 mph. Not to mention maintenance costs rise 30 percent when speed increases from 50 to 60 mph. This means fleet managers have to be able to consistently control driver speed and truck idling in order to impact fuel cost alone.
An advanced fleet management solution can reduce fuel costs by remotely controlling speed and shutting down engines to avoid excessive idling. In fact, a truck traveling at 65 mph instead of 75 mph will experience up to 27 percent improvement in fuel consumption. Also, by setting maximum speed limits for each truck, based on geography, it reduces dependence on third party service centers to reset governors in order to comply with local or regional legislation requiring speed limiters. By making real-time fleet security and control a top priority with an advanced solution, transportation and logistics companies can:
Save $3,400 per truck annually by enforcing a standardized fleet speed of 65 mph.

Save $1,425 per truck annually by reducing idle time by 25 percent.
That adds up to a $500,000 annual savings for a fleet of 100 long-haul trucks with just a few adjustments.
Furthermore, the real-time reporting that fleet managers acquire with an advanced solution not only alerts them when a shipment goes off course, but also can enforce driver compliance by enabling the dispatcher to step in and take control of the truck remotely. This real-time control helps to ensure the entire fleet is working in line with company operation standards to limit liability exposure without having to rely solely on the driver for safety compliance.
Advanced fleet management technology can allow for an unprecedented level of control over fleet fuel consumption and driver behavior. This means the same investment that delivers the added protection necessary to carry high value loads can also have a significant impact on the company's bottom line – in the form of reliable service and money saved.
Don Hsieh is director of commercial and industrial marketing for Tyco Integrated Security. For more information, visit www.tycois.com.