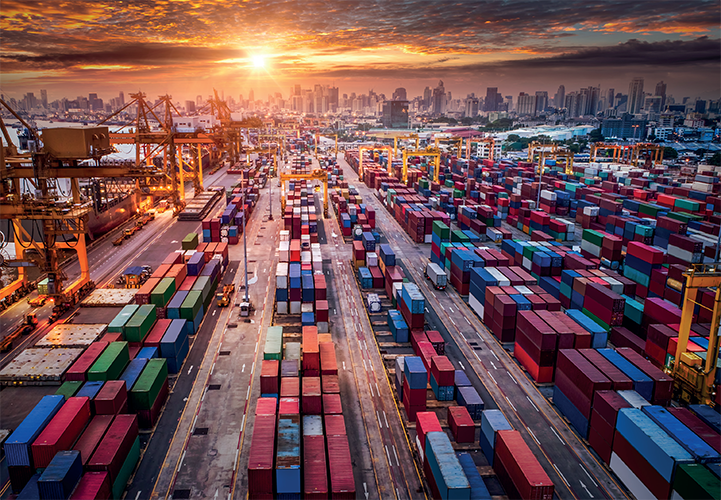 In recent months the global supply chain has suffered a repeated onslaught of unexpected and damaging shocks. From trade wars, Covid-19, to port congestion and the most recent Suez Canal blockage, the scale of the challenge has been seemingly never ending.
Shippers have had to adapt and get used to a turbulent and ever-changing market that has caused huge increases in costs. Research from Flexport found that 64 percent of businesses plan to absorb the costs and make more price conscious decisions but 36 percent consider passing that cost onto consumers to keep things profitable.
The question is, after over a year of turmoil, what is the road back to normal trade or will current conditions become the new normal?
One of the biggest drivers of increased pressure on the freight market has been the huge consumer shift from services to goods, largely driven by the pandemic. With many services closed and lockdowns taking place across the globe, people have switched to spending on goods, stretching the supply chain beyond its normal levels. This has made it increasingly difficult to predict future trade situations.
A return to a somewhat normal trade pattern relies on there being a lull in the demand for goods and subsequent breathing space for the industry. This includes an easing of port congestion, an end to equipment shortages and increased capacity.
As the pandemic situation improves, we may see an increase in supply of goods due to factories, particularly in Asia, producing at more typical output levels and resolution to staffing shortages and congestion. However, the industry will remain under pressure for as long as Covid-19 restrictions continue, and demand remains uncharacteristically high.
It is suggested that as things open up, consumer spending may revert to services, but there's no guarantee that the balance of goods vs services will be the same as before. The latest data shows goods mania is still going strong, even after a minor dip in August. As we head into autumn, the preference for goods over services is climbing back towards peak Spring 2021 levels and above the peak of Summer 2020.
Meanwhile, we have seen a significant increase in spot rates and overall shipping costs have reached a new high. Businesses have been spending more time on each shipment due to the disruption and have had to develop new sustainable business models or find creative ways to keep goods moving. In many cases, it has left businesses with no choice but to pass these costs onto consumers. For as long as issues and high demand remain, there is unlikely to be any serious relief.
So, what can be done and what decisions should shippers be looking to make?
Diversifying procurement
Flexibility and the ability to remain adaptable has been key to managing goods moving the past year but with conditions persisting, many shippers may be thinking about diversifying their procurement. With such intense change, some businesses have struggled with cost, speed, and continuity. In order to survive, they have to adapt—and that could mean partnering with new suppliers in new locations.
Although China is usually the go-to for manufacturing, the recent challenges have meant it may be beneficial to diversify throughout South East Asia. Singapore for example returned to January 2020 manufacturing levels in March this year and have been growing strongly although costs may be higher than in China. Shippers should make use of all available options and assess the best for their circumstances.
Making long-term decisions
From an outside perspective, to truly get back to a more normal trading pattern, governments and industry players are going to have to make significant investments in port, rail and vessel capacity and update supply chain technology if logistics is to be more resilient against these challenges in the future.
However, in the meantime the industry must deal with the problem together using all the tools at its disposal. One of the questions businesses may be asking is what decisions should they be making in the next few months? With instability so high, ocean carriers have deployed all available capacity, including ships that are not even designed to carry containers, but the effective capacity is 25 percent less than what's actually deployed, because so many vessels are caught up in record bottlenecks at ports. As a result, it has been more difficult to plan ahead.
Fortunately, short-term fixtures, of three months or less, where rates are highest, are not dominating the market. It is possible to achieve longer fixtures as carriers seek to secure coverage in the medium term. This means it is possible to plan and take advantage of these offers, however, it is not wise to rely too much upon them. Creating an agile supply chain will ensure businesses can take advantage of the best rates on offer but are also prepared for if things go wrong. Ensuring you are doing things like fully loading your containers and prioritizing your highest value SKU's can help to manage short-term issues in the meantime.
Visibility
The key to understanding what the issues are and acting quickly to mitigate risks within the supply chain: visibility. Upstream, downstream, internal and external insights allow businesses to plan ahead and avoid any future issues.
In the absence of a significant restructure or long-term solution, it is the best way to ensure cargo keeps moving. Looking at the end-to-end supply chain to identify the obstacles that might prevent you achieving desired results is critical. By using a data-driven approach to supply chain processes businesses can identify the most cost-effective and efficient method and timing to ship their freight. For example, using a freight forwarder platform that enables you to access real-time information on shipments and send messages to your operation support team as well as suppliers through order-level messaging will allow you to pivot your strategy if things change.
Whilst the road to normal trade is not likely to be around the next corner, some improvement is emerging. As many countries begin to open-up, it's likely we will see a let-up in demand in early 2022, after the peak of the festive season. It is hoped then that the lull will give the market time to recover and clear the backlog that has been the biggest thorn in the side of shippers. In the meantime, businesses should utilize all tools at their disposal to remain agile and informed to keep goods moving.

Mathijs Slangen is Flexport's Vice President of Sales and Marketing. Flexport is building the platform for global logistics – empowering buyers, sellers and their logistics partners with the technology and services to grow and innovate. Today, companies of all sizes – from emerging brands to Fortune 500s – use Flexport technology to move more than $10bn of merchandise across 112 countries every year.
www.flexport.com