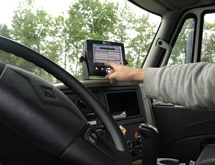 Webtech Wireless Inc.'s business involves state-of-the-art technology, but the company is really focused on helping clients improve their efficiency and service, Vice President of Marketing David Greer says. "[We offer] ways to solve real problems," he says.
Based in Burnaby, British Columbia, Webtech Wireless specializes in fleet intelligence and location-based services that are delivered through software platforms to commercial and government fleets worldwide. Greer says the firm's history goes back to 1999, when its founders saw an opportunity to combine global positioning systems with real-time technology.
Today, there are more than 75,000 subscribers to its wireless services, including some of the world's largest fleet operators. These include clients in the oil and gas, transportation, utilities and waste management sectors, as well as winter snow fleets.
"We're the No. 1 winter fleet solution in North America," Greer says, noting that its systems can even tell the users what their trucks or snowplows are putting on roads. "We've worked with a number of clients to reduce their salt budgets by 45 to 50 percent, without compromising safety on the road at all."
Streamlining Services
Webtech Wireless' clients include Sierra Pacific Industries, a forestry products company based in Redding, Calif. When Sierra Pacific needed more visibility with its fleet of more than 200 logging trucks, it turned to Webtech Wireless.
Previously, Sierra Pacific had a paper-based system where drivers got up early, drove to a mill, got the directions for their pickups and left, Greer says.
Now, with Webtech Wireless' enhanced systems, drivers can skip the step of driving to the mill and instead get their directions from a unit placed inside their truck's cab.
Thanks to the units, the drivers on average save a half-hour of time each day. However, the drivers also enjoy a personal benefit, Greer says. "They said, 'What we really appreciate is getting home to our families [sooner],'" he says.
Greer praises Sierra Pacific and the work of its CIO, Steve Gaston. "They run such a large business that they need to operate like a transportation company," he says. "We'll manage them just the same [as one]."
Another client that Webtech Wireless helped is Peninsula Truck Lines Inc., a carrier based in Federal Way, Wash. Fuel tax reporting for the firm was difficult because it struggled to get drivers to write down where they purchased fuel and how much they drove through every state.
But with the help of Webtech Wireless, a fully automated system monitors drivers' hours of service.
This has eliminated the use of paper logs and given the company's operations greater transparency. "They can't have drivers doing things like running to the log books," Greer says.
The Extra Mile
Webtech Wireless recently adjusted to changes in the hours of service regulations of the Federal Motor Carrier Safety Administration. "Anyone who has an electronic solution for monitoring hours of service had to be changed on July 1," Greer says. One example of a regulation change was the updated HOS 30-Minute Break Enforcement Policy for Short-Haul Drivers.
"We sent at least three emails to customers," he recalls. Although half of its customers called in with questions about the changes, "An amazing number of people weren't aware of it," Greer recalls.
This found the company doing more than it really needed to, Greer admits. "It's really not up to us to communicate [this]," he says. "It's [the commission's] job to communicate new rules."
But Webtech Wireless is a firm that is willing to go the extra mile. In an emergency, clients can contact the firm at any time, 24/7. "You can page someone in the middle of the night," Greer says.
Staying Ahead
Greer wants Webtech Wireless to continue in its role as an innovator. In 2012, the company moved all of its products to the third generation (3G) of mobile telecommunications technology. This puts it ahead of mobility partners that are "still winding down their 2G networks," he says.
He adds that Webtech Wireless plans to implement 4G, the next generation of technology and continue improving its services. "I see us [more] involved with these customers, their challenges and how we can apply best practices to help them achieve their goals," he says.