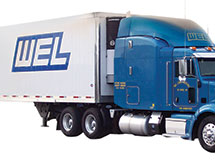 As a mid-sized transportation, logistics, refrigerated trucking and temperature-controlled warehousing operation, WEL Companies knows what it takes to succeed.
The family owned company is in its 40th year in business. "I'm the third generation," President Chris Tielens explains. In 1975, Wally Tielens and his sons Bruce and Randy started the business as Wisconsin Express Lines. The company began with one truck hauling cheese from the Midwest to the East Coast. Today, it operates in all 48 contiguous states with more than 500 trucks and 800 trailers in the fleet.
"Throughout the years, the company evolved," Tielens says. In 1988, Bruce and Randy purchased the company and renamed it WEL Companies. Wally Tielens passed away in 2005 and Randy Tielens died in 2013. Chris Tielens was named president last year.
How did the company succeed in the competitive food, beverage and dairy-hauling business? "With hard work, honesty and dedication," Tielens explains. "Dedication not only to ourselves but to our employees."
Another factor contributing to WEL Companies' growth is its practice of corporate reinvestment.
"We continually reinvest back into the company, rather than pulling equity out," Tielens says. Especially successful investments have included those for buildings, assets and equipment.
But it is the people at WEL Companies who ultimately account for its achievements. "You can have all the trucks in the world but without drivers it doesn't matter," Tielens points out. "Drivers are our main assets; without them, trucks don't move. We continue to look for people with the knowledge and experience to help us grow."
The company specializes in hauling dairy, candy, dry goods, beverages, produce and juice. Being Wisconsin based, a top item is cheese. "We are huge in dairy," Tielens says. "That is where we got our start."
The company has also been active in the market for transporting minor temperature-controlled items such as lotions and sweets.
In addition to temperature-controlled trucking, WEL Companies also offers warehousing, specialized storage and financing for cheese product. The company owns eight temperature-controlled locations.
WEL Companies' warehousing footprint comprises facilities totaling nearly 1 million square feet of specialized, flexible and efficient options. The advantages of its warehouse program include:
• Food-grade and American Institute of Baking (AIB) certification;
• A combination of cooler, freezer and dry storage;
• Strategic, accessible locations;
• Cross-docking for consolidation/deconsolidation.
With increasingly tighter food safety standards, WEL Companies also remains cognizant of chain of custody and related issues.
Driving Demand
The company's biggest challenge is to always ensure it is meeting the needs of its drivers. For example, it aims to prevent rude or unprofessional treatment. "We make sure drivers are treated with respect by the team, shippers, receivers and the rest of the motoring public on the roads," Tielens says.
To prevent false accusations about driver behavior, WEL Companies is installing interior and exterior cameras on trucks. The company also works to educate drivers about the company's procedures and offers good pay and benefits. Driver recruitment is competitive so the company uses electronic monitors to make sure drivers are compensated for all their time. It also gives them more time at home than its competitors would, Tielens says.
Auxiliary power unit batteries have been in truck cabs for nine years. WEL Companies also is moving to placing TVs and refrigerators in trucks. The company offers more home time and higher pay than competitors, and so enjoys low turnover. Pets and family can ride along, too.
"At heart, we're a company founded and run by dyed-in-the-wool truckers," WEL Companies says. "We understand the unique challenges and rewards that define a lifelong career behind the wheel. And we make a habit of only sending our drivers out with the best resources and vehicles. That's why we were able to invest in top-quality equipment. Simply put, the WEL Driver Advantage pairs long-term financial security with a young fleet and a driver-first mentality."
The company's driver turnover is less than half the national average, it reports. It also achieves positive reviews via the DOT and the customer base.
Despite the company's success, Tielens has not lost perspective. "We are a 40-year-old, third-generation family business," he says. "In today's market, that is huge. There are so many large public companies involved in mergers and acquisitions but we are still a family company. We are family based and we treat our team like family because they are our family. That is what has brought us success."