Ace International Holdings Ltd.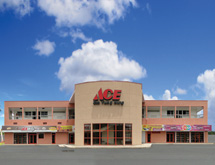 Ace Hardware's history extends back to 1924 when Richard Hese, E. Gunnard Lindquist, Frank Burke and Oscar Fisher founded the organization. Today, there are more than 4,500 Ace Hardware home improvement stores in more than 60 countries and Ace continues to grow.
In 1990, the company decided to develop the infrastructure needed to pursue international markets with a growth strategy designed to build the retailers' business and deliver a consistent and helpful experience. In 2006, Ace opened a global distribution warehouse in Shanghai. Continuous improvement has positioned Ace as the No. 1 best, lowest-cost hardware distributor on the planet.
All of these steps paved the way for the company to move in a new global direction, and in 2011, it formed Ace International Holdings Ltd. as a separate company. It has since expanded its international footprint, opening distribution centers in Dubai and Panama. It also operates export centers in Florida and California to help get product out of the United States.
"We can invest more in the business now," says Brian Cronenwett, vice president. "We have our own board of directors and our own financials. Shanghai is now the regional distribution center for Asia. With the customer service, supply chain expertise and sales support in we have, we can get product to market much quicker."
Sourcing Strength
Many of the benefits of creating Ace International have been realized in terms of sourcing. The company works with more than 200 vendors outside the United States. Having Ace International as a separate company enhances vendor negotiation, site visits and on-the-ground real-time vendor contracts with complete documentation and logistical reports. In addition, it shortens product delivery times, increases cost efficiencies and builds product assortments, all by leveraging local knowledge and expertise.
"We can get product to international retailers through regional distribution centers for the fastest-turning SKUs," Cronenwett says. "They can also get product through our U.S. distribution centers, as well as by drop ship direct from U.S. manufacturers or through the Shanghai sourcing office."
From a logistics standpoint, Ace International needed to establish its regional distribution centers by getting product into them, getting assortment selected and getting them ready to ship to customers. The company was able to get through those growing pains in its first year. After that, the challenge became dealing with the ever-changing custom regulations and border-crossing routines.
"In many regions, those are unpredictable and subject to change without notice," Cronenwett says. "In some ways, we are equipped to cope with that. It becomes a competitive advantage because it is a barrier to entry for others. For example, in the Middle East it seems like a week doesn't go by that some new set of regulations comes out or an additional certification or documentation is required. But we have the supply chain expertise in each region to handle it."
This is due to the fact that Ace International made sure it had people who really knew the regions when it staffed its regional offices. In each case, someone from within the region leads its regional offices. The company is a big believer in in-region hiring.
Another more subtle challenge has been making sure the product assortment is right for the market. What may be the best product for one region is only an entry-point product in another region. Ace International understands that it has a responsibility to meet customer expectations and offer the right level of product.
"In the Middle East, places like Saudi Arabia and Dubai need a high-quality product and are willing to pay for it," Cronenwett says. "In other markets, consumers don't look for that level. The assortment must hit what the customers in a given region are looking for."
The Right Places
Early on, Ace found that its international sweet spot has always been in developing markets with developing economies. Ace prefers to be the first global home improvement hardware brand to enter into a market.
"We just opened in Iraq this past June," Cronenwett says. "It has been a challenge, but we partnered with a local licensee. They know how to do business in the country, and we help them with logistics. Our model lets us partner with the successful local entrepreneurs, so we can both strive to perfect the store model." Ace International believes markets like that are the ones where growth is coming. Iraq is not the only challenging market the company is entering, as it is opening in Afghanistan in Q1 of 2014.
"Our licensee there is established with other businesses," Cronenwett says. "They have local expertise and will couple it with ours to get the job done."
Those countries may be the extreme examples, but Ace International believes strongly in markets such as Central America and the Middle East. The fastest growth in store count is in Indonesia, with more than 85 stores. "We are leaders in that market because a lot of U.S. and European competitors aren't there yet," Cronenwett says. "Our structure and licensees allow us to grow fast."
At times, Ace International has sought out external partners to help its growth in some regions. Such is the case of its relationship with Commonwealth Supply Chain Advisors, a supply chain consulting and advisory services firm based in Boston. The company offers supply chain consulting solutions in supply chain planning, distribution optimization and transportation optimization.
"Commonwealth has been an invaluable resource for us, helping us in Indonesia and Saudi Arabia to assist retailers with their distribution networks," Cronenwett says. "Commonwealth has worked with us to help retailers with specific challenges such as distribution center design and validating a WMS implementation plan."
In the next few years, Ace International expects to see a large increase in SKU count in its distribution centers. The company wants to improve its inventory turns, and it could open a fourth distribution center in another part of the world if growth required it. For now, it has its distribution network up and running, and it is working with retailers in its regions to help them optimize supply chain operations.
"Now we are looking to optimize transportation and find lower-cost, faster options," Cronenwett says. "The regulatory and custom environment will always be the main challenge."