Adcom Worldwide – Washington D.C. and Pittsburgh offices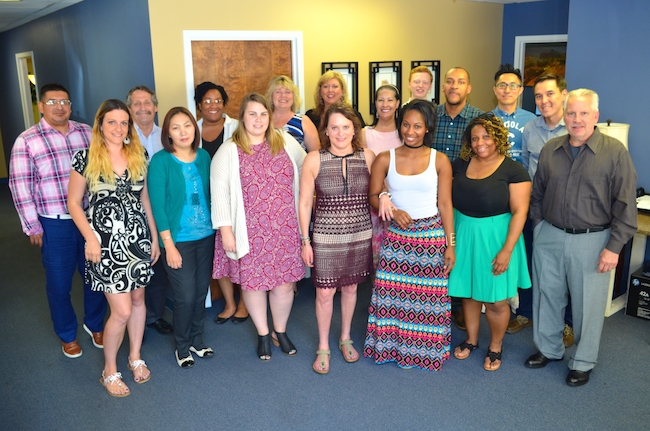 Adcom's Washington, D.C., and Pittsburgh offices offer personalized freight forwarding service to a wide range of clients.
By Jim Harris
Stolen trucks. Large racks of expensive computer server and other equipment accidently falling off the backs of trailers. Bonnie Knoedler has faced a number of challenges during her more than 30 years with freight forwarding agency Adcom Worldwide, but the companies directly impacted by these crises "are still customers of ours today," she says.
Knoedler, president of the company's Washington, D.C., and Pittsburgh offices, credits Adcom's retention of these and all of its customers to its service-oriented culture. "We have a team of four people committed just to customer service, plus myself and all of my salespeople regularly interact with customers," she says. "I'm available all the time, almost 24/7, as is my vice president of operations. We are very quick to respond to our customers' needs and we've had many people comment on that fact."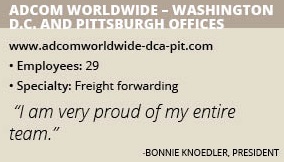 The company's service to customers includes providing them with suggestions on how and when to best ship their goods. "We communicate to the point of over communicating, educate our customers on all compliance matters, as well as update clients via e-mail twice daily on the status of their shipments," Knoedler adds. "We strive to take the worry out so our clients can focus on their own tasks."
The Washington, D.C., office works with many high-end and specialized, or "white glove," customers including manufacturers, resellers and integrators of computer and high-end medical equipment.
That office last year added what Knoedler calls the largest account of her career when it began handling shipments for a Massachusetts-based manufacturer of vision-testing equipment used in ophthalmology offices including Lens Crafters locations nationwide.
The Pittsburgh office specializes in full- and less-than truckload services on behalf of manufacturing and pharmaceutical companies.
Both offices work with cartage agents in cities across the country that handle local pickups and deliveries that are shipped by a national carrier. The agent is then responsible to delivering packages to end-users. Adcom's agents are required to take pictures of items before and after they are shipped to ensure they are handled properly, Knoedler notes.
The Washington, D.C., office's location near the highest concentration of professional associations in the United States also lends the company to trade show, convention and event transportation work. Adcom ships exhibit materials on behalf of associations as well as companies exhibiting at these events.
Small but Large
Knoedler's offices are two of more than 100 independently owned and operated Radiant Global Logistics network stations. Approximately 35 of those operate as an Adcom brand. She joined Adcom in 1986 during her senior year at American University, when she was offered an internship by the fiancé of her manager at a clothing store, where she worked previously. The internship became a full-time job the following year.
At the time she joined the company, Adcom shipped letters and small packages. Knoedler, one of the top salespeople in the nationwide Adcom network at the time, was instrumental in the company shipping larger freight. After 19 years in the company, she purchased the Washington, D.C., office in 2005. Three years later, Adcom was purchased by Radiant Global Logistics, a national transportation and logistics provider. Knoedler purchased a Baltimore-based network that had a large Pittsburgh operation in 2009. She kept the Pittsburgh operation which also operates under the ADCOM brand.
The two offices owned and overseen by Knoedler, like all of Adcom's offices, operate in a manner similar to franchises. "We can run our businesses autonomously and make our own decisions when it comes to the markets we serve, the way we do our routing and the carriers we want to use. What we do in each of our offices is completely different from what the other Adcom offices do," she says. "Because we are in the Radiant system, we have the benefit of having the resources of a huge company, but we have a small company ideology when it comes to how we serve customers."
Staying Dedicated
The Washington, D.C., office is one of the top 10 of Radiant's more than 100 independently owned and operated locations in terms of sales volume. "I believe the longevity of my career and that of others who work with me, as well as our premium level of customer service, is what is putting us there," she says.
Several of the staff members in Adcom's Washington, D.C., and Pittsburgh offices have as many, if not more, years of experience in the company and industry than Knoedler herself. "Between the two offices, I have people who have been here 10, 15, 25 or 30 years," she adds.
Both offices retain employees in part through a generous benefit and bonus structure, as well as a family-based internal culture. "I am very proud of my entire team; I have the greatest employees," she says. "My core team is highly dedicated and committed, and very passionate about what we do. We have a great environment that's taken a long time to put in place, but we now have the best morale that we've had since I've owned [the offices]."