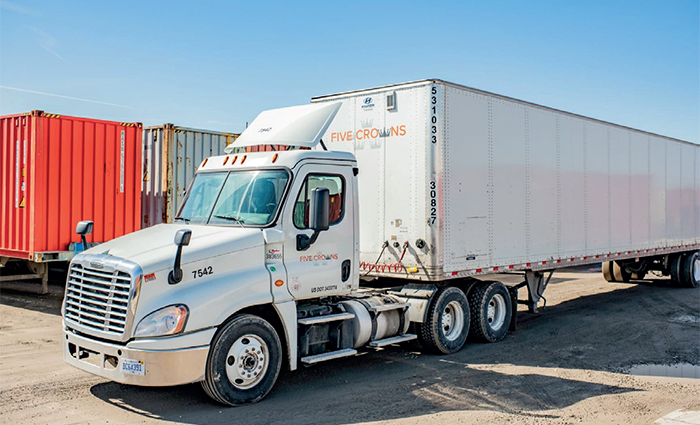 After experiencing exponential growth over the last six years, the James Group looks to exciting new opportunities in global supply chain management services
When John A James founded James Group International in 1971, the business began with one truck and one trailer that was designated to haul beer from Michigan to Milwaukee. Under the current leadership of his sons, Lorron and John E James, the company is recognized as a leading global provider of logistics, supply chain management, and e-commerce services. The family of companies, Renaissance Global Logistics, Five Crowns Trucking, and Magnolia Automotive Services, continue to provide customers with the most innovative and progressive solutions available anywhere in the world.
Operating in Michigan, Mississippi, and Alabama, James Group's core service offerings include warehousing, transportation, and value-added engineering custom solutions. With 2.4 million square feet of space, which continues to grow as the company expands, James Group prides itself on offering unique and innovative solutions, including warehousing, real estate, goods distribution, and inventory management. In addition, the company is always seeking creative ways to optimize ROI for customers every step of the way.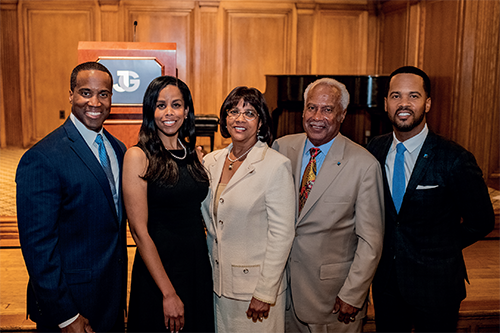 Utilizing various modes of transportation, James Group has built trust with its customers by consistently delivering goods safely and on time for the past 50 years. The company was born out of John A. James' trucking business which was founded in the 1970s and has continually been expanding in this business sector. Specializing in hazardous materials, special shipping instructions, and international and domestic regulations, James Group has the ability to deliver any item anywhere in the world efficiently and faultlessly.
James Group adds value for its customers by employing world-class engineers across a multitude of different industries who are committed to delivering best-in-class solutions for assembly, packaging, and supply chain. Fitness matters! James Group helps customers fill their specific supply chain gaps by utilizing RFID-enabled technology to oversee its tracking, grading, and quality inspection services. Exceptional customer service is intrinsic to James Group as a company. The commitment is to not only meet, but consistently to exceed client expectations, which the company considers to be a competitive differentiator in today's marketplace.
With a focus on fluidity, responsiveness, and a solution-driven mindset, something that really sets the company apart is its personalized customer service and commitment to operational excellence. Glenn Willrich, company President, explains how gaining the respect of its customers is an integral part of the company culture: "Something that makes the business a stand-out company is the culture of our people, making sure we are always available whenever our customers call upon us to deliver, and ensuring we deliver that service flawlessly."
He continues: "A number of times, we have gone beyond our contracted requirements, in some cases even assisting our competitors because it is the right thing to do for our customers. This has helped us to gain respect in the marketplace as well as amongst our customers with whom we are eager to build long-lasting relationships." James Group demonstrates its strength in this area, having successfully maintained long-term partnerships with a number of household names, including Ford, GM, Stellantis, Toyota and Mazda.
People first
In addition to its technical expertise and exceptional customer service, the company also prides itself on its CSR initiatives and work to support the local community. The company supports several local charitable organizations and is in alignment with charities advocated by some of its clients. For example, the company runs a specialized campaign each year for United Way with Ford Motor Company, a huge advocate for the charity, and matches James Group employees' donations dollar for dollar. Numerous times, the company has honored its pledge to support the local community by helping to deliver thousands of meals, PPE, and cleaning supplies to the hardest hit areas of Detroit during the pandemic. The company also launched JG Drive to grant $100,000 towards entrepreneurs and education in the local Detroit area.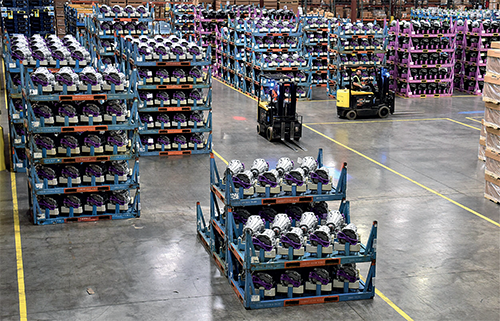 The company recruits its workers from the local area looking to welcome individuals who align themselves with the company culture first and foremost. The company takes the retention of its workforce seriously, ensuring that good performance is rewarded with compensation and internal promotions, whilst adopting a 'coach and council' mindset to help its employees grow and develop their own skillset and capabilities. In 2021, Renaissance Global Logistics, a James Group Company, was named as the winner of the Michigan Top Workplaces Award by Detroit Free Press, a list based solely on employee feedback. This is testament to the company's collaborative, supportive, and community-focused work environment.
Another core focus of the company culture is championing diversity, which can be traced back to the inception of the business. John A. James took the Interstate Commerce Commission to the US Supreme Court which resulted in the Motor Carriers Act of 1980, signed into order by President Jimmy Carter. John A. James won the rights, making his, the first African American truck company in the United States to haul parts for the automotive industry. Today, 87 percent of the company's workforce is minority. Additionally, the company concentrates more than 52 percent of its spend with minority companies. James Group also prioritizes sustainability, making huge efforts to recycle as much of the $40 million worth of cardboard consumed by the company as possible, as well as looking into investing in electric/autonomous vehicles.
Looking to the future, the company is currently exploring its investment options in new technologies such as autonomous lift trucks, automation, and transportation tracking. The focus going forward is to continue to grow the companies sustainably from within, seeking opportunities for its workforce within new areas and locations, whilst maintaining its strong relationships with customers. The company is currently exploring growth options for the future, looking at potentially expanding its operations into exciting new markets such as agriculture and aerospace.
www.jamesgroupintl.com