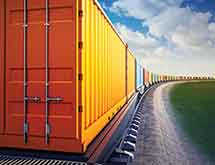 Ahold USA believes that making its transportation operations as efficient as possible will allow it to best serve its customers. "Our customers want the freshest product, and we help execute the transportation of that product in a just-in-time environment," the Carlisle, Penn.-headquartered company says. "We drive costs out by engineering solutions where we can leverage dedicated transportation and our private fleet movements. We are constantly looking at ways to improve shelf life through reduced transit time and want to bring savings back to the business so we can invest in price."
The company – the U.S. division of international retailing group Ahold – regularly invests in ways to reduce its shipping and transportation costs while maintaining a high service level. This includes increased use of rail, setting key performance indicators related to mileage and using technology to increase visibility into routing, tracking, safety and other steps of the transportation process. "Technology is improving our evolving transportation and logistics strategy and also enables us to make better real-time decisions as a company," the company adds.
Ahold USA also teams with carriers, retail vendors and other business partners. "The opportunity for collaboration with our suppliers is ever-increasing," Ahold notes. "We engage with our suppliers in several ways and aim to strengthen and improve the relationships we have with them."
One partner, C&S Wholesale Grocers, manages the procurement and supply chain operations for dry and frozen commodities. Ahold USA also hosts supplier events where topics such as company strategy, sustainability, supplier diversity and food safety are discussed.
'A Solid Foundation'
The company's U.S. division owns, operates and supplies the Stop & Shop, Giant Landover and Giant Carlisle retail brands as well as Peapod, the nation's leading online grocery shopping and delivery service. Ahold operates a combined 770 supermarkets and 120 pick-up points in 13 states and the District of Columbia. "The company is built on a solid foundation, with strong and trusted local consumer brands, millions of loyal customers, leadership in our markets and proud associates," the company says. "Operating supermarkets and selling great food has been our core business for over 125 years."
Ahold USA is one of Netherlands-headquartered Ahold's three international divisions. The company also operates Netherlands and Czech Republic-based operations, each of which includes a number of businesses. "This structure helps us effectively execute our strategy and balance local, continental and global decision-making," the company says.
Each division has a corporate center office that is responsible for group strategy and support functions including finance, internal audit, legal, compliance, insurance, human resources, communications, responsible retailing, mergers and acquisitions and information management.
The company is publicly owned. "Our shareholders are crucial to our business; they put their trust in us by investing in the business financially," Ahold USA adds. "They monitor our company closely and challenge us on our strategy and how we manage the business. We meet with investors on a regular basis, including socially responsible investment analysts, and work to broaden the investment community's understanding of our company by providing accurate and timely information on Ahold's performance and prospects."
Strong Relationships
All of Ahold USA's transportation and other functions are centered on one common element. "Our customers are central to our business," the company says. "We are committed to offering our customers healthy choices and providing them with products that are made with respect for people, animals and the environment," the company says. "In addition, we aim to offer competitive prices combined with high product quality and a great shopping experience."
Customers are regularly asked for their input on the stores. This includes questions about their assortment of products and service level. The company receives feedback directly from customers as well as through third-party surveys, proprietary tracking studies and consumer panels.
Ahold's associates play an important role in the customer experience. "Extraordinary associates are at the heart of our success. Their hard work and dedication to customers help set us apart," the company says. "We are committed to making sure our companies continue to be an even better place to work, every day."
The company strives to create workplaces built on fairness and mutual respect in all of its locations. "We maintain strong businesses to drive stable jobs and provide opportunities for great careers," Ahold USA adds. "We respect and protect the rights of associates, and we are committed to the principles of equal employment opportunities, freedom of association and respecting the legal rights to collective bargaining everywhere we do business. We strive to maintain an open and honest company culture."
Ahold USA also supports community activities including the United Way and local food banks.
"We work to be an even better neighbor and make meaningful contributions in all our communities," the company says. "We support the health and well-being of our customers, associates and communities, source our products responsibly and care about the environment."