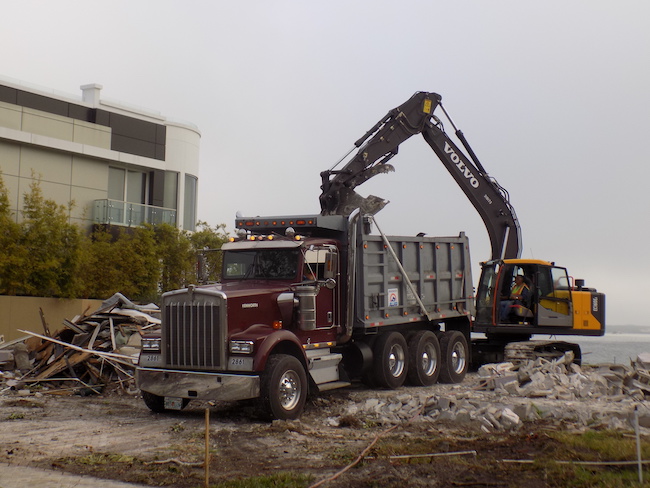 Allied Trucking Group is investing in its future.
By Jim Harris
One of Florida's largest and most recognized material handling companies continues to grow. Next year, Allied Trucking Group will open a new operation in Jacksonville, Fla., adding to a physical footprint that already includes operations in Palm Beach, Miami, Orlando, Tampa and Naples.
The truck brokering company also recently opened operations in Tampa and Orlando, and placed both of those sites under the jurisdiction of Palm Beach office heads Luis Barranco and Victor Moscoso. The two are now responsible for training employees in both locations, says Barranco, head of sales for the Palm Beach office.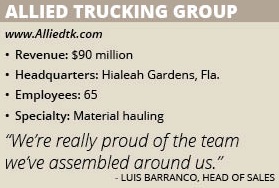 The Allied Trucking Group oversees a fleet of more than 600 trucks that haul topsoil, asphalt, stone, rock, sand and other materials to road and other civil construction projects, including those overseen by the Florida Department of Transportation. The group of companies has the capability to broker trucks from independent operators serving most of the state.
The company has worked as a subcontractor to many of the nation's largest civil contractors, including Archer Western Contractors and Dragados USA. Its longtime clients include H&J Contracting, Downrite Engineering, Lake Point Restoration, White Rock Quarries and Community Asphalt.
In addition to its public sector work, Allied also has participated in a number of private sector projects. The company has access to demolition tractor-trailers that are equipped to handle construction debris such as trash, trees and broken asphalt. Allied also can dispose of contaminated material.
Allied's recent work includes beach restoration projects along Florida's East Coast. The company is also involved in dyke restoration projects along Lake Okeechobee for contractors such as TSI Disaster and Recovery LLC, Morrison Cobalt and Thalle Construction Co.
The company's newest clients include EHC Construction, NJC Land Development and Prince Contracting. "We get a lot of referrals from companies that help us out a lot," Barranco says. "We're all over the place in Florida and have a good reputation; people know us."
Internal Improvements
The Allied Trucking Group is investing heavily in its internal operations. This includes implementing a brand-new accounting system that will allow it to improve the way it bills customers, processes job tickets and dispatches trucks, says Moscoso, vice president of operations for the Palm Beach office.
The company recently improved the way it communicates with drivers. The Palm Beach and Tampa offices now use the Google Voice call forward and voicemail system as well as a group talk two-way radio system. "We use group talk as a way to maximize communication and minimize the amount of calls we need to make to solve one problem," Barranco says.
The Allied Trucking Group's employees are also receiving enhanced training from managers at each of its offices. Managers are working with independent safety training providers to learn about updated regulations and procedures, then sharing that knowledge with their drivers and office staff, Moscoso notes.
All of the independent truckers who work with Allied must follow strict safety guidelines. "We are properly licensed and insured with adequate truck liability limits, with the capability of providing higher limits of liability if needed," the company says. "Our safety department helps to ensure the safe and careful completion of projects through preventive procedures established by our risk management team."
The Right Team
Since 1984, Allied has been owned by partners Raul Sotolongo, a veteran truck driver who is responsible for managing its operations; and Raul Smith, who handles the company's business and sales functions.
Barranco and Moscoso credit the company's success and recent growth to its owners and employees. Many of the company's dispatch and other administrative employees have worked for the company for 10 years or more.
"We treat our employees well," Barranco says. "We're really proud of the team we've assembled around us. We're nothing without the people who do the hard work here; they are the ones who've helped us get to where we are now."