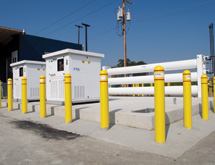 Energy independence is a hot topic nowadays, although the idea of changing from the oil-based lifestyle that Americans are used to makes some people nervous and unsure about how to achieve it. Even so, with regular gas prices reaching $4 a gallon on a regular basis and diesel prices even higher, most agree that change is needed. American Natural Gas (ANG) is helping the transportation industry realize this change and do so in a cost-efficient manner.
Based in New York, ANG owns, operates and manages compressed natural gas (CNG) fueling stations for transportation. Its vision is to make natural gas readily available for commercial and public use in vehicles. ANG believes natural gas is attractive for vehicle use because the technology is efficient, cost effective and safe for mainstream use. It also is environmentally friendly and abundant as a U.S. natural resource.
"We are a compressed natural gas infrastructure company and alternative motor fuel distributor," founder and CEO Drew West explains. "It's easy to go out and build CNG stations – the challenge is putting all of the pieces of the puzzle together. We work with fleet managers and truck manufacturers to ensure there's enough demand so the stations are productive."
Bringing CNG to Maine
Even though ANG is only two years old, the market is growing quickly and the company is "very busy with a lot of projects," according to West. Working with Casella Waste, the company will establish a public-access CNG station in Westbrook, Maine, one of the first such facilities in the state.
ANG already operates three other CNG stations for Casella in New York, and Casella owns the property on which the Westbrook facility will be constructed. Casella has about 50 heavy-duty refuse vehicles in its local fleet that are in line for natural gas conversions and which will use the Westbrook facility.
Even so, the station will be located in Maine's largest metro area – Portland – and is less than a mile from Interstate 95, so it is attracting the attention of more than just its primary user. The city of Westbrook is evaluating the adoption of natural gas vehicles (NGVs) in its fleet, and commercial operations – such as FedEx – are seeing the station's benefits.
ANG has been working closely with the city's zoning and fire officials to secure the necessary permits, as well as with natural gas utility Unitil Corp. to ensure the on-site resource offers sufficient inlet pressure and volume. ANG will own and operate the station, which will feature two high-horsepower compressor units and up to 120,000 cubic feet of CNG storage. West notes the facility will benefit the entire community by reducing greenhouse gas emissions, particulate matter and noise.
"A lot of people are really excited about the prospect of public CNG fueling," says Steve Linnell, coordinator of Maine Clean Communities, which promotes alternative fuels in transportation. "ANG's facility will provide an ideal location for businesses that are thinking of switching to CNG. Along with transit, trash trucks are the optimum fleet vehicles for realizing a return on investment."
The Necessary Expertise
ANG works with its partners to assist with vehicle conversions, construction of CNG fueling stations, implementation of natural gas equipment, engineering, fueling services and ongoing support. "Casella is switching over its entire fleet over time" to NGVs, West explains, and ANG established three facilities for Casella last year in Horsehead, Fort Edwards and Geneva, N.Y. West notes that ANG has a lot to offer other companies that see the cost and environmental benefits of going the CNG route for their transportation needs.
"As long as our clients make the fueling commitments, it's no cost to them – we own and operate the facilities," he says. "Our team has the expertise necessary to meet our clients' needs. Our director of operations, for example, has 15 years of experience with CNG facilities and has really focused on developing a strong preventative and ongoing maintenance program. If our clients' fleets are at home, it's of no use to them and costing them a lot of money, so we help to keep their fleets running.
"We are building true, heavy-duty infrastructure," he adds. "We are really set apart by the technology we use to service the facilities and the engineering process we use to design them."