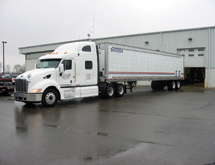 Credit for punctual service is often given to the companies seen delivering packages on doorsteps or letters into mailboxes. However, B&B Trucking, based in Kalamazoo, Mich., is behind the scenes maintaining on-time local and long-distance hauling of mail and packages from one plant to another for prompt home deliveries.
Robert Keller founded B&B Trucking in 1969 to transport mail for the United States Postal Service (USPS). Involved in transportation and logistics management most of his life, Keller took the opportunity to start his own business when a contract was offered by the USPS to transport mail to and from Chicago and Detroit. This was the company's first lane of transportation, which it continues to service along with many others 44 years later. Today, B&B Trucking has expanded its services to cover mainly east of the Mississippi, but the company is available for hauling within the continental United States. "We look at opportunities for additional long-distance hauls daily, but it has to be feasible," Director of Operations Josh Porter says.
In addition to the postal service, B&B Trucking transports FedEx and UPS packages, mainly during the holiday season. The company also has a 24-hour maintenance garage in-house with an automated truck-washing bay and fuel station, which is open to the public. Technicians repair and maintain the company's fleet of 160 trucks and 170 trailers. "We take pride in what we do and that has become our company motto: 'Take Pride…We Do,' Porter says. "It's an environment where employees want to work and earn one another's respect. Teamwork is instrumental for us to deliver superior on-time service."
Technology Required
Transportation routes are dictated by the Postal Service and change multiple times per week. "About 15 years ago they may have only changed just one route once every three to four months at the most," Porter adds. "Now, we negotiate several service changes weekly." USPS has evolved into a more agile organization requiring B&B Trucking to be responsive to ensure the USPS' service goals are met and mail is moved in the timeliest manner. "As with any company, time changes needs and the postal service must respond to these new needs based on volume and demand of today's mail," Porter explains.
Technology upgrades were needed at B&B Trucking to achieve increased productivity while controlling costs when adjusting to the changing needs of the company's customer. Electronic logs have been used since 1994, but advances in electronic transportation software have allowed the company to become more efficient and automated.
"Now making changes to lanes of travel and communicating the change to drivers can be done on the fly," Porter says. "We frequently coordinate multiple last-minute needs for route changes and at the same time, create performance benchmarks and job instructions for drivers to operate from within the same day, often within the hour." Once a driver has completed a route, the real-time GPS system exports the data into B&B Trucking's finance and maintenance software for additional operating efficiency in payroll, billing, and fleet maintenance, Porter explains.
Despite the number of service route changes, B&B Trucking has maintained an excellent on-time delivery rate. The company has received service awards from the United States Postal Service and FedEx because of its exemplary performance.
"I want to make sure everyone respects and applauds the companies that are bringing technology to the transportation industry," Porter adds. "We welcome more technology to improve safety. It has done wonders for us and we are constantly exploring new programs and ways to do more."
Driving a New Image
Driver turnover at B&B Trucking is less than the industry average, but the driver pool is also limited, Porter says. "We may end up decreasing work in one region and increase somewhere else," he explains. "We have to make those changes to take care of the customer."
Every driver and technician is put through a training and orientation program when they are hired. Drivers are also required to take skid pad training to prepare for inclement weather. While on the road, a log records the driver's behavior on how well the driver is shifting, breaking and their overall maneuverability. "There are a lot of key indicators we record and monitor giving us the ability to evaluate everyone," Porter says. "We let the good know they are doing great and follow-up with the people who need more attention."
Truck drivers are put through rigorous training and safety programs before they are sent onto the road. Because of this, Porter says the image of a truck driver needs to be reformed and regarded with more dignity. "According to most studies, the general public's viewpoint of a career as a professional tractor–trailer driver is undesirable and that is very frustrating," Porter says. "When evaluating our diversified driving staff we see intelligent, safety-minded individuals who like most others strive to perform their job duties to the best of their abilities. Most citizens do not recognize and understand how and who delivered their mail let alone respect the efforts made by many individuals involved in the background. A fresh image needs to gain ground that teaches respect for these efforts instead of criticism for the actions of a few."