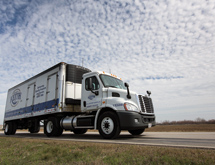 Ben E. Keith Co., a Fort Worth, Texas-based distributor of foodservice products and beverages, recently opened a new warehouse facility to improve service and call one of its longtime service areas home.
The 475,000-square-foot facility is located on 82 acres in Missouri City, Texas and distributes foodservice products to the Houston, southeast Texas and southern Louisiana regions, Food President Mike Roach says. Ben E. Keith has been delivering products and building relationships in the region for more than 20 years. "The core business will be the same, but the facility has a number of advancements built into it," he adds. The new distribution center offers 17,000 items to its customers to fulfill any foodservice operator's needs.
The facility is LEED Gold certified, and includes a number of green building materials and sustainable practices, such as capturing rainwater for reuse. The delivery fleet and material handling equipment is all newly purchased and the new warehouse is equipped with a double-deep automated storage and retrieval system. "This technology allows us to maximize acute utilization of the facility," Roach explains. "It allows us to have a greater assortment of products for the customers, more accurate order selection and fulfillment of the orders. It's efficient, productive and accurate."
Dirt Road Delivery
Ben E. Keith started as a salesman and delivered produce using a horse and buggy in 1906 when the company was known as Harkrider-Morris Co. Keith purchased controlling interest in 1918 and changed the company name to Harkrider-Keith-Cook until 1931 when the name was changed to Ben E. Keith.
The company started by delivering produce, which was most profitable during the winter months. The summer months were less lucrative because people would grow their own produce in home gardens. During Prohibition in 1928, Keith met with Adolphus Busch to look for a way to remedy the loss of revenue and the company became an independent distributor of Anheuser-Busch products. Because the sale of liquor was prohibited at the time, the major products from Anheuser-Busch were ice cream syrup in several flavors, baker's yeast, starch, dextrin and ginger ale. The additional product distribution kept the company making money during summer months.
When Prohibition ended in 1933, Ben E. Keith easily added alcoholic beverage distribution because the company had refrigerated storage coolers and delivery trucks. Draught beer was not pasteurized, so it had to be kept cold or it would spoil. Ben E. Keith's first beer order from Anheuser-Busch totaled 57 railcars.
Today, Ben E. Keith distributes foodservice products including produce, frozen foods, meats, dry groceries, refrigerated foods, paper goods, equipment and supplies to restaurants, hospitals, schools, nursing homes and other institutional businesses in 11 states.
The company's beverage division distributes Anheuser-Busch products along with craft and import brands to 61 Texas counties. "We have been in the business for a long time, so our history and customer intimacy are our core strengths," Roach says.
Reliable Relationships
Ben E. Keith's approximately 4,000 employees work to make sure its customers receive quality products and stay informed about its new products and services.
"We get new customers through word of mouth and our reputation," Roach explains. "We maintain our relationships primarily through our 500 or so distributor sales representatives. They are responsible for creating and maintaining the relationship between our operator customers and the company."
Representatives participate in "extensive" training and development programs focused on product, technique and time management, Roach explains. Ben E. Keith also provides its staff with on-site training to supplement its classroom training. "We focus intensely on providing our operator customers with consumer insights so we are able to continue to be customer-centric but consumer-focused," Roach adds.
The company keeps tabs on industry trends to provide consumer insights to its customers, and Roach says there has been an industry-wide decrease in consumers dining out. "This presents a challenge for our customers, but the latest statistics I have show that it has perhaps leveled out," he adds. "It appears to have stopped declining, but we also don't see it increasing at this point. Our expectation is that eventually the consumer will come back, but when is anyone's guess."
To help its customers, Ben E. Keith is committed to providing resources to independent restaurant operators that will help them profitably grow their businesses, Roach explains. Resources include providing marketing information and menu analysis, as well as food safety, wait staff and back-of-house training.
"We are always in search of the latest and greatest in trends or products," Roach says. "Our managers are always searching for those new trend items and looking for ways to improve our service to our customers."