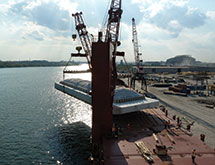 The Gulf of Mexico is a hub of shipping activity year-round, and once ships start to age, repair and maintenance needs are almost continuous. "We do both shipyard and topside repairs," CEO and owner Richard Bludworth says. "We go wherever vessels are. Fifty percent of our maintenance work is at remote repair sites where we have to mobilize equipment and tools to do the job, get it completed and bring everything back."
Bludworth Marine LLC is not building any new boats or barges at the moment, so vessel repair and maintenance is all of the company's business right now. It offers 24-hour emergency repair services for ships and inland/offshore tugs and barges. "The vessels are moving from port to port on a continuous basis," Bludworth points out. "A lot of the time, they have repairs that need to be done, and they may only have 12 hours in a port. So we dispatch a crew to take care of that, and then when the vessel is ready to sail, we get off and it keeps going."
The company has some locations that it uses frequently for such regular or emergency onsite maintenance, including the city docks at Corpus Christi, Freeport, Houston, Galveston, Port Arthur and Orange, Texas. Often, maintenance is performed at a loading or discharge berth, or even when ships are anchored. The usual tasks include machinery repairs or replacement of equipment or steel and piping repairs, some of which Bludworth Marine fabricates itself.
"We have also sent riding crews to South America and Nova Scotia," Bludworth notes. "They stay on the vessel and work on it while it's sailing, and then get off at a different port somewhere else. We do it on a fairly regular basis. We work whenever and wherever the customer has a need."
A Small City
Logistics are challenging for Bludworth Marine. "If you stop and think about it, a ship has every system that a small city has," Bludworth muses. "We get into plumbing, electrical, air conditioning, heating, ventilation, sewage – everything. When you're doing so much work in so many varied locations, you've got to constantly be aware of your scheduling, materials and equipment, and to make sure it gets where it's going and gets back when it is finished."
To help achieve this, the company has standardized many of its equipment requirements. "We have everything prepackaged, so we can just grab a couple of boxes and go," Bludworth says. Getting materials to such a variety of locations also is a challenge.
"We've got an extremely wide and diversified vendor base that we partner with on just about every job," he says.
Gulf Coast
Most of Bludworth Marine's business is along the Gulf Coast. The company's Houston headquarters is nearly 20,000 square feet, of which approximately 15,000 square feet is the fabrication plant. The company also has two shipyards in Galveston and two in Orange that vary in size from less than an acre at both shipyards in Galveston to 10 acres at one of the shipyards in Orange.
Much of Bludworth Marine's materials and components – such as pipe, electrical cable, engines and generators – are purchased from vendors. The company performs forging, shaping, welding and painting at its plant, but some of those processes may be outsourced depending on scheduling, manpower and material availability. "There's a lot of variables in making decisions on what you manufacture and what you buy," Bludworth notes. "Production supervisors, project managers, job superintendents and foremen make those decisions."
Bludworth credits the company's employees for its success. "Our biggest competitive advantage in vessel repair is the depth and breadth of the experience of our people," Bludworth maintains.
A maintenance challenge on ships nowadays is the increasing use of computer-controlled systems that must be diagnosed electronically when they malfunction. This has changed the skills required of the company's employees, who perform maintenance or new ship construction depending on what the market requires. They are recruited through word of mouth, recruitment agencies, or technical schools and colleges that teach specialty courses.
New Ships
The company's advantage in shipbuilding compared to its local and multinational competitors with their lengthy backlogs of ships on order is its delivery time. "Because we don't do it all the time, we do an amount where typically we can get started almost immediately," Bludworth points out. "So without a backlog to work through, we can get started and finished before some other people can."
Building a marine vessel can take six months to a few years depending on size and complexity, Bludworth estimates. Most of the vessels the company builds are custom-designed by Bludworth Marine or third-party firms. "We are more into doing one-offs rather than the assembly-line approach, although we've had some projects where we built more than one of the same vessel for the same customer," Bludworth says.
Since the Bludworth family settled on Bludworth Island near Rockport, Texas, in the 1870s, there has been a continuous line of Bludworth descendants in the shipbuilding, ship repair and operational maritime business from Brownsville to Orange, Texas. "The Bludworth people moved down into the Gulf Coast around the 1870s and were involved in boat building at that time, but different family members went in different directions," Bludworth explains.
Regarding Bludworth Island, "One of the Bludworths lived down there and raised six or eight kids there," Bludworth relates. "Somebody named it Bludworth Island. It's still on the navigational charts as Bludworth Island today."
That is the legacy brought to Bludworth Marine LLC, of which the current Richard Bludworth is the owner. "I started this business," Bludworth relates. "My father and grandfather were in similar businesses but not this company. My two adult children, while presently involved in separate careers, are involved here at a board level and are prepared to lead the company into the foreseeable future."
Bludworth attributes his company's success to "perseverance, providing a high-quality product and offering solutions, not problems." For the future, he sees "slow, continual growth as we've had in the past, and possibly geographical expansion in the Gulf or on the East Coast."