The Bighorn Divide and Wyoming (BDW) Railroad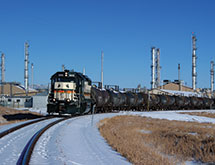 Whether customers want to do the transloading of bulk materials with their own employees at The Bighorn Divide and Wyoming (BDW) Railroad railyards, or they want the BDW to do the whole job for them with its employees, the BDW can accommodate them. "We're quite flexible because we aren't a huge company," President Edward Kelsey explains. "We're a small company that can facilitate different requests from different shippers."
"We're typically the last mile in and the first mile out," CFO David Nelson explains. "We are the local contact for customers."
The BDW has been operating since 1985 and currently operates railyards in Bonneville, Shoshoni and Casper, Wyo. The company interchanges with the Burlington Northern Santa Fe (BNSF) Railway and has 28 miles of BNSF trackage rights to augment the movement of products. It has 10 miles of track at its yard in Casper and a total of 20 miles combined in Shoshoni and Bonneville. The Shoshoni and Bonneville railyards are approximately four-and-a-half miles apart, whereas the Casper facility is approximately 90 miles from the Shoshoni yard.
"Each customer is somewhat unique in what they request or require," Nelson points out. "In some situations, the customer is doing their own transloading, where we are just leasing them track and spotting their cars. At the other end of the spectrum, we lease track to customers and our people are doing the transloading for the customer. This requires weighing the car when it comes in, loading the trucks, weighing the trucks, filling out a bill of lading and making sure they are getting the appropriate product for that rail car." The BDW or the customer can bill the cars out.
Transloading Specialists
"Our real claim to fame has been yard switching and transloading of bulk materials," Kelsey says. Among the materials loaded from railroad cars to trucks at its facilities or vice-versa are soda ash, molten sulfur, crude oil, propane, butane, vacuum tower bottoms – the heavy oil mixture left after refining that is used primarily in asphalt – condensates, barite, mineral oil, guar beans, lumber and shingles. Additionally, frac sand is brought in for hydraulic fracturing of oil and natural gas wells.
Nearly half of what the BDW transloads is for use in oilfields, and that amount has doubled in the last two to three years. Much of that activity is in the Niobrara Shale.
The BDW can handle 286,000-pound railcars. Each car can carry the equivalent of three-and-a-half to four truckloads. Besides the challenge of meeting state and federal environmental regulations for air and water quality – which almost requires a single, full-time person to keep track of, Nelson points out – being able to expand quickly enough to keep up with the energy boom in the region is proving a challenge.
Loading Technology
Special software aids employees in keeping track of the loads specific railcars are supposed to carry. "We have all of our tracks labeled or numbered in order to move cars and to create billing," Nelson explains. "Employees load and unload these cars on a specific track, which is correlated to a specific customer. They have portable devices that allow them access to the online database, and they can at any time look up the location of a car, and move a car from a customer track to the outbound interchange track with BNSF."
For the future, Nelson foresees adding approximately a mile of additional track to the Casper railyard in late summer or early fall because of its proximity to the Niobrara Shale. Also in Casper, BDW's ownership is entering into a partnership to construct a crude-by-rail facility that would load unit trains of crude oil consisting of more than 100 tankcars.
The BDW also plans to continue its emphasis on safety. It has won the Jake Award for Safety annually since 1998 except for 2012. The award is bestowed by the American Short Line and Regional Railroad Association to railroads that do not have a recordable accident during that year.