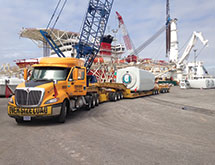 Bulldogs are known for their industriousness and solid loyalty, and that reputation is what has distinguished Bulldog Hiway Express since its founding in 1959 by R.D. Moseley with a 1954 Chevrolet truck that had a 12-foot van body. Now offering most types of trucking with a fleet numbering in the hundreds, Bulldog Hiway Express uses the latest equipment managed and driven by a team of experienced employees.
"We've got excellent people from top to bottom," President and CEO Philip Byrd Sr. stresses. "Their average length of service is 18 years with almost zero turnover in our ranks because we make them feel part of the ownership and success of this organization. We have very good CSA [compliance, safety and accountability] scores and safety performance with high integrity. We offer excellent transportation services in a compliant manner. Our people are well-trained, experienced and dedicated people. This organization is a collage of a bunch of great people working in concert to accomplish a great mission – to serve our customers with unmatched quality of transportation services."
Bulldog Hiway Express retains these employees by offering them competitive pay, excellent benefits and incentives for superior performance. "We have a waiting list of people wanting to work as drivers," Byrd maintains.
With this team, the company offers truckload service in the United States and Canada and has an intermodal division that serves the ports of Charleston and Savannah with delivery of up to 500 containers daily. It also has a division that specializes in third-party logistics delivery for various customers, another division that hauls commodities for energy companies and a heavy-haul division that transports "superloads" with equipment that has up to 13 axles.
Additionally, a fleet of nine-axle rigs move rolling stock and out-of-gauge cargo that does not fit in standard shipping containers. The company has "stretch" equipment that is longer than the usual equipment and can handle up to 170,000 pounds of cargo weight. Bulldog Hiway Express owns all of its equipment – it has approximately twice as many flatbed trailers as tractors – and only uses an estimated 30 independent contractors daily who have their own equipment for special projects when additional capacity is needed.
The Latest Technology
The company's fleet is equipped with Qualcomm onboard computers and satellite tracking technology, and Bulldog Hiway Express has been a "very satisfied" customer of Qualcomm for approximately 25 years. Another technology on which Bulldog Hiway Express relies are electronic logs. "Assuming that you ran a compliant operation on a manual system, fleets that transfer to electronic logging will see a gain in productivity," Byrd maintains. "You literally gain time because the devices are so precise." He estimates each of his tractors has gained from 15 to 30 minutes daily by using electronic logging.
When tractors are parked with the heating or air conditioning running for the drivers inside, Bulldog Hiway Express employs auxiliary power units (APUs) to save the fuel that would be burned while idling. Many of the company's newer APUs are electric and are charged as the truck is driven. Byrd estimates the company's average fuel consumption is approximately seven miles per gallon because of all the heavy equipment the company transports over mountainous regions.
Bulldog Hiway Express contracts with a company that videotapes its trucks on highways to ensure safe driving. "We make sure that if they do anything of concern, they are brought into our own training center for counseling," Byrd says. "Our director of training is constantly training people in safety and highway observance."
Special Requirements
Over the past 15 years, Bulldog Hiway Express has been recognized with first-place safety awards locally, from the state and nationally approximately 56 times. "We're very proud of our trophy case," Byrd says. "It's one of the first things you see when you walk into our corporate office."
Byrd is serving his industry as chairman of the American Trucking Association (ATA) and is working on issues of national importance to the industry, such as improving the trucking industry's overall image, educating the public about how to share the road with commercial trucks and providing incentives for good CSA scores.
For the future, Byrd anticipates doing more than just offering what any trucking company can. "We always have our finger on the pulse of developing markets," he says.