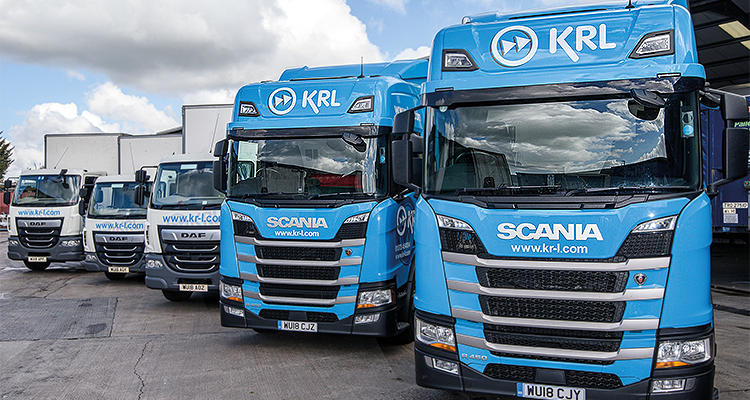 Bound for Brazil: how Kingscote Rojay Limited successfully transported a five-million-dollar helicopter across the Atlantic 
In 2023 Kingscote Rojay Limited (KRL) will have been providing multi-modal and logistics services for 30 years to clients that specialize in imports and exports across the UK and Irish borders. Since its inception, the company has steadily built up an extensive network of partners at over 400 facilities and 13,000 global locations to execute timely and cost-efficient delivery, collection, and transfer of cargo.
The logistics team is highly experienced and knowledgeable in charting transport arrangements for different types of cargo that require varying modes of transport. Whether project or routine, every job is tackled diligently to ensure customers receive the best value for their money.
To encourage growth, the business recently invested in a group of 18-tonne, 12-tonne and 7.5-tonne vehicles. As a member of Palletways, Europe's express palletized freight network, KRL pledged to all Euro-6 compliances and has successfully met the latest emission requirements. The company has also invested in four Scania 44-tonne tractor units to support its fleet.
The company, which runs Palletways services from depots in Frome and Telford, joined the network in 2013, enabling existing and new clients to benefit from industry-leading technology and high-quality logistics services into the UK and Europe.
KRL is one of over 115 independent transport providers that form part of Palletways UK's network. Not only has the business integrated its systems with UK customs for faster clearance, but it also helps to facilitate processing by offering guidance on document preparation and submission. The business' REDS online portal offers clients easy access to real-time updates on the progress of shipments and condition of warehoused consignments. This superior tracking capability has helped build trust and allowed for monitoring that keeps the business accountable.
Within the borders of the UK and Ireland, KRL operates seven hubs and a modern road haulage fleet, thereby facilitating the pick-up and delivery of consignments to client premises and the hubs. It also prides itself on its state-of-the-art warehousing facilities, custom packing, and pick-and-pack services. These value-added services help better support supply chain solutions.
Specialized services
The business is continually updating its service range and technologies to keep pace with the local and global demands that clients must meet. KRL has earned memberships and made partnerships with various organizations in the worldwide logistics industry to ensure the highest standard of service delivery.
Alongside its usual services, KRL also specializes in key industry sectors, such as AOG. Through time-critical and routine shipments of aircraft engines and precision aircraft equipment, KRL delivers a vital service that helps minimize AOG downtimes, for example. The team makes use of extensive experience in aerospace engineering and logistics to provide 24/7 accessibility to AOG emergency services anytime, anywhere, working within an extensive network to ensure supply chain demands are met efficiently.
Another sector the company specializes in is the gun trade. As controlled strategic goods, firearms importation and exportation is subject to an array of regulations. Even when imported or exported temporarily, compliance is a must. At KRL, the necessary expertise is guaranteed to ensure the required documentation is correctly assembled to achieve proper customs clearance and issuing of needed permits.
Challenging cargo
Last, but by no means least, KRL is also a leader in the transportation of perishables. The delicate nature of perishable goods calls for specialist attention while on the road, in the air, and in storage. KRL boasts a full range of logistics services and temperature-controlled vehicles and facilities to ensure that such goods remain in prime condition from pick-up to final delivery. The logistics team makes use of a wide network of vetted and experienced partners to ensure the fastest and cost-effective delivery of freight. With proper planning and consideration of specialized facilities, KRL works to ensure a smooth supply chain process.
A recent demonstration of the company's bespoke solutions and customer-centric specialisms involved the transportation of an AgustaWestland AW39 helicopter across the North Atlantic Ocean. KRL was approached by an agent in Brazil to assist in the FOB arrangements for the helicopter destined for a Brazilian buyer from the UK.
The helicopter had been booked on a RoRo vessel loading out of Tilbury. However, KRL needed to liaise with the specialist transport company delivering the helicopter, the RoRo shipping line and the Port of Tilbury.
Arrangements were made to have a 45-inch roll trailer placed on the quay at Tilbury where the helicopter could be safely loaded, away from normal Port operations. KRL's expertise was crucial in ensuring all parties were notified and kept informed so that the helicopter could be delivered and safely loaded in time to meet the vessel and before the arrival of another vessel on the quay.
The company ensured everything ran smoothly and that export clearance and documentation was completed in time. KRL was also able to give real time updates to the agent in Brazil so that any issues could be resolved there and then.
These are exciting times for the business, and the recent investments and projects send out a strong signal to the marketplace about its capabilities. KRL's mission is to exceed standards in the international freight and supply chain sector, and believes it is vital to invest in market-leading equipment and infrastructure to support drivers and offer the best service to customers.