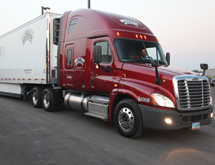 Britton Transport may be a business based on machines, but it is actually its people who enable it to thrive, President Dave Britton asserts. "We've been fortunate to work with great people," he says.
"We strive to hire people who have good values," he explains. "The value element is more important than the experience people can bring."
Based in Grand Forks, N.D., Britton Transport transports machinery, steel, building materials, parts and supplies, foodstuffs, consumer goods and general commodities.
Dave Britton started the company in 1980, in the basement of his house in Grand Forks. The company started as a freight broker. A year later, Britton Transport moved to a rented office. In 1982, it started trucking operations with a used flatbed. The fleet quickly grew, and it opened a branch office in Sioux Falls, S.D., that same year.
In the years that followed, the company added van and reefer divisions as well as a storage trailer rental division in Grand Forks. In 2011, Britton Transport was acquired by Bison Transport, in Winnipeg, Manitoba.
Today, Britton Transport operates from a new office and terminal in Grand Forks, in addition to its Sioux Falls flatbed operations center. The company has grown to 98 tractors, and employs 136 people. Its logistics operations have doubled in the past three years, and include cross-dock and distribution services from its new secure terminal.
The acquisition by Bison Transport has resulted in some operational synergies, Britton says. The company benefits from Bison's experience and guidance in various operating processes, such as vehicle specifications and recruiting strategies.
Coping With Challenges
Britton Transport sees challenges in the trucking industry, the biggest of which is driver recruitment. Fuel represents the biggest operating cost for most trucking companies, and is always of concern. However, fuel costs have been relatively stable for the past two years, Dave Britton says.
Other challenges that Britton Transport is coping with include the recent Federal Motor Carrier Safety Administration (FMCSA) regulatory changes. New hours of service rules were implemented in July 2013, restricting the number of hours a truck driver can be behind the wheel. These changes were not based on science, and adversely affect productivity in the industry.
"We're seeing a 2 to 3 percent productivity loss," Britton stated. "To counter this effect, we've implemented scheduled dialogue with our drivers, to reinforce the importance of trip planning."
The company uses electronic logs in 100 percent of its fleet. This has resulted in its drivers doing better trip planning, he adds. When Britton installed them five years ago, the company was concerned with the effect on productivity.
"Instead, we found our drivers were actually planning their trips more efficiently," he says. They could maximize their productive time while being in compliance.