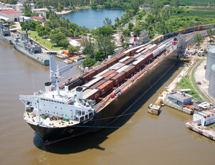 It isn't difficult to see what differentiates CG Railway from other rail providers – just look at where its tracks are located. "What makes us unique is that we are a Class 3 short line railroad, but our tracks are on rail ferry vessels that cross the Gulf of Mexico," says Kevin Wild, senior vice president of the Mobile, Ala.-headquartered company.
The railway, established in March 2000 as a response to growth in trade between the United States and Mexico resulting from the North American Free Trade Agreement, operates two rail ferries on the Gulf of Mexico between Mobile and Coatzacoalcos, Mexico. Each ferry is 580 feet long, 120 feet wide with capacity to hold 115 railcars and departs from each port every fourth day.
"We wanted a service that improved transit and was economically feasible and attractive," Wild explains. "We have created markets for Mexican and U.S. companies east of the Mississippi River that they were not able to compete in previously."
CG Railway's customers include the steel, chemical and forest products industries. Cargo is shipped via rail to Mobile, where the railcars are then rolled on to the rail ferries. The railway offers direct connections with several railroads including CSX, Norfolk Southern (NS), Canadian National (CN), Alabama & Gulf Coast Railway (AGR) and Terminal Railroad Alabama State Docks (TASD). In Mexico, CGR has a direct interchange with Ferrocarril Del Sureste, S.A. de C.V. (FERROSUR).
TASD also serves as CGR's switching agent. "Prior to the ship's arrival, we coordinate the interchange for the inbound (northbound) cars and the loading of the export (southbound) cars," Wild says. "The complete rail operations take between 8 to 10 hours. The administrative process for our customers is similar to that done for rail shipments via land crossings."
CG Railway is owned by International Shipbuilding Corp., which also owns several other companies dedicated to water-borne cargo transportation.
"Our reputation is the result of sound management practices, a stable financial structure, a core of veteran employees and our state-of-the-art fleet," the company says. "To meet and exceed the needs of our varied customer base, International Shipholding Corporation provides unique solutions to challenges presented by time, geography and logistics. This one-to-one problem solving sets our company apart."
Making a Commitment
CG Railway operates terminals in Mobile and Coatzacoalcos that are specially built to accommodate the rail ferry vessels. In addition, CGR offers cross dock/transloading opportunities at both ports.
CG Railway recently added capabilities in Mobile as a result of its parent company's acquisition of a rail car repair shop there. The addition of Frascati Shops Inc, allows the company to further bolster its service level.
"This gives us the ability to expand our menu of services for our customers, and allows us to maintain cars and keep them moving," Wild explains "We serve a niche market so we need to provide reliable service and expand our capabilities so we can offer services that meet the growing needs of our customers."
The company continues to invest in its operations. Future opportunities include possibly opening a refrigerated warehouse in Mexico.
"We've stayed committed to a service that many people doubted at first," Wild says. "A lot of people talk about short-sea solutions, but to be one of the few that is actually putting that sort of service into place and committing to it is something that as a company we're most proud of."