CIMC Intermodal Equipment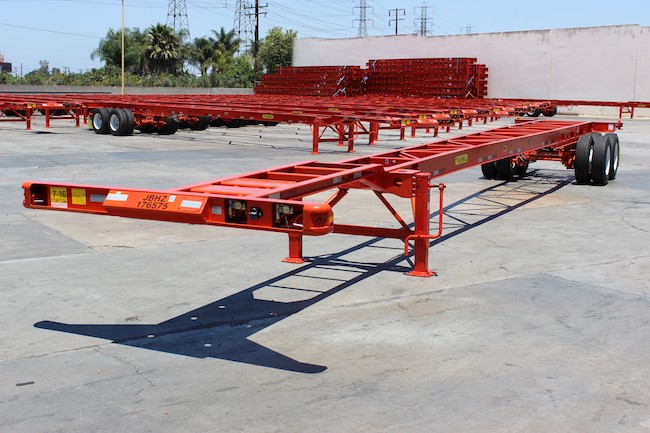 CIMC Intermodal Equipment plans to double its production in the next three years.
By Alan Dorich
There are many providers of chassis and container parts, but CIMC Intermodal Equipment (CIMC-IE) sets itself apart by offering roadside assistance. Through its CIMC Intermodal Road Service Program, President and CEO Frank Sonzala explains, clients in all 50 states can call the company if a part breaks on their chassis.
But no matter where they are, the repair fee is the same price, he asserts. "Whether it's Washington state, Washington, D.C., or Kansas City, Mo., [it's] the same price from coast to coast," Sonzala says.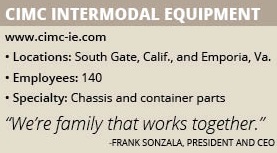 CIMC-IE, which has locations in South Gate, Calif., and Emporia, Va., is the U.S. domestic wheeled representative of CIMC Vehicles, based in Shenzhen, China. The firm provides chassis to its clients in the U.S. intermodal market, including all of the major U.S. railroads, chassis pools and maritime shippers.
Sonzala says the company's roots go back to 2008, when CIMC Vehicles invested in Direct Chassis, a U.S. company in Texas. In 2011, CIMC-IE acquired 100 percent of Direct Chassis and in 2012, it built approximately 6,000 chassis, but that number has grown. "Last year, we did over 27,000," he says, noting that the company expects to reach 33,000 in 2017.
Making Improvements
Sonzala joined CIMC-IE in March 2016 after gaining extensive experience in the heavy-duty trucking industry from the past 34 years. "Being the new CEO, I basically treated it like a start-up company," he says.
CIMC-IE was doing well, but there was room for improvement. "In the first 54 days, we revamped the entire web site," he says, noting that it is now one of the leading websites in the trucking industry. "People say, 'You've got very user-friendly information.'' The site's visit rates are off the charts."
The company also used to suffer from problems with absent employees and lateness. Although CIMC Intermodal provided a positive work environment, "In California, the traffic jams and everything else can cause you to be late for work," Sonzala explains.
The firm then changed its attendance plan so employees have the opportunity to earn bonuses if they have perfect attendance. "All they have to do is follow the Corporate Handbook rules and regulations for attendance and they get $100 after taxes, plus they get one personal time-off day per person, and they get a luncheon at the beginning of the next quarter," he states.
Forty-three percent of employees in South Gate recently achieved perfect attendance, and 84 percent did the same in Emporia. "After a year, you could earn $400 after taxes, and four vacation days," Sonzala says. In addition, they get a $200 bonus for yearly perfect attendance. It's a program that works for both the company and employees.
CIMC-IE also implemented its "6 to 60" initiative, where it plans to double its current production rate to 60,000 chassis within three years. Part of the process, involved the company's employees filling out a questionnaire to offer suggestions.
"When we launched this program, there was a little bit of hesitation," Sonzala recalls. "Once they grasped the fact that they had a hand in forming the next 36 months of the company, [they realized] what a great project this is for the gelling together of everyone in the company."
The team has become so close that the company formed a soccer team in the Industrial Hispanic League of California. "They play every Sunday," he says. "Sorry to say, we're not leading the league, but we're playing as well as can be expected for guys working 11-hour days and eight hours on Saturday during our summer peak."
Bridging the Gap
Quality is an important focus for CIMC-IE; the manufacturing portion is performed at the company's factory in China. "They do very good quality assurance and quality control," Sonzala says. "Our assembly plants and finishing plants are in the United States and we do 100 percent quality inspections."
CIMC-IE has bridged the gap between the two, despite the geographic distance and differences in culture and language. This has been managed through its Manufacturing Beneficial Associates Program (MBA).
"What we did was bring over quality assurance, engineering, purchasing and customer service people from China," he explains. "They come in here, they work three months, and return to Shenzhen and another crew comes in and works three months. We call the 'MBA' programs offices in South Gate 'Our Space Station,' because the crew will always be changing."
This results in an exchange of American and Chinese ideas between the two. The three participants also receive a plaque and an "MBA" certificate before returning to China.
The CIMC Family
Sonzala is proud of CIMC-IE and its team. "All the robots, the KTL coatings, laser cutters and buildings are just what we use to get our product out," he says. "The employee is our chief asset. CIMC Intermodal Equipment is an employee concentric company."
The employees make CIMC-IE a joy to work for, Sonzala asserts. "I'm here at 5:30 in the morning because my third shift works until six," he says. "As a CEO, I do care about my third shift people. They're just as important as everybody else. Our first shift starts at 6:00 a.m. and second shift at 2:30 p.m.
"We're family that works together," he continues. "We've got different backgrounds and different educations, but if you cut us open, we're all the same on the inside."
Sonzala sees a strong future for CIMC-IE. "I see us getting to 100,000 chassis," he says, adding that the company is exploring building a chassis manufacturing plant in the United States similar to its state-of-the art facility in China.
Over time, the consumption rate in China will continue growing, resulting in the United States being its No. 1 supplier, he predicts. "We'll be exporting products to help them feed their needs," he says, noting that he expects this to happen in the next seven to 10 years.
He adds that CIMC-IE is forgoing creating a five-year plan, due to the advancements in technology. "How can we say what five years is going to be in our business?" he asks. "We have to manage it on the hourly basis, now that things can change that quickly."
Leading the Way
CIMC-IE makes each chassis order one at a time, but the company is skilled at taking orders that number in the thousands. "No one can do the big orders like we do," Sonzala declares.
This capability has earned the company 77 percent of the total market share for chassis in the United States. "In our growing distribution network, we have 28 locations that are distributing our products: our customized chassis and our stock chassis," he adds.