Omaha Public Power District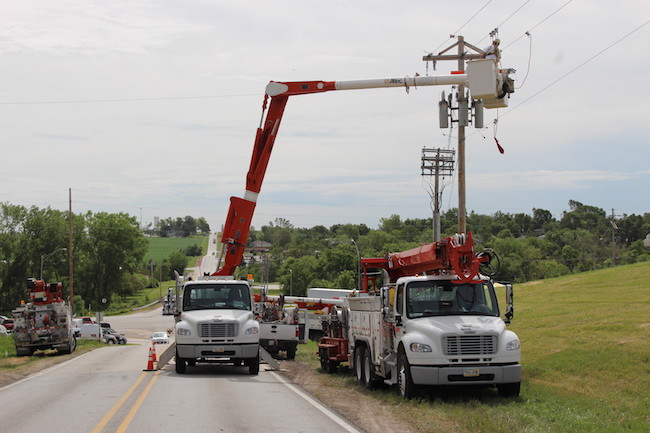 (Photo credit: Omaha Public Power District)
OPPD's latest initiatives include ways to cut costs and green its fleet.
By Alan Dorich
When 13 counties depend on you for power, you need to be reliable. For more than 70 years, the Omaha Public Power District (OPPD) has been a source people can depend on, Transportation Manager Mike Donahue says.
"Our mission is to provide affordable, reliable and environmentally sensitive energy services," he says, noting that the company also responds quickly during outages. "We [do] all those things they expect from us as a company."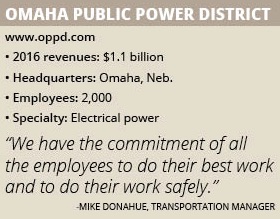 The Omaha, Neb.-based public utility started operations in 1946 and now provides power to approximately 820,000 people in a 5,000-square-mile service area. Donahue, who joined OPPD 22 years ago, manages its fleet of approximately 1,200 vehicles, construction equipment and trailers.
His team shares the utility's focus on customers and service. "We have the commitment of all the employees to do their best work and to do their work safely," he says.
Efficient and Effective
OPPD is focused on being more cost-effective for its customer-owners and has looked at the way it performs installations for new housing subdivisions. Previously, "OPPD would be responsible for installing service all the way to the house," Donahue recalls.
Now, he says, the homebuilders install the ducts that connect the houses to the transformers, and OPPD will install the cables that make the connection. "That's much more cost-effective," he says.
OPPD also is focused on green initiatives. "We just signed a new contract for additional wind power that puts our generation up to 40 percent renewable," Donahue says. "That's very progressive when we're not being required by law to do so."
The utility also has applied for grants to assist in the purchase of green vehicles, including the Nissan LEAF, Chevrolet Volt and Ford Fusion vehicles. "OPPD also invested in some rechargeable battery packs that we put in our vehicles to cut down on the idle time and reduce some of the crew's power," he says.
"It's an area where we have the opportunity to do something for the better of the environment," he continues, adding that these lower oil and gas consumption and extend the vehicles' lives. "Idle time kills most of these engines."
Doing Business Better
Donahue is proud of OPPD and the progress it has made. "For 2,000 employees to make those changes, it takes a lot of effort," he says. "I feel we're doing a good job in making that transformation."
Staying current with industry changes is critical for the utility's success. "There's so many things going on with vehicles and technology," he states. "It's a challenge, but if you have good relationships with your people, vendors and management, you can keep evolving and do business better."
OPPD will continue looking at opportunities to fine-tune its fleet, Donahue says. "[We're] just continually looking at where we can find opportunities to be more efficient as a company," he says. "Every group is challenged with doing the evaluation to make sure we're doing things effectively."
The district also will bring a fresh set of eyes to evaluate its operations, Donahue adds. "[That] is good for the company so we're making sure we're doing things as cost effectively as we can," he states.