Milton Transportation Inc.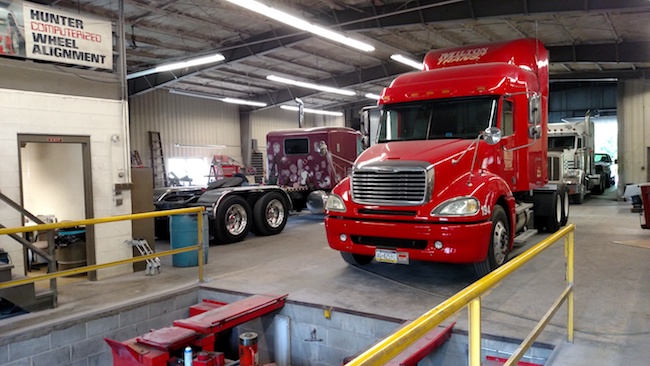 Milton Transportation's clients can rely on it to deliver on time.
By Alan Dorich
When First Quality, ConAgra Brands Inc. and Furmano Foods need a reliable commodities carrier in the Mid-Atlantic states, they turn to Milton Transportation Inc. "We have an excellent response time," Safety and HR Director Bill Buckley says, noting that the firm can make same-day or next-day deliveries. "We're good at what we do."
Based in Milton, Pa., the company transports commodities using van and flatbed trailers. Founder Ray Bowersox started Milton Transportation in 1969, and his son, Richard Bowersox, now leads the company.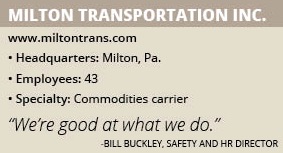 Today, with 114 drivers and 430 trailers, "We run about 500 miles in any direction," Buckley declares, noting that the company has its own body and trailer shops and its own warehouse. "We're geographically set perfectly for this [region]."
Wise Investments
Milton Transportation invests in vehicle technology, including electronic logging devices to meet a Department of Transportation and Federal Motor Carrier Safety requirement. "We have to be compliant by December 18th," Buckley says.
The company also has added cameras in its trucks that not only increase driver safety, but also give it proof when drivers act correctly when incidents occur. Previously, "I would have had to discharge the drivers without the cameras," he says. "They are positive assets."
Making Changes
Milton Transportation is impacted by trends among its customers such as lean manufacturing, Buckley says. For example, "People aren't storing things liked they used to," he says. "We see more loads not being preloaded, but being loaded as they're being manufactured."
Traffic in the Northeast also is becoming more of a challenge for Milton Transport. To cope, "You have to allow more time, since it's more time consuming," he says.
Recruiting new drivers also has become difficult for the company. "It's not that we don't pay well," Buckley says. "They're just not out there."
But Milton Transportation has adjusted by using multiple recruiting methods, including billboard and radio advertisements, as well as online recruiting. "I also hire students," he adds. "We do training after they get out of the schools with their commercial driver's license."
One Big Team
Buckley joined Milton Transportation in March 2005 as the safety director. "I have a good group of men and women," he says. "They all work together as one big team."
He praises the company, which treats its drivers well. "We are busy, but our drivers are home every weekend," he says. "We pay extra if they want to work weekends, and we have modern, nice equipment."
Features in its vehicles include heating and air conditioning that runs on battery power instead of fossil fuels. "We can pretty much stop anywhere and be comfortable," Buckley says.
The family ownership, he adds, has nurtured longevity in Milton Transportation's staff. "[We've] had employees that grew up through the years at this company," he says. "I've seen people who started their lives and retired from here."
Milton Transportation expects to stay busy and thrive, Buckley says. "We're [going to keep] growing slowly and taking care of the needs of our customers as we've always done," he states.
Vice President Steve Conner also wants the firm to maintain its reputation. "Any of our customers would recommend us highly over anyone else," he declares.
The company also plans to continue keeping its technology state-of-the-art. In addition to computer systems, "Black boxes are coming any day," Buckley says. "The company's strategy in the current economic climate includes getting better drivers and equipment."
A Fleeting Glimpse
Milton Transportation Inc.'s fleet includes nearly 400 dry van trailers, including the Duraplate line offered by Wabash National. "The construction of these trailers create an incredibly tough, damage-resistant piece of equipment that is highly resistant to moisture," Milton states.
Its flatbed division consists of approximately 50 trailers that are built using steel frames with aluminum and wood decks. "All of the flatbeds ride on a fixed spread axle air ride suspension," Milton says.