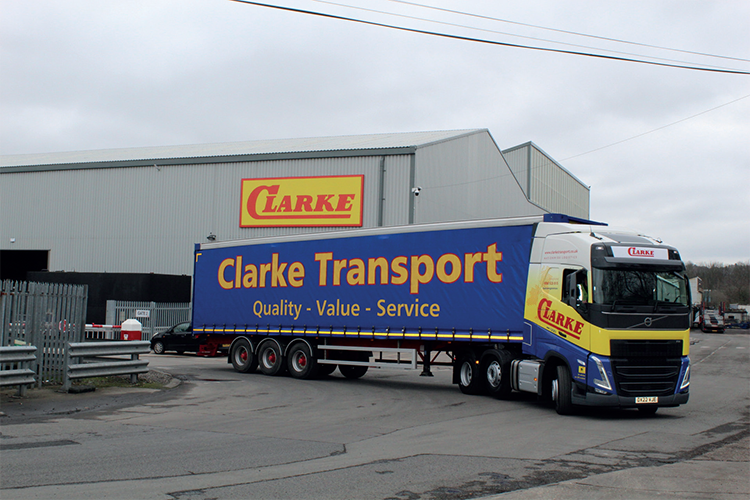 The road to success
Years of experience, professional expertise, and a commitment to quality service and customer care have helped to put Clarke Transport firmly on the map
One of the leading privately-owned, multi-service transport organizations in the UK, Clarke Transport (Clarke) has been delivering on its promises since 1933. A fourth generation West Midlands-based, family-owned and operated pallet network business, the company was originally founded when Alfred Clarke commenced his activities with one truck delivering to and from Scotland.
With Clarke quickly becoming known as a specialist Scottish carrier, it was in 1951 that it had its first big break, winning a large contract from US Royal Tyres, meaning an additional 21 trucks would be needed. Later – in 1974 – second generation owner Bill Clarke Snr would introduce the livery that Clarke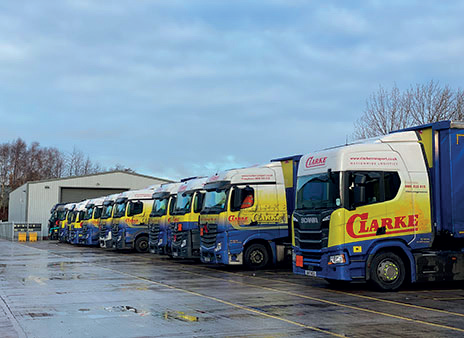 customers see across its fleet today, adding splashes of yellow and red to what Bill labelled the 'boring blue trucks'. By the early 1990s, a National Hub that the company affectionately refers to as 'The Fort' commenced with supporting its growing network, and did so successfully until 2020, when Clarke moved into a new, 100,000-square-foot, fit-for-purpose hub. Here, today, up to 4000 consignments and 100 truck movements are handled nightly.
"From our seven nationally spread sites – where we employ a total of approximately 525 staff and operate some 250 trucks – we are expertly able to service the whole of the UK logistics market," explains Clarke Managing Director, Mark Wilson. "To this day, there are three generations of the Clarke family active within the business, ensuring that the family values of 'Quality, Value, and Service' are lived by the whole team in their day-to-day operations and activities."
In terms of its fleet, Clarke boasts a mix of 44T, 26T, and 18T trucks, as well as a number of vans, bringing it to a total of 250 motor units, with its straight-frame and DBL deck trailer fleet totalling 225 units. With regards to its motor fleet, the company replaces its tractors every three years, as they operate day and night delivering and trunking, while its radial delivery fleet is changed every four-to-five years, dependent upon mileage. Typically, the company owns 50 percent and leases 50 percent of its active fleet.
It is at this point that Mark takes the opportunity to provide us with further details on what sets the company and its services apart from its peers. "We provide a range of services collecting and delivering freight, specializing in ADR, with FORS and CLOCS accreditations, but also covering a range of general and non-standard freight through the network," he notes. "We collect from our customers holding local stock to local delivering depots, and then trunk the remainder for nationally delivered stock through our National Distribution Centre (NDC) in the Midlands, delivering nationwide to every postcode every day from our network of sites.
"We offer a next day, two day and longer lead time service covering 5kg parcels up to full load transport, and this includes more challenging freight such as engines, long lengths of steel and tubing, to IBC's where our drivers will 'pump off' the product into customers hoppers and tanks. The unique proposition Clarke has is that all goods are handled through our wholly owned systems, from collection to delivery, giving our customers access to the delivery status throughout the whole supply chain process, meaning that there is no loss of visibility or control throughout our network."
Of course, making all the above possible are the employees of Clarke, who are also tasked with upholding the culture of the business. "Culture is incredibly important to us, and whilst we operate at a professionally high standard, we want everyone to feel the family values of Clarke Transport and to feel part of the family ethos," Mark stresses. "A bi-monthly newsletter is distributed to all staff advising them of the state of the business, what is happening in the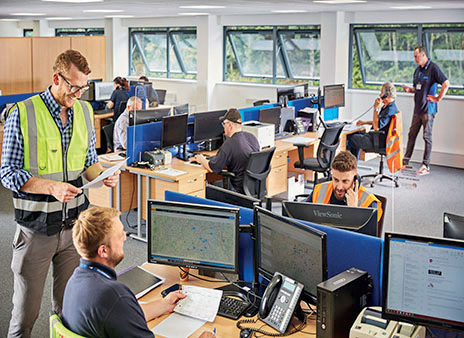 marketplace, and how we are placed within it. We also discuss several other local initiatives, and we are constantly working hard on employee engagement. It's also hugely beneficial that the Clarke family remain very active and visible right across the business, and have always appreciated being approached by our employees."
Looking back on recent events involving the company, whilst Clarke Transport inevitably had to face down the challenges posed by events such as the Covid-19 pandemic, it soon becomes clear that it not only was able to weather this storm, but emerge from it strong and ready to face the future head on. "During the initial lockdown period of 2020, we took the opportunity to systemize a lot of the administrative functions, we reviewed our own and our partner's territories, put in place more dynamic planning systems and functions, and worked hard to develop a more efficient operation, which has worked well for us since," Mark states.
He continues by highlighting a number of other exciting developments involving Clarke Transport, which set it in great stead moving forward. "We have a likeminded partner for Europe, where we can offer export to and import from all European countries at great rates, and we have also started developing a dedicated contract side to the business with some customers where we are their lynchpin in the whole supply chain process, managing goods into, through, and out of NDC's or production facilities.
"Further to this, we are planning on enhancing our network with more sites to give greater geographic coverage and improve services accordingly, and we are enhancing delivery technology and our approach to technological advancement and investment. Finally, we are also extremely proud to have launched an industry training centre, which is housed adjacent to our hub in the West Midlands. This is aimed at training ADR, CPC, RTITB and other industry training practices that will support our network, but we will also market and sell a suite of training packages to other logistics businesses."
Before turning to what the future holds for Clarke Transport, it is also worth noting that the company has signed up to partner with EcoVadis, a sustainability CSR evaluation platform where it holds Silver Accreditation. "As part of our ongoing efforts to address our own sustainability, we monitor our CO2 output quarterly, and have successfully reduced this by 50 percent over the last two years, in spite of the growth the business has achieved," Mark enthuses. "We have completed this through targeting a reduction in mileage, higher load fill, and the reduction of lanes with greater efficiencies and utilizations, and we continue to aim for a ten percent plus reduction year-on-year."
When it comes to the company's plans for 2022 and beyond, this year Clarke Transport fully intends to be visible and active in the pallet and ADR network, while also aiming to consolidate the good work undertaken over the last two years through the pandemic. This will entail strengthening and increasing its relationships with its customers through industry-leading service level achievements, further developing its core team, developing its training centre, and preparing for longer-term growth.
"We have a clear strategy to become the largest family-owned and operated pallet network in the UK, delivering industry leading service levels to our customers," Mark affirms. "We aim to do this through retention and growth with our current customers, and the attraction of new customers. Going forward, we plan to put up at least two new sites into the network, ensuring that we have sufficient capacity, and we're able to control our customers' goods to market with our continued high standards of service."
Clarke Transport
www.clarketransport.co.uk
Services: Multi-service transport organization