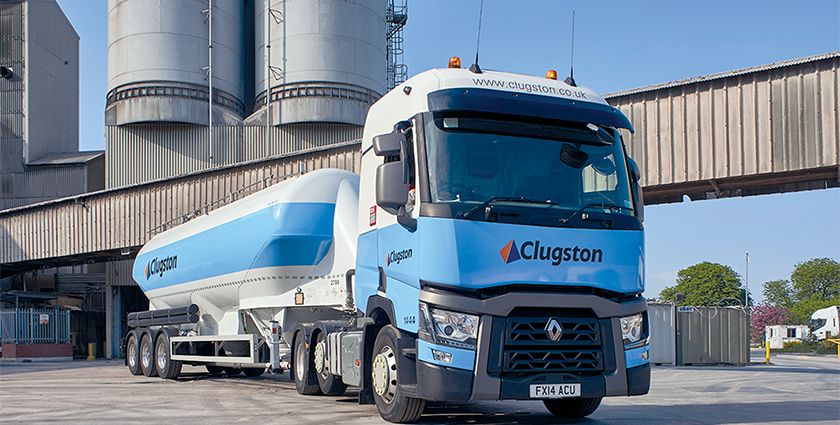 A century in the making
Clugston has come a long way since the acquisition of its first truck, way back in 1922. Now, the company discusses its recent fleet expansion, and an exciting pipeline of potential new business
It was exactly one hundred years ago, in 1922, that JG Clugston Ltd started trading as a timber and builders merchant, from its base in Carlton Street, Scunthorpe. After acquiring its first truck – a Maudsley – the company steadily developed its fleet to include all the major British-made vehicles, such as AE, Albion, Leyland, Morris, Ford, Bedford, and Commer. In 1937, JG Clugston incorporated into a new company: Clugston Cawood, and from 1939, both companies were heavily involved in the war effort, transporting vast quantities of bulk materials to assist the construction of the new RAF Bomber and Spitfire stations close to Scunthorpe.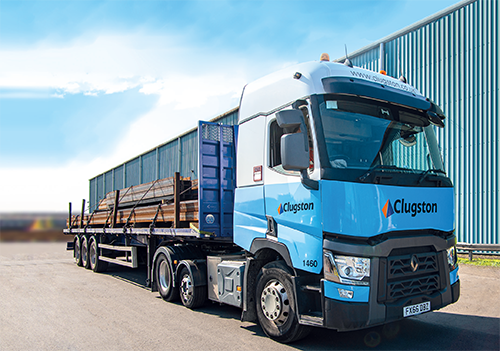 Come 1946, JG Clugston formed yet another new company, Colvilles Clugston Shanks, in partnership with the British Steel Corporation and Shanks & McEwan. The company provided insulated tipper vehicles to transport bulk materials from two sites in Scotland: the Clyde Iron Works at Camberslang, and the Ravenscraig Works at Motherwell. This was followed, in 1961, by the incorporation of Clugston Slag Co, which took over the assets of Clugston Cawood, before amalgamating with JG Clugston, five years later, when Clugston Transport was born, followed by the launch of the company's central transport depot on Scunthorpe's Brigg Road – where it remains to this day. Renamed Clugston Distribution Services in 1988, the company has since performed an ever-expanding range of goods handling and commercial vehicle services, from warehousing, stock control, and repairs, to vehicle sales and export, and bulk fuel distribution.
Speaking with Transportation & Logistics International, Alistair Clugston, CEO at Clugston, insists that he is proud to be "flying the flag" for his family business. "We've had to deal with world wars, miners' strikes, and stock market crashes," he continues. "On top of that, the last two years have been some of the most challenging the business has ever faced, with the aftermath of Brexit, followed by a shortage of drivers, and now rising fuel prices. But through it all, we've managed to keep focused and continue diversifying into new areas that allow us to grow and expand."
As an illustration of what is an exciting time for Clugston, the company has made a significant investment in its fleet in recent years, with truck numbers rising from just over 60 to more than 100. Accounting for just short of a third of all its vehicles, the biggest portion of the company's fleet is specialized for steel distribution – a core component of the business for more than seven decades. Further additions are on the way, driven in part by a strategy centered around acquisition.
"We're always looking for new opportunities," Alistair insists. "Clugston has been a Scunthorpe-based company, and we're proud to be one of the town's largest employers. At one time, there were 30 different companies in the group, so if you speak to anyone in Scunthorpe, they'll either have worked for Clugston, or they'll know someone who worked for Clugston. The challenge we have ahead is how to grow the business. We have sites in Hull, Driffield, Teesside, and a base down in Icklingham, Suffolk, and we're looking to expand around the country, with more depots and maintenance facilities, and to grow the business in our key specialisms. That might mean acquiring another family business, one that doesn't have a continuity plan, and whose owners are looking to retire, or it might mean going into a company that's enduring difficulty, and using our size and experience to add stability."
For Alistair, a key to realizing Clugston's ambitions is the need to build more robust relationships with the company's existing customers. "I've been directly engaging with our customers, ringing them up for a chat, visiting their premises, or inviting them to see us," he comments. "Interacting with people is important. We used to get together with one of our longstanding customers every six months or so. Now, we've brought that down to six weeks. The meeting itself doesn't have to be long, but it helps us both to keep in touch with each other regarding any issues that we might not know about.
"In terms of new business, we've got a few irons in the fire for the next three to six months," he adds. "We're getting a lot of interest from companies overseas, who want us to bring materials into Europe, which would be a new step for us. We won't say no, however – if it's profitable and has longevity, then we'll make the investment to ensure we have the necessary equipment, drivers, and the training in place to take it all the way over the next five to ten years, and really integrate it as a capability within the group."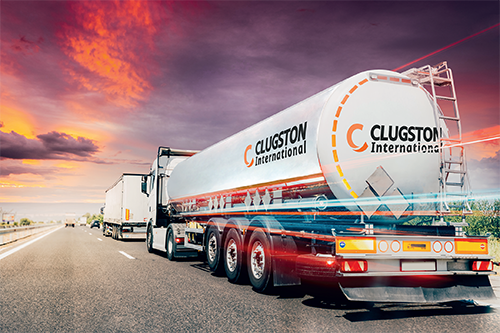 Amid a shortage in drivers, the value of training for companies such as Clugston has never been greater. The company has designated trainers for each one of its divisions, who hold regular sessions with its drivers, while regular training reviews provide drivers with an opportunity to discuss difficulties and challenges on the job.
"Once a driver is in the truck and off down the road, we might not see them from one week to the next," Alistair points out. "They could be going to a problematic site that we're not aware of, and these reviews give us the information we need to then talk to the customer and make sure the issue is resolved for our drivers. Or it might be making suggestions – for example, 'why aren't you using cruise control on this particular journey?' – which they might not have considered." This year, the company has brought on board six drivers from scratch, providing funding for their initial driving lessons and further training. "They're now out on the roads, demonstrating a fantastic standard of driving," Alistair tells us. "By investing that time and energy, it helps us to improve our operating standards, and get the best out of the resources we have available."
Armed with this strong foundation, the future for Clugston is looking bright. "With the troubles we're seeing around the world, be it the economy, fuel prices, or labour shortages, it's important that we're able to keep our feet on the ground, and manage the situation as best we can," Alistair admits. "That means looking after our existing customers, our fleet, all our staff and employees, before we go and jump into other areas. But that said, we're a hungry business, actively looking for new opportunities, and for the right customers to grow alongside. Inevitably, we'll need to take the business forward into new areas. Our fuel division, for example, isn't going to be transporting fuel forever. Instead, we're beginning to divert our attention to fresh sectors, with green energy obviously being key.
"Looking at where we are now, I'm hopeful that we'll be able to double the size of our fleet within the next five years," he suggests. "We have 15 more trucks on order this year – the challenge is finding something for them to do, but we're confident that we'll be able to initiate some new business."
But as Alistair is keen to emphasize, nothing is more important for Clugston than remaining true to its roots. "We really want to continue to run with the ethos and mindset of a family business," he confesses. "So far, we're doing that successfully. If there was a company up the road offering our drivers one pound more per hour to drive, it's really clear to me that they wouldn't all just up sticks and leave. Instead, they're loyal to us, recognizing that money isn't everything. What matters more is being part of a team, working alongside good colleagues who you get on with, and exploring the world together. That's where we find ourselves today. We look after our drivers, and it's what makes the difference between us and other companies."
Clugston
www.clugston.co.uk
Services: Transport and distribution