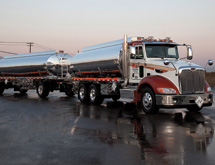 Danny Mairs, president and CEO of Cox Petroleum Transport, knows that there is nothing more important in his line of work than safety. The company – a third-party logistics carrier specializing in the transportation of petroleum products, headquartered in Bakersfield, Calif. – has received many awards for its safety measures. These include the 2012 Board of Directors Grand Trophy from the California Trucking Association (CTA), the CTA 1st place for Liquid Tank and Vacuum and several competitive safety and personnel safety awards from the National Tank Truck Carriers.
Achieving the highest levels of safety needed while continuing to grow the business is the result of thorough employee training, dependable equipment and a company-wide focus on customer satisfaction.
Employee Training
Drivers transporting petroleum products must have hazmat training to safely move hazardous materials. Mairs, with more than 30 years of experience in the business, knows that the company's safety record has a direct impact on its business. "Our customer base consists of major oil companies such as BP Arco, Chevron, ExxonMobil, and also some independent oil companies," he says. "Each company has very strict guidelines that you have to follow if you are going to haul for them. They want people who can deliver their products safely, period."
The first step to ensure safety is to attract good drivers. "We have a referral program for our employees and sign-on bonuses for qualified candidates," Mairs explains. "Our hiring practices are very strict; we try to hire people with stability, people who have not been jumping from job to job over the years."
Once the drivers are on board, they go through extensive training before they're allowed to go on the road. "We have a training facility in Bakersfield where the new hires go through a four-day classroom orientation," Mairs says. "Then they complete hands-on training with a certified trainer anywhere from 10 to 30 days." Certified Smith System trainers instruct Cox trainers, and every driver goes through the Smith System driving practice course every two years.
Dependable and reliable equipment also has a direct effect on safety. "We make sure we have the best equipment, and we trade-in [every tractor ] within a four-to- six year timeframe from the time of purchase," Mairs explains.
Dependable Service
"Besides safe, our customers expect us to be dependable," Mairs notes. "We have a 24-hour/seven day-a-week dispatch operation that manages all the loads in and out of our seven terminals."
To maximize its efficiency and dependability and in conjunction with TMW, a year ago Cox started operating with PeopleNet, an onboard computing and mobile communications system provider. The trucks have two-way communication with both TMW and PeopleNet to manage the drivers and make sure that every load is delivered on a timely basis.
"We brought in PeopleNet because we felt that it would work more efficiently with TMW to assist in managing our logistics better and would help us become more efficient with our customer base," Mairs says.
To make sure the entire organization is on the same page when it comes to taking care of the customers, Mairs makes sure he communicates not only with his customers, but also with his employees.
"We built a good rapport with our customer base and I've also empowered all my terminal managers, safety, operations, dispatch and billing staff. They are all salesmen, just as our drivers are," he says. "If they do a good job for customer A, that company might call customer B and say, 'If you need any help, these guys are really good.' Our success is truly due to an entire team effort."
Mairs himself continues to be involved in making sure Cox customers are well-attended. "You have to have good communication with your customer base," he says. "I have been leading the sales efforts [for years] and still go out there and talk to customers and make sure we have a good relationship with them. Our business ethics and our integrity has caused us to grow in our industry over the years."
Cox's ethics and community involvement extends to charitable organizations. The company donates funds to the CTA, which participates in efforts within different communities in California.
In addition, Mairs is a member of Fuel Relief Fund, a nonprofit organization providing temporary free fuel to communities affected by major disasters.