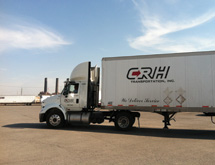 Founded in 1971, CRH Transportation has grown from a one-truck operation into a comprehensive Midwest transportation company thanks to its commitment to providing the highest level of service. Today, the company has more than 120 drivers delivering everything from fine paper and office supplies to solvents and paints safely, on-time and cost effectively.
"The company got its start 40 years ago delivering paper to printing companies," President Gary Mantei says. Mantei bought the company eight years ago, having been with CRH Transportation for 30 years, starting as a driver.
"We branched out but stayed close to the paper industry with the delivery of other commodities like printing inks and corrugated boxes," he adds. "That industry has shrunk quite a bit, and we have been doing general freight, delivering a lot of hospital supplies to hospitals and nursing homes. We've also gotten into office supply companies and helped them find ways to ship freight better."
Knowing its Niche
Headquartered in St. Louis, CRH Transportation has a total of six terminal locations and six direct-link partners throughout the Midwest. The company has five terminals in Missouri located in St. Louis, Scott City, Springfield, Kansas City and Jefferson City. The sixth is in Normal, Ill. This footprint helps the company provide high-quality overnight freight service throughout Missouri, Illinois, Kansas, Oklahoma, Indiana, and the Dallas/Fort Worth region.
"Our niche is Missouri and Illinois, although we have partnerships that allow us to go outside that area," Mantei says.
For its LTL service, CRH Transportation provides overnight freight service to and from its service area. Service between distant points are delivered the second day, and the company's direct links with other carriers allow it to make connections to and from anywhere in the Midwest and provide quality service throughout the United States.
"Our terminals are all within 125 miles of each other, which helps because we can get freight to our terminals at night," Mantei says. "We don't stack freight; we usually keep it on one pallet. We go through eight skids of shrink-wrap, four to six pallets of corrugated and buy hundreds of load bars per year, all to make sure freight rides well."
CRH Transportation also offers team lease services. These include everything from CDL drivers with hazardous materials certification and insurance on trucks, trailers and cargo, to fuel, oil and maintenance and hand trucks, pallet jacks and load bars.
In addition, CRH Transportation's brokerage and truckload services can provide a customized program to fit specific truckload needs in a cost-effective manner. The services include everything from expedited truck service to 24-hour monitoring on single or multi-load shipping needs. CRH Transportation truckload services include liftgates, cargo vans, straight trucks, team drivers, refrigerated truck service, flat bed service and drop decks. It can cover the United States, Mexico and Canada.
"We have about 74 trucks and 140 trailers," Mantei says. "We are mostly an LTL carrier, but we do some truckload service within our region. We lease drivers and trucks to other companies, too."
Adapting to Thrive
Mantei explains that today's customers expect to get a lot for a lower price. They want to trust that product will arrive safely, and they want be able to go online and track information like what time freight will be delivered, when it is delivered and who signed for it. CRH is working hard to provide modern amenities while remaining profitable as a smaller player in the industry.
"We can never have enough trailers, as we're always buying more and upgrading what we have," Mantei says. "We have also upgraded our computers and are looking at a dispatch system with a third party. To do that, it must be the right deal financially. When it comes to technology, we have to look at the cost first. As prices come down, it is easier for us to make the investment."
On the partnership side, CRH has tried to establish give-and-take relationships where each side is responsible for handling the other's freight. That means both parties have a stake at each end.
"It has taken us time to find the right carrier partners, and we feel we have good partnerships now," Mantei says. "We don't go very far to the eastern part of the country that often and are still trying to find the right partnerships there."
Other partnerships include its suppliers. For instance, CRH leases all of its trucks from Hogan Motor Leasing. Although bigger companies can buy their fleet flat out and have their own maintenance on site, CRH's relationship with Hogan means it doesn't have to worry about having truck maintenance internally. It does take care of its own small repairs, such as to trailer lights and brakes, but all major repairs are sent off site.
"Fueling also is important and we try to get the best price," Mantei says. "We have a partnership with Pilot that has worked well, and we have some on-site fueling."
Among the challenges CRH faces are the increasing number of regulations its drivers and vehicles must be in adherence with. The question of healthcare reform is also a potential challenge, as Mantei says it has been hard to get an answer from insurance companies on what the environment will look like.
But Mantei is confident that the same thing that has made it successful in the past will make it successful in the future. "Success is about people, and we have good drivers, staff and dock workers," he says. "Keeping them here and happy will makes for a growing, happy company. They are why we are here, and we will be here in future because of them."