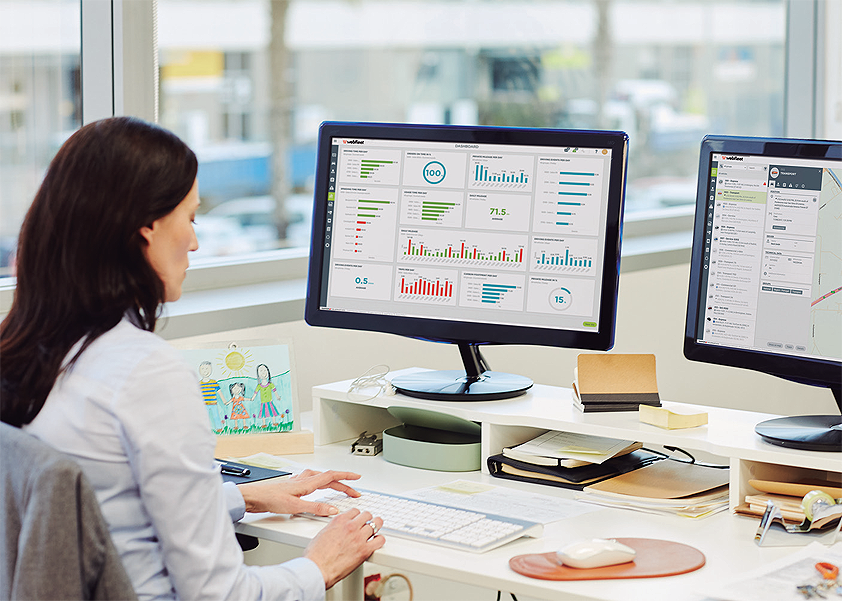 It is almost one year since the world was thrust into turmoil and businesses across the globe ground to a halt due to the outbreak of coronavirus. Whilst some industries saw operations cease unceremoniously, others saw activity ramp up, not least key service operators in the freight and logistics sector.
Charged with delivering essential services and necessary goods, such as food and medicine, across the UK, this subsector provided a critical lifeline during the pandemic. Data analysis from Webfleet Solutions and Geotab showed that activity for the UK transport sector remained relatively high throughout lockdown, even reaching 131 per cent of pre-Covid 19 levels in the run up to Christmas.
The transport sector has not been unscathed, however, with many companies still feeling the impact of the economic turbulence that has ensued. For these, it is not a case of now working harder, but more a case of working smarter.
By taking advantage of the technologies available on the market, including telematics, transport companies can ensure their processes are more efficient and resources are protected. This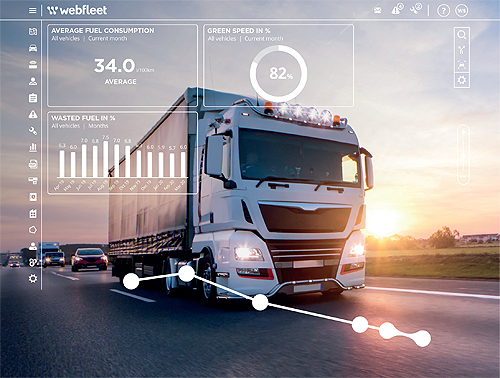 will help set them on the path to emerging from the current crisis stronger and more resilient.
Focus on driving efficiencies
Creating a more efficient freight fleet will become top priority in the post-Covid world, as time and resources remain strained. Effective management is key to achieving this, and for this to happen, companies need complete fleet transparency.
Data from telematics not only offers companies valuable and real-time feedback on their fleet activity, but it can help identify actionable insights. These range from more efficient routing and scheduling, to allow more journeys to be carried out, to highly-targeted vehicle maintenance schedules, to reduce downtime.
Using such data to drive efficiencies will help fleets adopt a frictionless and intuitive approach to fleet management, which not only future proofs the company's fleet, but also allows the business to gain a competitive edge at a critical time in the economic recovery of the country.
By digitizing processes and adopting paperless systems, companies can also ensure that face-to-face contact between office staff, drivers and customers is kept at a minimum – all-important in the new era of social distancing.
Keeping a lid on costs
With attention firmly fixed on the bottom-line during this challenging period, there may be a propensity for businesses to concentrate on swingeing cuts. It is understandable why cost saving is high on the agenda for many companies. However, cost optimization need not only be about cuts, but about improving business capabilities. By putting digital processes and procedures in place, transport companies can be proactive in their approach and take preventative, cost reduction measures.
Among the main areas of concern when it comes to fleet efficiency are fuel, maintenance and vehicle downtime. Telematics can facilitate many processes to tackle these, such as daily digital vehicle checks, to ensure vehicles are road worthy and that maintenance schedules are met and never missed.
There is also opportunity to reduce costs through improved driver behavior. In-built scoring systems and live driver feedback can help train personnel on the road, resulting in reduced accident rates and claims, lower premiums, and minimized wear and tear. Connected video technology can support in establishing fault in accidents and rebuffing bogus claims. When it comes to fuel, data can be used to help improve routing, cutting back on unnecessary mileage, as well reduce idling, which can limit fuel wastage.
Compliant to the letter
The importance of robust tachograph reporting cannot be underestimated, with convictions for drivers' hours violations and tachograph offences leading to fines and, in some cases, prison sentences.
Concessions were made back at the height of the pandemic, to temporarily relax the drivers' hours rules – a necessary means to an end, as the sector struggled to meet high demand with fewer drivers. But that easing has now passed, and the monitoring and management of driver hours with tachograph data is once again a legal obligation.
Companies can ill-afford unnecessary off-road time for their drivers at this juncture, so concentrating efforts on streamlining processes and obtaining this critical information with minimum driver downtime is essential.
The administrative burden that comes with the downloading and analyzing of tachograph data can be considerable, with almost a third of Europe's transport companies revealing they spend at least 30 minutes per vehicle each month retrieving the data. Tachograph integrations with telematics systems can help minimize this potentially laborious administration, while ensuring companies remain legally compliant. These integrations digitize the process and allow for the remote downloading of data, helping to maintain productivity and minimize disruption.
A look to the future
The pandemic has thrust companies into the unknown and many have had to adapt their processes to keep up with the pace of change. Whilst the vaccination programme offers hope, the volatile environment will remain for some time to come, and it is swiftly becoming clear that data-driven insights are critical to survive and thrive in the 'new normal'.
Though coronavirus is a new phenomenon, disruptive technology is not – so a readiness to adapt and adopt is more imperative than ever.
Beverley Wise is sales director UK and Ireland for Webfleet Solutions. Webfleet Solutions – part of Bridgestone – is one of the world's leading telematics solution providers, dedicated to fleet management, vehicle telematics and connected car services. Its Software-as-a-Service solution, WEBFLEET, is used by businesses to improve vehicle performance, save fuel, support drivers and increase overall fleet efficiency.
www.webfleet.com